By Jessica Mason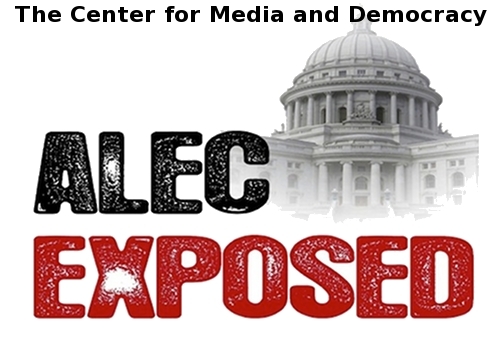 The American Legislative Exchange Council, or "ALEC," met in Dallas on July 30 for its annual meeting. ALEC brings together state legislators and corporate lobbyists to vote on "model" legislation behind closed doors, before those bills are introduced in state houses across the country, stripped of their ALEC origins. As the Kansas City Star has noted, what happens at ALEC meetings "provides a preview for the next state sessions" in legislatures around the country.
What was on tap at ALEC this year? New bad bills, dirty energy, a new lobby shop, and the launch of a spin-off group targeting local governments. Here's a roundup of last week's ALEC coverage.
ALEC Model Bills Promote ALEC Member Profits
As CMD reported, this year's ALEC agenda included model bills that would gut Medicaid, continue the privatization of schools, expand natural gas exports, and undermine EPA rules protecting waterways and limiting carbon pollution.
Many ALEC bills, if enacted, would enrich ALEC sponsors and member corporations. For example, the "Public Charter Schools Act," which would allow privately-operated charter schools to continue taking public funding yet without public accountability, would be a boon for ALEC member K12, Inc., the largest provider of online charter schools in the country.
Legislators also attended a workshop about "Efficiently Engaging the Public-Private Partnership with the Surety Bail Industry," aimed at boosting returns for the for-profit bail industry, whose American Bail Coalition trade group is an ALEC member. Read more here.
Big Business, Dirty Energy, and Tobacco Interests Back ALEC
Corporate and special interest groups don't just get an equal vote with legislators on these model bills. They also provide the financial backing that makes ALEC possible.
As The Guardian reported last December, ALEC lost dozens of corporate members last year due to scandals over its role in pushing "Stand Your Ground" and restrictive voter ID bills. But it turns out that plenty of businesses and special interest groups are still willing to put their money where their model bills are.
The National Federation of Independent Business (NFIB), a big business-funded front group that claims to represent small businesses, has joined the corporate board of ALEC. NFIB has received millions of dollars from the Koch brothers' political network, Karl Rove's Crossroads GPS, and other right-wing funders.
The Kochs have been major backers of ALEC for decades through Koch Industries and their own private foundations, and a Koch representative has held a place on ALEC's corporate board since at least the late 1990s.
Even though at least one participant in the ALEC meeting tried to shift the conversation toward supporting green energy, as Wisconsin State Rep. Chris Taylor reported, the polluter industries that back ALEC quickly shut the conversation down.
Materials obtained by CMD and Greenpeace show that oil and coal interests comprised one third of the official sponsors for the Dallas meeting. The sessions scheduled for the weekend clearly reflected the interests of Big Oil and King Coal.
In fact, despite ALEC's complaints that it has been falsely portrayed as "anti-clean energy" it has been pursuing an anti-solar energy campaign with backing from the powerful utility trade association Edison Electrical Institute, as reporting by CMD showed.
CMD has also obtained documents showing that ALEC's big donors between 1995 and 2010 included tobacco giants Phillip Morris/Altria and Reynolds American, Pharmaceutical Research Manufacturers of America, ExxonMobil, AT&T, and Pfizer.
Local Government New ALEC Target
Local governments across the country have been pushing back against big business interests through laws raising the minimum wage, mandating paid sick leave for workers, and protecting their environment from damage caused by mining and fracking. So perhaps it's no surprise that local government has become a target of ALEC and its allies.
As CMD reported, one of ALEC's responses has been sharing model legislation that undermines local government, including a 2011 model bill pre-empting local sick leave ordinances that has now been passed in eleven states.
After years of trying to thwart local government, last week ALEC launched a new offshoot aimed at infiltrating it. The American City County Exchange (ACCE), had its first meeting last week, coinciding with ALEC's Dallas meeting. ACCE's goals, structure, and funding mirror those of its parent organization. According to The Guardian, the agenda for ACCE's initial meeting focused on privatization and fighting public sector unions. Or, translated into ACCE doublespeak, "Effective Tools for Promoting Limited Government" and "Releasing Local Governments from the Grip of Collective Bargaining."
ALEC's New Lobbying Arm Takes Action
Meanwhile, ALEC is still pushing for a federal balanced budget amendment, which would put severe limitations on the government's ability to respond to economic downturns or natural disasters. According to documents obtained by CMD, ALEC's new lobbying arm, the Jeffersonian Project, has been lobbying legislators around the country on a resolution calling for an Article V constitutional convention in order to draft a balanced budget amendment.
You can sign up for CMD's weekly online newsletter called The SPIN by clicking here and you can follow breaking news on Twitter by following @alecexposed and @prwatch.