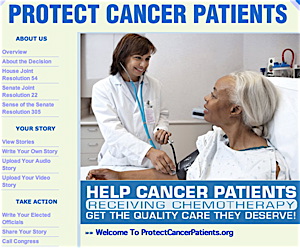 To mobilize elderly Americans in an effort to overturn the new Medicare coverage policy for erythropoiesis-stimulating agents (ESAs, which boost red blood cell production), Amgen Inc. appears to have borrowed a strategy from the purveyors of alternative medicine.
The company launched a "Protect Cancer Patients" website, where visitors were invited to submit testimonials about the healing powers of ESAs. Also, they could contact members of Congress, or review the Centers for Medicare and Medicaid Services coverage decision and the House and Senate resolutions to vacate it.
Though the Internet designation ".org" suggests that the site is operated by an advocacy group, the "privacy policy" section notes that "this site is owned and operated by Amgen Inc." and can be used for communications with the company.
On the home page, the site is described as "online headquarters of a national campaign to protect cancer patients on Medicare from a decision denying them ... coverage for needed medicines."
"Amgen's mission is to serve patients, which is why we openly support the Protect Cancer Patients website," Kelley Davenport, an Amgen spokesman, said in an email. "The site educates cancer patients on Medicare and their caregivers about a Medicare policy that impacts cancer patients, so that their voices and concerns are heard by government policymakers.