The "Internet Mom" Strikes Again
TV technology expert is secretly paid to promote consumer electronic products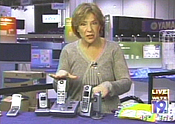 Clients: Nokia, Motorola, Texas Instruments, Swiffer
Release Date: January 2006
Aired By: 3 stations
Disclosed By: 1 station (partial)
Robin Raskin has admittedly earned her reputation as a technology guru. The former editor-in-chief of Family PC magazine, she's authored six books on parenting in the digital age and has testified before the Federal Trade Commission on Internet safety issues.
Unfortunately, she's demonstrated time and again that her credibility is for sale. Dubbed by one insider as "the VNR Queen," Raskin has appeared on dozens of fake news segments as a seemingly impartial expert, offering praise for various gizmos and gadgets while secretly in the employ of the gadgetmakers themselves.
On January 4, Raskin appeared live via satellite on three consecutive newscasts to discuss the hottest items from the 2006 Consumer Electronics Show. From a remote studio in Las Vegas, she showcased a Nokia bluetooth phone, a Motorola cordless communication center, a big-screen TV featuring Texas Instruments' Digital Light Projection technology and—in a jarring shift to the low-tech world—a Swiffer duster.
Although the stations billed her as a "Technology Journalist and Consultant," Raskin's choices were hardly unbiased. Her appearance was part of a satellite media tour (SMT) arranged by D S Simon Productions and jointly funded by Nokia, Motorola, Texas Instruments and Swiffer.
Of the three stations who participated in the SMT with Raskin, two of them—KEYT-3 (Santa Barbara, CA) and WCYB-5 (Bristol, VA)—failed to divulge Raskin's endorsement arrangement to their audience. At WLTX-19 (Columbia, SC), anchor Curtis Wilson closed the interview by telling viewers, "In the interest of full disclosure, we want to mention that this interview with Robin was provided by vendors at the consumer trade show."
Not to split hairs, but one would think "full disclosure" would mean naming the companies who sponsored Raskin's apperance—a crucial distinction that would have helped viewers consider the interview in its proper context.
Still, even Wilson's partial disclosure was an exceedingly rare event in the Center for Media and Democracy's (CMD) ten-month study. Out of 98 documented instances of VNR and SMT usage, CMD observed only two stations attempting to divulge the sponsored nature of the content to viewers. The other acknowledgement, like Wilson's, still failed to disclose the funding source behind the material.
CMD had previously documented Raskin in a holiday VNR and SMT campaign that was jointly-funded by Panasonic, Namco and Techno Source.
View the WCYB-5 and WLTX-19 SMT interviews, below.
| | |
| --- | --- |
| WCYB-5 12PM newscast | WLTX-19 6AM newscast |
| January 4, 2006 | January 4, 2006 |
| SMT interview with Robin Raskin | SMT interview with Robin Raskin |
| | |