Steering Wheel Spin On Three Newscasts
Fake report on state-of-the-art car mechatronics is purely corporate-driven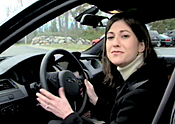 Clients: Siemens VDO
Release Date: January 2006
Aired By: 3 stations
Disclosed By: No stations
On January 31, the Ohio News Network devoted nearly two minutes to a story on the "Car Cockpit of the Future," modular automotive devices that allow vehicle owners to customize and upgrade their car's electronic controls. Unfortunately the story itself was plug-and-play propaganda engineered by publicists and funded by the corporation who manufactures the very high-tech devices featured in the report.
On behalf of Siemens VDO, a "leading international supplier of automotive electronics and mechatronics," Medialink created a 92-second video news release (VNR) about the company's new modular car components. "Reported" by Medialink publicist Kate Brookes, the segment featured positive soundbites from James Bayley, an executive at Siemens VDO, as well as Alan Taylor, a renowned automotive expert and contributing editor at Car & Driver magazine.
To help TV stations disguise VNRs as legitimate journalism, Medialink and its competitors typically encode the narrative voiceover of the publicist on a separate audio track, allowing newsroom editors to easily swap in the more familiar voice of a station reporter. The Ohio News Network, a 24-hour cable channel available throughout the state, took advantage of this feature by replacing Kate Brookes with the voice of ONN correspondent Eleanor Hayes. Sadly, Hayes re-read the Medialink script word-for-word, failing to add any context or journalistic balance to the material. Also missing was source disclosure. At no point did ONN reveal to viewers that every word, every fact, and every frame of the story came straight from Medialink and Siemens VDO.
The "Cockpit of the Future" VNR was also picked up by KLBK-13 (Lubbock, TX) and WBOC-16 (Salisbury, MD). Both stations deceptively wove the complete and uncut VNR into their broadcasts, using the original voice of Kate Brookes and having anchors introduce her as if she were a local reporter. Neither newscast revealed the true funding source of the story.
Brookes had previously appeared in an ethanol-related VNR from Siemens and Medialink that was picked up by five stations.
View the original VNR, as well as the Ohio News Network feature, below.
| | |
| --- | --- |
| Original Siemens VNR | Ohio News Network 6AM feature |
| Created by Medialink | January 31, 2006 |
| Voiced by publicist | Re-voiced by station reporter |
| | |