Journalistic Malpractice at WSYR-9
Clear Channel station inflicts fake and misleading health news on their viewers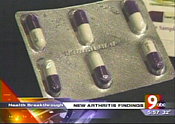 Clients: Bioibérica
Release Date: December 2005
Aired By: 1 station
Disclosed By: No stations
On December 26, 2005, WSYR-9—the Clear Channel ABC affiliate in Syracuse, New York—ran a 90-second story on chondroitin sulfate, a dietary supplement made from animal cartilage that's marketed as an over-the-counter pain remedy for arthritis. While trumpeting chondroitin sulfate as a "major health breakthrough," the segment included positive testimony from Jason Matley, a 30-year old arthritis patient, and Nicholas DiNubile, an orthopedic surgeon. The story cited the results of a major National Institutes of Health (NIH) study that suggested certain supplements—including chondroitin sulfate—were effective in relieving knee joint pain.
What WSYR-9 failed to disclose is that the story was actually funded by Bioibérica, a Spanish chemical company who—by no coincidence—is a major international supplier of chondroitin sulfate. Biobérica hired D S Simon Productions to produce and distribute a news-like story about the effectiveness of their product.
WSYR-9 adopted the VNR as their own work, editing it for length, inserting station-branded text overlays, and enlisting their own health reporter, Carrie Lazarus, to introduce and narrate the story as if she had researched it herself.
If Lazarus actually had looked at the data from the NIH study (PDF), her reporting didn't reflect it. According to the NIH, chondroitin sulfate, when taken alone, barely outperformed a placebo. The video news release (VNR) cherry-picked and skewed the NIH results, which indicated that a combination of supplements showed some promising results among a subgroup of arthritics.
But even if she were bad with numbers, Lazarus could have done a simple news search on chondroitin sulfate, which would have taken her straight to a Washington Post article from November 22. In it, reporter Elizabeth Agnvall quotes Daniel Clegg, the head of the NIH study, as saying:
The first take-home message is that in the overall study population, none of the supplements were better than placebo[.]
Sadly, Lazarus and her colleagues at WSYR-9 neglected to do even basic research on the story they were airing. Not only did they deceive their audience with a well-disguised corporate advertisement, they failed to provide the proper context and balance that comes from bonafide journalism.
In February 2006, D S Simon released an updated version of the VNR on behalf of Bioibérica. It was adopted by two stations that, unlike WSYR-9, used the material to build stories that were critical of chondroitin sulfate.
See the original Bioibérica VNR, as well as the WSYR-9 newscast, below.
| | |
| --- | --- |
| Original Bioibérica VNR | WSYR-9 5:30PM newscast |
| Created by DS Simon Productions | December 26, 2005 |
| Voiced by publicist | VNR presented by station health reporter |
| | |