Dodge is My Co-Pilot
Three stations air VNR that promotes child safety (and Chrysler-brand vehicles)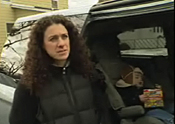 Clients: DaimlerChrysler
Release Date: February 2005
Aired By: 3 stations
Disclosed By: 1 station (partial)
For over 20 years, the second week of February has been National Child Passenger Safety Week, giving local newscasts a chance to shelve terror-alert stories and focus on a more realistic threat to children: auto accidents.
To coincide with National Child Passenger Safety Week, the DaimlerChrysler Group hired D S Simon Productions to create a video news release (VNR) about the risk of improperly-installed child car seats. The 110-second video package—which included soundbites from a concerned young mother and a Jeep/Dodge service specialist—centered around DaimlerChrysler's Fit For a Kid program. Established in 1999, the service allows owners of any vehicle to visit a participating Chrysler/Jeep/Dodge dealer for a free safety inspection of their car's child seat.
The VNR was used by three southeastern ABC affiliates. Two of them—WCTI-12 (New Bern, NC) and WTVM-9 (Columbus, GA)—ran the complete VNR in their newscast, introducing D S Simon publicist Sonia Martin as if she were a reporter on staff. Both newscasts inserted station-branded text overlays into the segment, and both failed to disclose D S Simon or DaimlerChrysler as the source of the story.
This isn't the first journalistic lapse of either affiliate. WCTI-12 had previously been observed airing undisclosed VNRs from Sallie Mae and Panasonic, while WTVM-9 had deceptively incorporated a complete and uncut VNR from the American Institute of Certified Public Accountants.
A third station, WHSV-3 (Harrisonburg, VA), edited the DaimlerChrysler VNR for length and enlisted a station reporter to re-voice Sonia Martin's narration. Through a four-second text overlay, the newscast revealed that the story was supplied by D S Simon Productions. This is the second and final example of source disclosure that the Center for Media and Democracy has observed out of 98 documented instances of fake news usage (the first example can be found here). But despite the rare and commendable display of honesty from WHSV-3, the station still failed to divulge DaimlerChrysler as the financial sponsor of the report, an important distinction considering that the average viewer has no idea that D S Simon Productions is a broadcast PR firm.
While potentially beneficial to the public at large, the Fit For a Kid program is still part of a strategic marketing effort to make DaimlerChrysler a trusted brand among safety-conscious parents. Any promotional materials related to the program—especially self-produced news reports—should be fully disclosed.
View the original VNR, as well as the WCTI-12 report, below.
| | |
| --- | --- |
| Original DaimlerChrysler VNR | WCTI-12 7AM newscast |
| Created by D S Simon Productions | February 12, 2006 |
| Voiced by publicist | Complete VNR voiced by publicist |
| | |