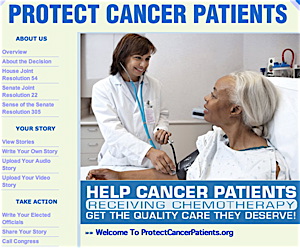 To mobilize elderly Americans in an effort to overturn the new Medicare coverage policy for erythropoiesis-stimulating agents (ESAs, which boost red blood cell production), Amgen Inc. appears to have borrowed a strategy from the purveyors of alternative medicine.
The company launched a "Protect Cancer Patients" website, where visitors were invited to submit testimonials about the healing powers of ESAs. Also, they could contact members of Congress, or review the Centers for Medicare and Medicaid Services coverage decision and the House and Senate resolutions to vacate it.
Though the Internet designation ".org" suggests that the site is operated by an advocacy group, the "privacy policy" section notes that "this site is owned and operated by Amgen Inc." and can be used for communications with the company.
On the home page, the site is described as "online headquarters of a national campaign to protect cancer patients on Medicare from a decision denying them ... coverage for needed medicines."
"Amgen's mission is to serve patients, which is why we openly support the Protect Cancer Patients website," Kelley Davenport, an Amgen spokesman, said in an email. "The site educates cancer patients on Medicare and their caregivers about a Medicare policy that impacts cancer patients, so that their voices and concerns are heard by government policymakers.
"As evidenced by the personal testimonials on the site, the current Medicare policy will have a significant, direct impact to cancer patients on chemotherapy, and will limit the ability of physicians to make well-informed treatment decisions for their patients," Davenport said.
In testimonials, patients and their family members wrote that ESAs alleviated symptoms of anemia, improved quality of life, and were essential for survival. (Excerpts from the testimonials appear below.)
Considering that ESAs are approved only as a substitute for blood transfusions in solid tumors, many of these letters were discussing off-label uses, thereby potentially exposing the company to an FDA enforcement action, said several attorneys familiar with regulation of drug promotion.
"The question is Amgen's control over what went on there," said a former FDA attorney, who spoke on condition that his name wouldn't be used. "Unless Amgen gave a blind grant to somebody and had no idea that this was going to happen, they have potential liability."
When pharmaceutical companies are caught making claims beyond the label, punishment is usually limited to warning letters and the public embarrassment they create, lawyers say. "On a lobbying campaign like this, a company like Amgen views this as just one battle in the campaign," said Sheldon Rampton, research director of the Center for Media and Democracy and author of books on the public relations industry. "It's conceivable that they may end up suffering some minor consequence, but if the rest of the effort succeeds in overturning the CMS decision, they will have lost this battle but won the war."
The ProtectCancerPatients.org site is described as "a platform to help those concerned about CMS' July 30 NCD weigh in with their elected leaders." The site further states that "the campaign ... is supported and funded by Amgen and has as its goal to educate seniors and their physicians about Medicare's decision so that their voices are heard by government policymakers."
The testimonials on the website are signed, and some have been redacted to delete the names of specific drugs and drug regimens. The site's content appears to be growing, as three new testimonials were added on Nov. 7.
The site's URL is registered by Domains By Proxy Inc., a service that provides concealed domain name registrations, making it possible to hide the name, address, phone, and email address of the site's owner. Web records show that testimonials on the site were solicited through ads that appeared on the Google search engine.
The website also contains a toll-free phone number, where a visitor can obtain additional information. An operator who answered a reporter's call at that number on Nov. 8 said that the phones ring in Alexandria, Va., and are answered by a firm called Direct Impact.
Direct Impact is a subsidiary of Burson-Marsteller, a public relations firm. According to its website, Direct Impact is a "grassroots firm in Washington, D.C., and beyond, orchestrating campaigns at the local level that resonate nationally for a diverse group of clients across a broad range of industry sectors."
Echoing the patient testimonials, the operator, who identified himself as Brent Mikulak, said ESAs improved the symptoms of anemia and quality of life.
"It helps with the fatigue," Mikulak said to the caller who didn't immediately identify himself as a reporter. "My own mother has anemia, and it makes a big difference. It brings that energy back that they don't have. I've spoken to people who said that they can barely get out of bed, they have a hard time walking."
The new CMS coverage policy "is very rough on people with anemia, and it's very rough on people with chemotherapy that often brings on anemia, because it can interrupt their chemotherapy sessions, and doctors are strongly against that happening," Mikulak said. "As it stands right now, they will still eventually get access to it, but it can have a lot of repercussions and really impact their ability to maintain day-to-day normal living."
Asked whether the drugs improved the quality of life, Mikulak said that they did. "That's part of the quality of life," he said. "If someone is too exhausted to walk down to the end of their driveway to get their mail, this is the sort of thing they are facing."
Asked to identify the firm's client, Mikulak said that "Amgen funds the effort."
"I work at an outreach call center, and we are commissioned to take the calls for them," he said. "I am just a little guy who answers the phone here."
Calls to the corporate offices of Direct Impact weren't returned.
Several patient groups said to The Cancer Letter that they had been asked by Amgen to operate the website, but declined to do so. "We thought it was exploitative," said a spokesman for one of the groups. "We have never participated in patient testimonials. We rely on science."
Robert Erwin, president of the Marti Nelson Cancer Foundation, an advocacy group focused on expanded access to experimental drugs, said that an acquaintance of his who was concerned about adverse events and the potential for tumor promotion associated with ESAs sent a negative comment to the website.
"The website is apparently being selective about which testimonials it uploads for public viewing and has not posted comments raising concerns about ESA side effects that were submitted by a patient's family member," Erwin said. "This skewing of the information is understandable from a political lobbying perspective, but the website strongly implies that ESAs provide benefits for which the new label clearly states there is no evidence. This is a very slippery slope."
Under ordinary circumstances, materials published by drug sponsors are required to include information on side effects and to post the entire drug label. No such information is posted on ProtectCancerPatients.org. However, on Nov. 8, the site was updated to include a copy of an FDA press release describing the strengthened boxed warning the agency placed on the ESA label earlier that day.
PR expert Rampton said the website and the call center appear to be components of the same grassroots campaign. "The website is clearly designed to drive traffic to the 800 number," he said. "It would make sense that Direct Impact designed the website and the call center, or that they worked closely with whoever did design the website."
Several testimonials on ProtectCancerPatients.org mention Procrit, an ESA marketed by Johnson & Johnson. In recent months, J&J has been working closely with Amgen in an effort to overturn the CMS decision. However, according to a spokesman, J&J has had no role in sponsoring either the website or the call center.
Letters Claim Improvement in Anemia Symptoms, Quality of Life
Testimonials collected on Amgen's "Protect Cancer Patients" website credited ESAs with more than reduction of risk of blood transfusions, the only indication for which these drugs have been approved by FDA.
Letters assembled on the website claim that these drugs alleviate the symptoms of anemia, improve the quality of life, and are essential for survival.
Two of the letters were submitted by patients with hematologic conditions, and therefore represent off-label uses.
Excerpts from the testimonials follow:
"I am undergoing chemotherapy now. A few months ago, I was allowed 3 consecutive shots of ESA, once again my readings are down to 10.6, but due to recent rulings I am not eligible, consequently I am very fatigued, I tolerate chemo well, but could certainly use the ESA to help me be more able to contribute more of myself." --Patricia Castle, Spokane, Wash.
"I am a 2 year cancer survivor of non-Hodgkins lymphoma. During my treatment, there were 4 times that I required shots to increase my red blood cells along with blood transfusion. I was so fatigued prior to these, I honestly didn't know if I was going to make it. ... What would have happen to me if I had been denied those treatments? I wouldn't be able to contribute to this great nation." --Wanda Masterson, Greenbrier, Ariz.
"His anemia has been kept in check for the past three years by anti-anemia drugs administered intravenously. These shots have improved his energy and lengthened intervals between chemotherapy treatments."--Lola Newton, Winkelman, Ariz.
"I never realized how much difference a drug like Procrit could make in managing the daily tasks of life that must still go on. ... If one of the key supports is removed, we slide a little further along the dependency road. We begin to require additional help with daily tasks that, given a simple boost provided by a drug like Procrit could be avoided." --Thomas Wells, Orange City, Fla.
"My [hemoglobin] count never went below 11. THAT WAS BAD ENOUGH!!!! I can not imagine what it would have been like to have therapy delayed and to try & have a life/job with so little energy that I would not want to get out of bed." --Sharon Owens, Ocean, N.J.
"Had he been subject to the current hg of 10 guideline of Medicare, I am sure he would have died, or at least would have suffered an even worse quality of life that he had by being able to receive ESAs to try to keep him at Hg of about 11-12." --Barbara Bilodeau, Peachtree City, Ga.
"If you suspend this needed coverage, by your actions you will be killing America's seniors. ... How can you do this and still call yourselves leaders?" --Eileen Pruyne, Charlotte, NC.
"This medically indefensible policy of dropping coverage of ESA drugs could lead to UNNECESSARY deaths from otherwise treatable cancer. What kind of government do we have???" --Susan Barron, Boone, N.C.
"My mother has Myleodysplasia syndrome. ... About 4 years ago, she started using [an ESA] for her severely depleted blood and iron stores. This medicine has kept her alive." --Rebecca Pearce, Burkburnett, Tex.
---
This article is used with permission from The Cancer Letter. All rights reserved.