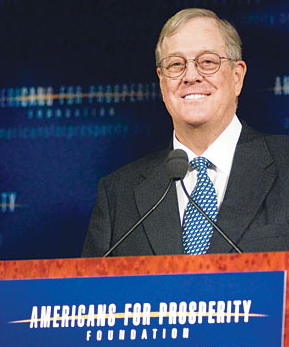 The "charitable" wing of David Koch's Americans for Prosperity has dropped nearly $900,000 on ads to boost Wisconsin Governor Scott Walker's reelection campaign, just days after polls showed Walker tied with his Democratic challenger, Mary Burke.
Incredibly, whomever provided the funding for the ads -- whether it was David Koch himself or a collection of deep-pocketed donors -- can write-off the expenses as a charitable contribution, just like a donation to a neighborhood church or the American Red Cross.
The latest ads from the 501(c)(3) Americans for Prosperity Foundation recycle the "It's Working" message that it first pushed in 2011 and 2012, when Walker faced a recall election sparked by his controversial bill to strangle public sector unions in the state. AFP spent around $2.9 million on those ads, which it aired along with another 501(c)(3), the MacIver Institute, a State Policy Network affiliate. (AFP also used the "It's Working" messaging for five ads it ran in the 2013 Douglas County, Colorado school board race).
Overall, AFP's 501(c)(4) and 501(c)(3) wings together spent $10 million in Wisconsin during Walker's 2012 recall election (and sent 75 paid staffers to the state), and other Koch-backed groups, like Coalition for American Values and Wisconsin Club for Growth, spent milllions more.
Like the 2011-2012 "It's Working" ads, AFP's latest spots don't explicitly mention Walker, but tout Walker's policies, praising the "strong leadership in Madison" and describing Walker's collective bargaining restrictions as "the right thing to do."
The ads direct viewers to the website ItsWorkingWisconsin.com, which is also a relic of the 2011-2012 "It's Working" campaign. Although the latest TV ads are only attributed to AFP, the website's "about" page describes it as a joint project with the MacIver Institute.
The spending is particularly notable because it comes from AFP's 501(c)(3) "charitable" foundation wing, rather than AFP's 501(c)(4) "social welfare" wing that usually runs the Koch group's electoral ads.
Most nonprofits that spend in elections are 501(c)(4)s, which are allowed to engage in some electoral activity (although groups like Crossroads GPS have pushed the envelope and do little else besides run campaign ads).
In contrast, groups organized under Section 501(c)(3) of the tax code have an absolute prohibition on intervention in a candidate's campaign for political office.
The reason for this prohibition, in part, is because unlike 501(c)(4) nonprofits, corporate or individual donations to a 501(c)(3) charity are tax-deductible and can be written-off as charitable deductions.
What this means is that whomever is bankrolling the $866,000 ad buy is getting a tax break for doing so.