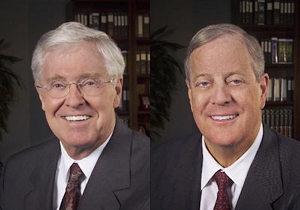 The Kochs had a hand in numerous local and state races in yesterday's elections. Because the Kochs fund so many entities and because many types of spending are not required to be disclosed, a full accounting of their activities may not be possible. Below CMD runs down some of the known spending, races, and results influenced by the Koch brothers or Koch-funded entities such as David Koch's Americans for Prosperity (AFP).
Koch Loss - Coralville Mayor and City Council, Iowa
Coralville rejected a raft of Koch-supported candidates last night, prompting a call from Vice President Joe Biden to mayor-elect John Lundell and reelected City Council member Tom Gill. Lundell told the local paper that Biden called, "to congratulate Coralville for smashing Americans for Prosperity, and he was really proud of our city."
AFP weighed-in on this nonpartisan race in a small town of 20,000, focusing on the town's economic development policies and debt that had been accrued to build a Marriott Hotel and Convention Center. Local residents say they have never experienced this type of outside spending in a local race. The New York Times reports that the AFP campaign included fliers, newspaper ads, calling voters and knocking on doors, but the amount of money spent is not yet known.
Koch Win - Douglas County School District, Colorado
Four Koch-backed school board candidates appear to have held onto their seats in Douglas County School district in Colorado, according to unofficial results.
Americans for Prosperity told Politico it would spend an eye-popping $350,000 in the local race, largely on five TV ads touting the "It's Working" theme formerly spotted in AFP's campaign during Wisconsin Governor Scott Walker's recall race. Douglas County School District "has gone further than any district in the nation to reshape public education into a competitive, free-market enterprise," reports Politico. "The board launched the first voucher program in the U.S. to subsidize private and parochial school tuition for wealthy families in a top-ranked public school district."
In 2009, AFP worked to defeat school board candidates on the Wake County School Board in North Carolina, a race profiled in Robert Greenwald's film Koch Brothers Exposed.
Koch Loss - Mayor's Race, New York City
The richest New Yorker, David Koch, spent big in the New York mayor's race in a hopeless effort to defeat progressive democrat Bill DeBlasio. DeBlasio, formerly the city's public advocate, trounced Joe Lhota with a 45 point margin according to unofficial results. DeBlasio focused on a "tale of two cities" message regarding rich and poor New Yorkers that resonated in the Democratic town which has elected out-sized Republican mayoral personalities for the past 20 years. Koch contributed $200,000 to the New York Progress and Protection PAC, a Super PAC supporting Lhota, shortly after a court decision striking down the city's contribution limits. Koch and his wife Julia each donated $175,000 to another committee, New Yorkers for Proven Leadership, which also backed Lhota.
Koch Loss - Governor's Race, Virginia
In the most competitive and closely watched race in the swing state of Virginia, the Kochs suffered a set back when former DNC chair Terry McAuliffe beat former State Senator and Attorney General Ken Cuccinelli 47.9 to 45.5 according to unofficial results. David Koch gave Cucinelli $50,000 directly.
In addition, the Koch-backed Republican Governors Association gave Cuccinelli some $8.1 million -- more than 40 percent of funds raised by his campaign since January 1, reports the Center for Public Integrity. One of the RGA's biggest 2013 donors was David Koch who gave them $1 million. When he was a state legislator Cuccinelli was a member of the American Legislative Exchange Council, also funded by the Kochs.
If you know of other races where Americans for Prosperity or other Koch-funded entities played a role, let us know at editor@PRwatch.org