News Flash: Art Fennell Loves Pancakes
For Bisquick's Birthday, CN8 Gives Away Its Viewers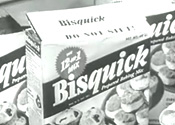 Clients: General Mills/Bisquick
Release Date: September 2006
Aired By: 1 station
Disclosed By: No stations
Coming up with timely "hooks" for General Mills' video news releases (VNRs) must be difficult. After all, the company's products—cake mixes, cereals and baking mixes—don't easily lend themselves to a news context.
Yet, the broadcast PR firm Medialink Worldwide has been successful at producing VNRs for General Mills that are aired in television newscasts. As described in the April 2006 "Fake TV News" report, a "National Pancake Week" VNR was aired on four stations. And General Mills reached more news viewers with the Wheaties and Halloween VNRs tracked for this study.
In October 2006, Medialink publicists crafted another VNR for General Mills, based appropriately enough on old Bisquick advertisements. The hook was Bisquick's 75th anniversary, and Comcast's CN8 (Philadelphia, PA) swallowed it, line and sinker.
On October 3, CN8's Janet Zappala introduced an edited version of the Bisquick VNR that she had re-voiced. "Remember Bisquick?" she asked eponymous host Art Fennell. "Seventy-five years ago is when it was first discovered," she added, as though the product were a new continent. The following segment, which came entirely from the VNR, almost continually featured the Bisquick logo and/or packaging on screen.
CN8 failed to appropriately label the ingredients of its newscast that evening. No disclosure of the Bisquick VNR was provided to the nine million U.S. homes that receive the station.
Unfortunately, that appears to be CN8 standard practice. The station aired four other VNRs described in this study, for Wheaties, Trend Micro, Allstate and Nelson's Rescue Sleep. Not once was any attempt made to disclose the nature or source of the sponsored video.
Update: In April 2009, former CN8 reporter Janet Zappala contacted the Center for Media and Democracy to state that: "I am an award-winning journalist who has always taken the utmost pride in my work. ... [At CN8] at the time all of this transpired, we had a very limited staff with very limited resources and were trying to do the best with what little we had. ... We were not set up at the time with our own station website; therefore the only way we could help our viewers find more information on a given topic was to give the only website available. I never endorsed any products or companies."
| | |
| --- | --- |
| Original General Mills VNR | CN8 10PM newscast |
| Created by Medialink | October 3, 2006 |
| Voiced by publicist | Re-voiced by station reporter |
| | |