What's Sex Got To Do with It?
Two Newsrooms Sleep as 'Hard Sell' VNR Airs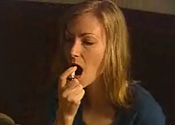 Clients: Nelson's Rescue Sleep
Release Date: September 2006
Aired By: 2 stations
Disclosed By: No stations
To increase the chances of their video news releases (VNRs) being used by television stations, broadcast PR firms usually limit direct references to the particular product or company being promoted. That isn't the case with a VNR titled "Sleep Is the New Sex," which was produced by D S Simon Productions for Nelson's Rescue Sleep.
This VNR is all about product promotion. After raising concerns about the safety of sleeping pills, the VNR presents an herbal product, "Rescue Sleep," as the next best thing since counting sheep.
The VNR calls Rescue Sleep "the most effective solution" to one former insomniac's "sleepless nights," and a product that's "proven to help you relax," with "no known side effects." Rescue Sleep's logo and packaging are prominently featured. For good measure, the VNR also mentions another product by the same company, which enjoys "a wide celebrity clientele." Unlike the other D S Simon VNRs described in this study, there is no verbal or on-screen client notification at the end of the Nelson's VNR.
Newsroom staff at KPTV-12 (Portland, OR) and CN8 (Philadelphia, PA) must have been asleep on the job, when edited and re-voiced versions of the VNR were included in the stations' newscasts. On September 15, 2006, a KPTV-12 anchor called Rescue Sleep "a natural alternative" that's "cheaper than prescription pills," with "no side effects. Plus ... Jennifer Aniston takes it, so it must be good." On September 21, a CN8 consumer reporter Janet Zappala added one caveat to a similarly promotional segment, stressing, "This is very important—it does contain 27 percent alcohol."
KPTV-12 aired the VNR as a "Need to Know" segment and CN8 as an "All About You" segment, again proving the irony of TV news branding efforts. Both segments were derived entirely from the Nelson's VNR. However, neither station made any attempt at disclosure.
In fact, CN8 has yet to disclose any VNR, though it aired four others described in this study, two from General Mills (promoting Wheaties and Bisquick), one from Trend Micro Software, and one from Allstate.
Update: In April 2009, former CN8 reporter Janet Zappala contacted the Center for Media and Democracy to state that: "I am an award-winning journalist who has always taken the utmost pride in my work. ... [At CN8] at the time all of this transpired, we had a very limited staff with very limited resources and were trying to do the best with what little we had. ... We were not set up at the time with our own station website; therefore the only way we could help our viewers find more information on a given topic was to give the only website available. I never endorsed any products or companies."
| | |
| --- | --- |
| Original Nelson's VNR | KPTV-12 9AM newscast |
| Created by D S Simon Productions | September 15, 2006 |
| Voiced by publicist | Re-voiced by anchor |
| | |