"Life Insurance Is Like Money in the Bank!"
Allstate in Good Hands with VNR-Friendly News Team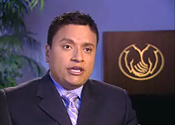 Clients: Allstate
Release Date: September 2006
Aired By: 1 station
Disclosed By: No stations
The days of the traveling insurance salesman are long gone, thanks to mass-market advertising. After all, why go door-to-door when you can enter thousands of homes at once through the television screen? Of course, in this ad-saturated culture, even a deep-voiced, authoritarian spokesman like actor Dennis Haysbert might not be enough to sell Allstate policies.
That may be why the company hired the broadcast PR firm Medialink Worldwide to create a video news release (VNR) about the importance of having life insurance, and lots of it.
The segment begins with the happy image of a mother pushing her two young children on swings, and then quickly turns ominous. "According to a study cited by the Insurance Information Institute," says Medialink publicist Andrew Schmertz, "two-fifths of surviving spouses would currently suffer between a 20 and 40 percent reduction in their standard of living if the primary wage-earner in the family died."
"So do you have life insurance?" inquired Schmertz. "And if so, do you have enough?"
CN8, the regional cable network owned by Comcast, was all too willing to ask those questions on Schmertz's behalf. On September 26, 2006, the channel's signature newscast—"Art Fennell Reports"—aired an 82-second edit of the VNR, replacing Schmertz's narration with the more familiar voice of consumer reporter Janet Zappala, and retaining both soundbites from Allstate manager Diego Hernandez as he sits in front of the company's "good hands" logo.
Additionally, CN8 mistakenly attributed the VNR's one statistical figure to the Insurance Information Institute, rather than a study that was cited by the Institute. It's unknown if anyone CN8 made an own attempt to verify the statistic contained in the VNR.
But the station, through Zappala, had no trouble telling its viewers that "life insurance is like money in the bank. And like a retirement account, the equity can grow and can be used to pay for almost anything; funeral expenses, debts, or to maintain a certain standard of living." Unbeknownst to audiences at home, the entire sentence was lifted verbatim from the VNR announcement furnished by Medialink.
Neither CN8 or Zappala gave any indication to viewers that their entire news story was supplied by publicists on behalf of Allstate.
But what's bad news for TV audiences is great news for Allstate. Perhaps the days of the deep-voiced, authoritarian spokesman are coming to an end, thanks to newscasts like "Art Fennell Reports." After all, why pay actors when you can get a TV news reporter to sell your policies for free?
CN8 also aired two unlabeled VNRs from General Mills (one for Wheaties and one for Bisquick), as well as undisclosed VNRs for Trend Micro and Nelson's Rescue Sleep. Additionally, the Center for Media and Democracy tracked two other VNRs from Allstate and Medialink for this study: one on flood insurance, the other on rental car insurance.
Update: In April 2009, former CN8 reporter Janet Zappala contacted the Center for Media and Democracy to state that: "I am an award-winning journalist who has always taken the utmost pride in my work. ... [At CN8] at the time all of this transpired, we had a very limited staff with very limited resources and were trying to do the best with what little we had. ... We were not set up at the time with our own station website; therefore the only way we could help our viewers find more information on a given topic was to give the only website available. I never endorsed any products or companies."
| | |
| --- | --- |
| Original Allstate VNR | CN8 10PM newscast |
| Created by Medialink | September 26, 2006 |
| Voiced by publicist | Re-voiced by station reporter |
| | |