A Campaign for Hearts and Kidneys
KSFY-13 Passively Discloses, NY1 Shows Another Side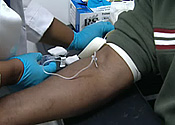 Clients: American College of Physicians
Release Date: August 2006
Aired By: 2 stations
Disclosed By: 2 stations
Sioux Falls, SD, ABC affiliate KSFY-13 can claim the dubious honor of providing the most extensive disclosure of a video news release (VNR) documented in this study—but only because it aired, complete and uncut, a pre-packaged segment from a public relations firm.
As is described elsewhere, D S Simon Productions instituted a small yet noteworthy change to their VNRs in April 2006, following the release of the Center for Media and Democracy's "Fake TV News" report. The broadcast PR firm added client notifications to the end of its VNRs, comprised of a brief on-screen label naming the client the video was "provided by," plus a sign-off by the narrating publicist saying, "On behalf of [client], I'm [name]."
On August 16, 2006, KSFY-13 anchor Allen Sommerfeld introduced a segment by saying, "A relatively new test could help determine if you have early stages of kidney disease, according to a study published in the Annals of Internal Medicine. Sonia Martin has the story." Martin is a publicist at D S Simon. The next two minutes of the newscast were a VNR from the American College of Physicians, which describes itself as "the nation's largest medical specialty society."
At the end of the KSFY-13 segment, the words "Video provided by American College of Physicians, publisher of Annals of Internal Medicine" briefly flashed on the screen and faux reporter Martin intoned, "On behalf of the American College of Physicians, I'm Sonia Martin."
The previous day, New York City cable station NY1 had incorporated the same VNR into a segment by health and fitness reporter Kafi Drexel [Quicktime - 3.1MB]. More than half of the NY1 segment came from the American College of Physicians VNR, including a soundbite from the study's lead author, Dr. Michael Shlipak. He linked results from the kidney test to patients' susceptibility to heart disease, heart attacks and strokes.
In addition to the edited and re-voiced VNR, the NY1 segment included two soundbites from an interview conducted by the station, with Dr. Morton Kleiner of Staten Island University Hospital. Kleiner served as a counter-balance to the VNR's glowing coverage of the kidney test, saying that newer test approaches "may be better." He also suggested that overall health monitoring might be the most useful approach to managing kidney disease and related problems—a stunningly common sense argument not mentioned in the original VNR.
Kleiner's different perspective illustrates why even VNRs from seemingly authoritative and impartial sources are suspect. Although the American College of Physicians presumably does not stand to profit from increased use of a particular kidney test, it does benefit by associating its major publication with what it presents as very important medical advances.
In addition to including Kleiner's independent assessment, NY1 disclosed the VNR to its viewers—sort of.
Most of the aired segment came from the VNR, but an on-screen label reading "Amer. Coll. of Physicians" only appeared briefly in the opening frames. Given the ambiguous and fleeting nature of this disclosure, viewers—if they noticed the label at all—likely assumed that just a few seconds of footage came from an outside source. No reasonable person (who didn't have access to the original VNR) would conclude that the majority of the segment actually came from a PR firm.
Both stations have aired other VNRs, without any disclosure to news audiences. NY1 was cited in the April 2006 "Fake TV News" report, for airing a VNR from three travel companies. KSFY-13 aired two other VNRs described in this study, from Siemens and from Matrixx Initiatives.
| | |
| --- | --- |
| Original Amer. Coll. of Physicians VNR | KSFY-13 5:30 AM newscast |
| Created by D S Simon Productions | August 16, 2006 |
| Voiced by publicist | Voiced by publicist |
| | |