A Scanner Fakely
Two Newscasts Praise Siemens Brand Technology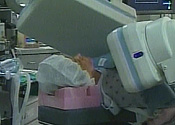 Clients: Siemens
Release Date: September 2006
Aired By: 2 stations
Disclosed By: No stations
"This year alone, a staggering 700,000 Americans will suffer a stroke," WBRZ-2 (Baton Rouge, LA) anchor Sylvia Witherspoon stated, on September 19, 2006. The exact same sentence appears at the top of an announcement from the broadcast PR firm Medialink Worldwide, regarding a video news release (VNR) from Siemens, a multinational electronics and engineering company.
Witherspoon's word choice was no coincidence. She was introducing a slightly-edited version of the Siemens VNR that she had re-voiced, following Medialink publicist Kate Brookes' script nearly word for word.
In the original VNR, Brookes says, "Robert Mata's latest visit with his doctor was a lot more relaxing than his first. That's when Mata arrived at the Methodist Hospital in Houston by ambulance, bleeding from the brain." Witherspoon's version for WBRZ-2 merely deleted the non-local reference: "Robert Mata's latest visit with his doctor was a lot more relaxing than his first. That's when Mata was rushed to the hospital, bleeding from the brain."
The VNR showcases Siemens' DynaCT imaging application, mentioning it by name four times in just two minutes. The VNR shows the machine in action, from an angle that clearly highlights the Siemens logo. It also includes an interview with Siemens spokesperson Claus Grill. (WBRZ-2 misidentified Grill as being with the "Methodist Neurological Inst," perhaps to further obscure Siemens' role in funding and providing the segment.) As the VNR ends, Kate Brookes appears on screen to say, "Doctors say technology like this"—pointing to the machine—"can help put more time on the side of the patient."
While Witherspoon's version for WBRZ-2 edited out Brookes' voice and face, KVCT-19 (Victoria, TX) aired the entire pre-packaged VNR on September 19. The KVCT-19 anchor introducing the segment referred to Brookes, as though she were a reporter: "As Kate Brookes shows us, those numbers [of deaths from strokes] may soon start falling."
Although both stations' segments were entirely derived from the Siemens VNR, neither disclosed this fact to their news audience.
WBRZ-2 may be unable to refuse Kate Brookes' Siemens VNRs. The station was cited in the April 2006 "Fake TV News" report, for airing without disclosure a pro-ethanol VNR from Siemens that also features Brookes on screen. WBRZ-2 news director Chuck Bark explained that earlier VNR broadcast to The Advocate of Baton Rouge, LA: "We don't have a problem with running something from a corporation as long as it is accurate and fair. ... We wouldn't have someone on the air selling a branded product" (April 19, 2006).
| | |
| --- | --- |
| Original Siemens VNR | WBRZ-2 5PM newscast |
| Created by Medialink | September 19, 2006 |
| Voiced by publicist | Re-voiced by station health reporter |
| | |