Feed a Cold, Starve the Truth
Two Stations Sneeze at Built-In VNR Notifications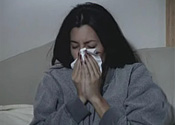 Clients: Matrixx Initiatives
Release Date: October 2006
Aired By: 2 stations
Disclosed By: No stations
Sometimes you have to wonder why the broadcast public relations firm D S Simon Productions even bothers. Following the April 2006 release of the "Fake TV News" report, the firm added client notifications to most of its video news releases (VNRs). As is described elsewhere, these VNRs end with brief on-screen written and verbal mentions of the client that funded the segment.
However, television newscasts incorporating these VNRs—12 of 15 cited in this study, to be exact—overwhelmingly failed to provide any disclosure to viewers. WMGM-40 (Linwood, NJ) is one station that edited out the D S Simon notifications, thus actively denying disclosure to its news audience.
On October 18, 2006, WMGM-40 health reporter Robin Stoloff opened her "Lifeline" segment by saying, "A national survey by Harris Interactive shows only nine percent of travelers over the age of 30 say that they feel knowledgeable about how to treat the common cold."
What followed was a pre-packaged VNR that D S Simon had produced for Matrixx Initiatives, the makers of Zicam cold remedies. The segment contained multiple mentions and product shots of Zicam. The only edit that WMGM-40 made was to remove the on-screen client notification at the end of the VNR. Stoloff had re-voiced the segment, following the original VNR script nearly word-for-word, with a few minor stylistic variations. However, she neglected to say the five most important words in the script: "On behalf of Matrixx Initiatives."
WMGM-40 denied disclosure not only to Philadelphia-area viewers, but also to website visitors. The online version of Stoloff's story contains no indication that it was copied from Matrixx Initiatives' PR materials. An additional online report about foot bunyons, dated October 11, was copied word-for-word from a VNR [Windows Media - 6.5MB] created by Gordon Productions on behalf of the American College of Foot and Ankle Surgeons. Once again, no disclosure was given.
According to WMGM-40 news director Harvey Cox, it is against the news department's policy to air VNRs. He explained that Stoloff "is not a news employee, she is a sales person who doubles as a health reporter [and] does a sponsored segment."
On October 16, KSFY-13 (Sioux Falls, SD) anchor Allen Sommerfeld introduced an edited version of the Matrixx Initiatives VNR that he had re-voiced. Although every shot and piece of information in the segment [Quicktime - 1.0MB] came from the VNR, no disclosure was made to the KSFY-13 news audience.
KSFY-13 had previously aired two other health-related VNRs. On August 16, 2006, the station ran a complete VNR from the American College of Physicians, that time airing the built-in client notifications. Two days later, KSFY-13 aired an entire Siemens VNR, without any disclosure. The "Fake TV News" report included another Matrixx Initiatives VNR that was aired by one station, again without disclosure.
| | |
| --- | --- |
| Original Matrixx VNR | WMGM-40 6PM newscast |
| Created by D S Simon Productions | October 18, 2006 |
| Voiced by publicist | Re-voiced by station health reporter |
| | |