Mike Morris Gets His Big Break
Two Stations Dress Publicist Up as Reporter for Halloween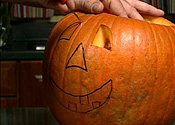 Clients: General Mills
Release Date: October 2006
Aired By: 2 stations
Disclosed By: No stations
Unlike other broadcast public relations firms, Medialink Worldwide has no qualms about having its publicists play on-screen reporters in its video news releases (VNRs). And many television newscasts have gone along for the ride, showing Medialink's Kate Brookes "reporting" from ethanol plants, driver's seats, hospitals, and other hospitals. But while Brookes' colleague Mike Morris also appears in VNRs, TV stations rarely included him in the picture—until October 2006.
That month, Medialink produced a Halloween-themed VNR for General Mills titled, "History of the Jack O' Lantern." In addition to numerous shots of pumpkins and pumpkin-flavored treats, the spot features soundbites from Betty Crocker's Maggie Gilbert, woman-on-the-street interviews, and screenshots of the Betty Crocker website. At the end of the VNR, Mike Morris says, "Now, once you've carved your Jack O' Lantern, log onto BettyCrocker.com to get recipes and ideas."
On October 24, KHON-2 (Honolulu, HI) aired the VNR, complete and uncut. Worse, when Medialink's Morris appeared on screen, the station added a text overlay that read, "Mike Morris reporting." Honolulu viewers were not told that the segment had been cooked up by Betty Crocker's PR firm and paid for by General Mills.
Such poor journalistic practices were presaged in early 2006, when KHON-2 changed hands and its new owners announced plans to fire nearly one-third of the station's employees. News anchor Joe Moore, who later resigned in protest, told the Honolulu Advertiser at the time, "It's clear to almost everyone at the station that our new owners are destroying KHON. ... Their barbaric downsizing plan will severely cripple our ability to present relevant news and public service programming." [Update: Moore later decided to stay at the station.]
On October 24, KFMB-8 (San Diego, CA) also aired the entire pre-packaged General Mils VNR. KFMB-8 anchor Nichelle Medina introduced the segment [Quicktime - 2.9 MB] by asking, "Have you ever wondered where the tradition of turning a plain old pumpkin into a grinning Jack O' Lantern comes from? Mike Morris has the scoop on exactly who Jack is."
San Diego viewers were tricked that morning. Like KHON-2, KFMB-8 failed to treat its news audience to any disclosure of the sponsored nature of the segment.
KFMB-8 received the VNR from a CBS video feed, according to station news director Fred D'Ambrosi. "The piece was clearly identified as a VNR on the feed, but the producer did not see the VNR slate and assumed it was a feature story," he explained. Station policy is not to use VNRs in news stories, and "our staff has been reminded" of that, he added.
| | |
| --- | --- |
| Original General Mills VNR | KHON-2 6AM newscast |
| Created by Medialink | October 24, 2006 |
| Reported by Mike Morris | Reported by Mike Morris |
| | |