Huey Lewis and the Fake News
Four Stations Remove Built-In Disclosures on Hearing Aid VNR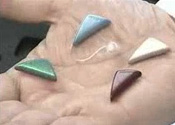 Clients: Oticon A/S
Release Date: April 2006
Aired By: 4 stations
Disclosed By: No stations
In April 2006, D S Simon Productions created a video news release (VNR) promoting Delta, a new hearing aid receiver from Oticon A/S. The two-minute video, titled "It's Not Your Grandfather's Hearing Aid," features product praise from 1980s rock sensation Huey Lewis, as well as Phil Christensen, a professional audiologist.
The VNR also contains two new forms of client identification that were presumably added in response to the Center for Media and Democracy's (CMD's) report "Fake TV News: Widespread and Undisclosed," which had been released three weeks earlier. D S Simon added a brief visual overlay at the end of the video that clearly indicated Oticon as the VNR's sponsor. Additionally, the company changed its narrating publicist's sign-off from "I'm Sonia Martin" to "On behalf of Oticon, I'm Sonia Martin."
Despite D S Simon's laudable efforts to ensure transparency, four television stations took active measures to strip all disclosure from the VNR before blending it into their newscasts. On April 27, KXXV-25 (Waco, TX) passed the story off as their own "Healthbeat" segment, enlisting station reporter Sonia Azad to re-narrate the story virtually word-for-word. Similarly, and on the same day, KMEG-14 (Sioux City, IA) recruited its own health correspondent, Natalie DeGezelle, to follow Sonia Martin's script nearly verbatim.
Meanwhile, two major-market stations—WLVI-56 (Boston, MA) and KCOP-13 (Los Angeles, CA)—provided their own edited versions of the Oticon VNR, on April 26 and 27, respectively. Both segments were re-voiced by station reporters, and were built entirely from the VNR and supplementary footage (also known as B-roll) provided by D S Simon. KCOP-13 even referred viewers to the Oticon website for more sales information.
None of the four stations balanced the VNR footage with independent research, and none disclosed D S Simon or Oticon as the source of their story. This fits the overall pattern observed by CMD—of the 15 newscasts that included footage from D S Simon VNRs with built-in client identification, 12 failed to provide any of that disclosure to viewers.
All four offending newscasts aired just three weeks after the Radio-Television News Directors Association—in response to CMD's report—publicly urged its members to strengthen their VNR disclosure policies. Five months later, KCOP-13 aired another VNR, from Novartis, without disclosure.
| | |
| --- | --- |
| Original Oticon VNR | KCOP-13 11PM newscast |
| Created by D S Simon Productions | April 27, 2006 |
| Voiced by publicist | Re-voiced by station reporter |
| | |
| | |
| --- | --- |
| KMEG-14 10PM newscast | WLVI-56 10PM newscast |
| April 27, 2006 | April 26, 2006 |
| Re-voiced by station reporter | Re-voiced by station reporter |
| | |