Multiple Soundbites for Novartis
VNR Touts Drug Before FDA Approval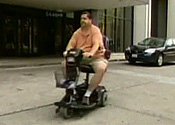 Clients: Novartis
Release Date: September 2006
Aired By: 4 stations
Disclosed By: No stations
Most video news releases (VNRs) about prescription drugs are released as the drug receives final approval from the U.S. Food and Drug Administration. Novartis opted for a different approach, promoting a drug still in the regulatory pipeline.
In September 2006, the company's FTY720 drug (also known as fingolimod) was found to have "reduced the number of lesions detected ... and clinical disease activity in patients with multiple sclerosis," according to a study published in the New England Journal of Medicine. The same month, FTY720 entered Phase III trials, for treating relapsing forms of multiple sclerosis (MS)—and Novartis commissioned a VNR from the broadcast PR firm MultiVu.
The Novartis VNR tells the story of MS patient Ken Laws. He "has been on many of the currently-available treatments for MS, all given by injection, and had mixed results," says the VNR narrator. The VNR ends with Ken and a woman playing cards, as the narrator explains that FTY720 "is now being tested in a larger number of people, and Ken is hopeful that he, and others living with MS, may soon have more treatment options." The VNR also features Doctors Anthony Reder and Ludwig Kappos.
Why would Novartis promote a drug not yet approved for sale? Perhaps it wanted to get a head start on the competition. "A number of big pharma groups are working on MS treatments. Many next-generation products are expected to be oral," London's Financial Times reported on January 13, 2006. "Novartis believes its FTY720 compound could set a new 'gold standard' for the industry."
The financial stakes are considerable, according to the September 1, 2006, edition of Med Ad News. "If approved, FTY720 could record sales of $50 million in 2010, according to Bernstein Research analysts," reported Steve Niles. "Sales could increase to $300 million by 2012."
Four television stations aired re-voiced and edited versions of the Novartis VNR: WSYX-6 (Columbus, OH) on September 15; and KBAK-29 (Bakersfield, CA), KSFX-27 (Springfield, MO), and KCOP-13 (Los Angeles, CA), all on September 14. The segment that each station aired came wholly from the Novartis VNR and extra soundbite video. No station disclosed the VNR to its news audience. And none mentioned any of the "adverse events" observed with FTY720 to date, which rapidly scroll across the screen at the end of the original VNR.
KBAK-29 news director Meaghan St. Pierre said that, according to station records, "We took that [Novartis segment] from FOX News ... and nothing suggested it was a video news release. It was presented as a news story." She said that station policy is not to use VNRs "as a solo source" for a news story, and to disclose when VNR footage is aired.
Two other stations are repeat fake news offenders. KCOP-13 aired the Oticon VNR described in this study, after removing its built-in disclosures. WSYX-6 was cited in the April 2006 "Fake TV News" report, for airing a VNR from three consumer electronics companies.
| | |
| --- | --- |
| Original Novartis VNR | WSYX-6 6AM newscast |
| Created by MultiVu, Inc. | September 15, 2006 |
| Voiced by publicist | Re-voiced by station reporter |
| | |