Driven Into the Arms of Others
KHSL-12 Obliges Allstate, KGO-7 Fronts for Three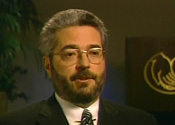 Clients: Allstate
Release Date: June 2006
Aired By: 2 stations
Disclosed By: No stations
"The travel industry is forecasting Americans will take more than three hundred and twenty-five million leisure trips this summer, many of them involving the use of a rental car," KHSL-12 (Chico, CA) anchor Melissa Cabral stated amazedly, on July 3, 2006. "Kate Brookes has some tips to help you avoid any potholes you may travel while you're on the open road."
Followers of the Center for Media and Democracy's (CMD's) work—or fans of Comedy Central's Daily Show, which ran a segment on CMD's "Fake TV News" report—might have thought Brookes' name sounded familiar. She's the Medialink Worldwide publicist previously outed by CMD for narrating many video news releases (VNRs) and even playing a reporter on screen in several.
The unfortunate Chico viewers who didn't know Brookes' real day job were in for a rocky ride. The KHSL-12 segment warned that car renters were liable for accidents, and concluded with Brookes saying, "Vacation should be a time to relax, and taking the insurance on your rental car may give you that extra peace of mind to let you do so."
The KHSL-12 segment was an entire pre-packaged VNR, produced by Medialink for Allstate Insurance Company. Yet, the station offered no disclosure to its news audience. Responding to CMD's queries, KHSL-12 news director Trish Coder stated that the station rarely runs VNRs, but doesn't have any rules about identifying them when used. After being reminded of both the RTNDA's ethical guidelines on VNR usage and the FCC's sponsorship identification rules, anchor Melissa Cabral said, "We were never told about that. It's not our current policy to do that."
To the south, San Francisco's KGO-7 also used the Medialink / Allstate VNR, but with a twist—the station added footage from two other VNR-like videos, plus some original reporting. On June 28, 2006, KGO-7 reporter Michael Finney promised to clear up the "myths and misconceptions about car rentals" that "can cost you," in his "7 On Your Side" segment [Quicktime - 4.7MB].
From the Medialink / Allstate VNR, KGO-7 used footage of car rental counters, families and cars, plus a soundbite from Allstate's Glen Mancuso (who was seated in front of a large Allstate logo). The KGO-7 segment also featured Lauren Fix, identified simply as "automotive expert," and Lynn Hayes, identified as the "FamilyTravel.com editor."
In the previous weeks, both Fix and Hayes had starred in sponsored videos produced and distributed by DWJ Television, a broadcast PR firm like Medialink. Fix's five-minute video promoted GPS driving systems, first aid kits, diagnostic devices for car problems, and games for the kids. Hayes' nearly four-minute video promoted rental cars, traveler's checks, hotel programs and theme parks.
While KGO-7 did not take material directly from the DWJ videos, the station's segment showed Fix and Hayes speaking from the same studio, wearing the same clothes, and discussing the same products and topics as they did in the DWJ videos. For example, KGO-7 showed Lauren Fix promoting a GPS system. "One of the easiest ways to save money this summer is to get yourself a GPS unit. ... The NavView will help you redirect around roadblocks or collisions," she advised.
KGO-7 did not provide any disclosure to its viewers, even though the only part of its segment that appears to have come from the station's own reporting was a comparison of rental car prices from different Washington DC locations.
After reviewing the segment, KGO-7 news director Kevin Keeshan called it a "clear violation of our written policy on the use of video news releases." He said the station had obtained the Allstate VNR from the Pathfire digital video feed system, but was unsure of the source of the Fix and Hayes soundbites. "We are absolutely redoubling our efforts to make sure it does not happen again," he stressed.
| | |
| --- | --- |
| Original Allstate VNR | KHSL-12 12PM newscast |
| Created by Medialink | July 3, 2006 |
| Voiced by publicist | Voiced by publicist |
| | |