Kansas City Newsroom on Auto Play
WDAF-4's Safety Segment Really a GM Ad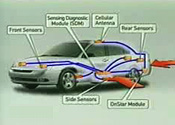 Clients: General Motors
Release Date: May 2006
Aired By: 1 station
Disclosed By: No stations
The broadcast PR firms that produce video news releases (VNRs) do everything they can to simplify the lives of television news staff. They give each VNR a "hook"—an upcoming holiday, a cautionary tale, or hints for savvy consumers. They provide a scripted introduction to the VNR. They even come up with bad puns related to the VNR subject. It's so easy that all TV stations need to do is download the video and press "play."
That's just what WDAF-4 (Kansas City, MO) did on May 18, 2006, when it aired a VNR titled "Vehicle Crash Safety" from General Motors (GM).
Local anchor Mark Alford introduced the segment by saying, "Most safety advocates agree that fastening your seat belt is the best way to survive a crash." Then he mentioned the "National Click It or Ticket" law enforcement effort to increase seat belt use, as described in the VNR script. Lastly, he introduced Chris Hansen, who would show—in Alford's words—"how safety belts, combined with other automotive safety technologies, are protecting all of us on the road."
Chris Hansen isn't a reporter, though he plays one on TV. He's a publicist for the PR firm Medialink Worldwide.
For the next two minutes, WDAF-4 viewers were presented with a complete, pre-packaged VNR. It was overtly promotional, touting features available on GM cars—StabiliTrak "electronic stability control," hi-tech airbags that surround passengers, and OnStar's "in-vehicle communications technology." Oh, and seat belts. The experts quoted were Dr. Ronald M. Stewart from the University of Texas, Rich Golitko from Bosch, Carmen Benavides from GM and Jeff Perry from OnStar, a company owned by GM.
But Kansas City viewers were kept safe—from knowing who was behind the segment. WDAF-4 did not offer any disclosure of the VNR. When contacted regarding the segment, WDAF-4 news director Bryan McGruder refused to comment.
WDAF-4 was also cited in the April 2006 "Fake TV News" report, for airing a version of an American Dental Association VNR that appears to have been edited and distributed by the FOX Network.
| | |
| --- | --- |
| Original General Motors VNR | WDAF-4 12:30 PM newscast |
| Created by Medialink | May 18, 2006 |
| Voiced by publicist | Voiced by publicist |
| | |