Yes, But Can It Protect You From Fake News?
Comcast Station Goes All Out To Push Laptop Security Software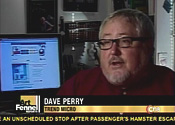 Clients: Trend Micro Software
Release Date: September 2006
Aired By: 1 station
Disclosed By: No stations
From the Department of Unintended Irony: A cable newscast devotes 86 seconds to a report about identity theft while stealing the identity of the segment's true authors.
On September 28, 2006, CN8—the Comcast Network—warned viewers that laptops were becoming a increasingly big target for criminals, not for the resale value but for the sensitive personal information often found on the hard drive. Fortunately, said CN8 consumer reporter Janet Zappala, "there are ways to keep your laptop away from the bad guys."
Little did viewers know that every fact, frame and soundbite of the story that followed was lifted directly from a video news release (VNR) package commissioned by Trend Micro and designed to promote their commercial security software. The VNR—created by the broadcast PR firm D S Simon Productions—features testimony from Detective David McCain, a high-tech crime investigator who advises users "to have a software program or some type of data protection" on their laptops; and Tom Fragala, a theft victim who wishes he'd had some type of data protection on his laptop. Sure enough, the second half of the VNR focuses on Trend Micro's "Remote File Lock" system, part of their Internet Security suite that's available to PC users for an annual cost of $50. In addition to multiple screenshots of the software in action, the video features a lengthy explanatory soundbite from Trend Micro's Dave Perry.
As with virtually all D S Simon VNRs released since April 2006, the segment ends with two forms of disclosure: a brief visual label that reads "Video provided by Trend Micro," and a signoff from the VNR's narrator: "On behalf of Trend Micro, I'm Sonia Martin."
In adapting the VNR, CN8 edited out a full minute of the original D S Simon video, including the label that had identified Trend Micro as the source of the story. Additionally, the station replaced Sonia Martin's narration with the more familiar voice of CN8's Zappala, thereby removing Martin's audio disclosure. Despite the heavy edits, CN8 retained every promotional shot of Trend Micro's Internet Security suite, and included Dave Perry's soundbite on the many benefits of the "Remote File Lock" feature.
"Sounds good, right?" asked Zappala, immediately after Perry's pitch. She then referred viewers to Trend Micro's website. At no point did CN8 or Zappala reveal to viewers that the entire story was furnished by publicists on behalf of Trend Micro. Apparently the station left its disclosure on the company laptop. Has anyone seen it lately?
Based in Philadelphia, CN8 is available on Comcast cable systems throughout the American east and northeast. It currently reaches over nine million homes. Its 10PM news program, "Art Fennell Reports," is also cited in this study for airing two undisclosed VNRs from General Mills (one for Wheaties and one for Bisquick), as well as VNRs from Allstate and Nelson's Rescue Sleep. In November 2005, Trend Micro released another VNR through D S Simon that appeared without disclosure on newscasts all throughout the country.
Update: In April 2009, former CN8 reporter Janet Zappala contacted the Center for Media and Democracy to state that: "I am an award-winning journalist who has always taken the utmost pride in my work. ... [At CN8] at the time all of this transpired, we had a very limited staff with very limited resources and were trying to do the best with what little we had. ... We were not set up at the time with our own station website; therefore the only way we could help our viewers find more information on a given topic was to give the only website available. I never endorsed any products or companies."
| | |
| --- | --- |
| Original Trend Micro VNR | CN8 10PM newscast |
| Created by D S Simon Productions | September 28, 2006 |
| Voiced by publicist | Re-voiced by station reporter |
| | |