KLFY-10 Carries Water for Allstate
Station Pushes Flood Insurance Over Journalism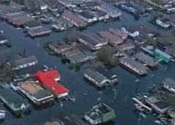 Clients: Allstate
Release Date: June 2006
Aired By: 1 station
Disclosed By: No stations
The devastation of the 2005 hurricane season, especially along the U.S. Gulf Coast, caused many people to think about race and class disparities, the proper role of government, and the at-times overwhelming power of nature. Or, if you work at an insurance company, how to sell more policies.
As the 2006 hurricane season approached, Allstate Insurance Company commissioned a video news release (VNR) from the broadcast PR firm Medialink Worldwide. The resulting segment, "Who Needs Flood Insurance?" tells the story of Troy Thoden, whose house was flooded by Hurricane Floyd. The VNR also features Allstate agent Crystal Heydari, who describes how and when homeowners can buy flood insurance, as a large Allstate logo looms in the background.
On June 5, 2006, KLFY-10 (Lafayette, LA) anchor Darla Montgomery introduced an edited version of the VNR that she had re-voiced. "Hurricane season is here," she warned, "and that means millions of people may be subject to floods."
All of the footage shown and everything Montgomery said came straight from the VNR package. Thoden's soundbites were gone, but Heydari's hurricane hints remained. Allstate was not identified as the source of the segment.
Viewers in the Lafayette area, which was impacted by Hurricanes Katrina and Rita in 2005, were likely wondering how to better protect themselves and their belongings during potential future floods. Instead of meeting that real community need with independent reporting, KLFY-10 offered "news" that was actually a covert Allstate ad.
The following month, KLFY-10 aired another VNR tracked in this study, from General Motors. Again, the station failed to disclose the segment to news audiences.
The station's policy is to "not run video news releases," said KLFY-10 news director C.J. Hoyt. He couldn't speak to the two VNR broadcasts documented in this report, but identified miscommunication, confusion and staff turnover as possible factors. "There's no reason to use a VNR," he stated. "It's generally just a commercial for a product and that's not what we're in the business of doing."
Update: In December 2007, KLFY anchor Darla Montgomery contacted the Center for Media and Democracy to state that: "I am not in a position to make any decisions on what hits air, in what format and from what source. I can only advise based on my years of experience and if that advice is not taken, then it is out of my control. ... I worked very hard with great integrity to achieve my career goals and DO NOT support 'fronting' stories."
| | |
| --- | --- |
| Original Allstate VNR | KLFY-10 6PM newscast |
| Created by Medialink | June 5, 2006 |
| Voiced by publicist | Re-voiced by station reporter |
| | |