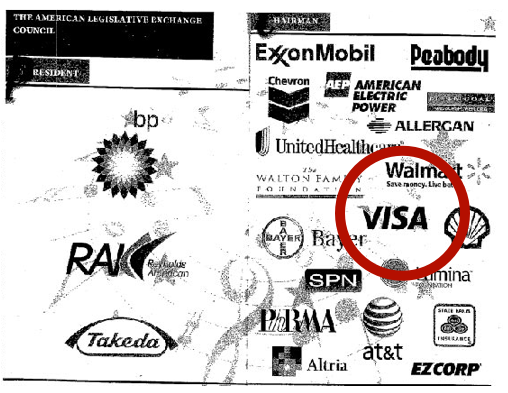 A majority of Visa shareholders rejected an effort to require the company to provide more disclosure about its role in the American Legislative Exchange Council (ALEC) and related lobbying activities. Boston Common Asset Management, an investment firm focused on socially responsible investing, and the Unitarian Universalist Association of Congregations (UUA), a religious organization that affirms the inherent capacity for good in human beings, filed a resolution to require the company to disclose all payments used for lobbying purposes, including payments to groups like ALEC. In all, over 100 million votes were cast in favor of the resolution -- 37% -- but that substantial outpouring of support for greater transparency accounted for less than a majority of the votes cast by Visa shareholders.
The Boston Common/UUA resolution noted that
Visa does not disclose its contributions to tax-exempt organizations that write and endorse model legislation, such as Visa's $50,000 contribution to the ... ALEC annual meeting.
Boston Common's Managing Director, Lauren Compere, noted that Visa's underwriting of the controversial legislative agenda of ALEC creates "substantial risks to Visa's brand posed by questionable forms of lobbying and political activity."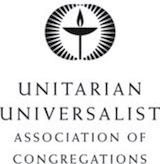 The resolution by the Unitarians and Boston Common urged other shareholders to be wary of ALEC's role "in Arizona style immigration bills, Stand Your Ground legislation and voter identification bills" and pointed out that other companies, including "McDonald's, PepsiCo, Wendy's and Kraft Foods," had withdrawn their financial support for ALEC.
Although Visa has disclosed it spends millions lobbying state legislatures and Congress per year, the company has failed to disclose how much its spends bankrolling ALEC each year even though, as the Center for Media and Democracy (CMD) has documented, ALEC has boasted that nearly 1,000 of its bills are introduced each year and hundreds become law through its efforts. And, Common Cause, Clergy Voice, and the Voter Legislative Transparency Project have filed claims with the IRS about ALEC's extensive lobbying activities despite its assertion that it does not lobby. CMD has also documented ALEC's previously secret communications with legislators urging that bills be introduced and passed, the very definition of lobbying.
Visa Sponsored Lunch Address of Tea Party Group Leader, Dick Armey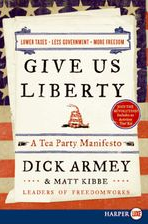 As CMD staff reported in 2011, at ALEC's annual convention in New Orleans in 2011, CMD learned that Visa was the sponsor of the lunch address of former Congressman Dick Armey, then the Chairman of the Tea Party group called "FreedomWorks," which was spawned by right-wing billionaire David Koch's "Citizens for a Sound Economy," which split into FreedomWorks and Koch's "Americans for Prosperity." The transcript of Armey's comments is not publicly available.
Armey has come under fire for accepting a $12 million payout agreement from a multi-millionaire funder of FreedomWorks (and Mitt Romney's efforts to win the White House) in exchange for hushing up his concerns about ethical breaches at FreedomWorks until after the election and holding his resignation until then. Since Mother Jones broke that story, Armey has helped expose how FreedomWorks paid about a million dollars a year to the discredited extremist talk show host Glenn Beck to promote FreedomWorks to Tea Party members.
And, as CMD recently exposed, FreedomWorks has decided to put its war chest to work on ALEC's anti-worker, anti-union agenda in the states in 2013.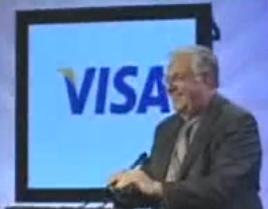 But, Visa's sponsorship of Armey's FreedomWorks speech in 2011 was apparently not a one-time thing. In 2008, Armey addressed the ALEC convention as the chair of FreedomWorks. Which of the many ALEC corporations sponsored that speech? Visa. ALEC posted three videos of Armey's Visa-sponsored address in 2008, before ALECexposed was launched and the organization became notorious for its extreme agenda and operations.
At that Visa-sponsored speech, Armey touted the economic theories of ALEC expert Richard Vedder, whose views he said would make economist Adam Smith roll over in his grave. Smith, the author of the "Wealth of Nations," cautioned that policies proposed by businesses "ought always to be listened to with great precaution... It comes from an order of men, whose interest is never exactly the same with that of the public, who have generally an interest to deceive and even to oppress the public, and who accordingly have, upon many occasions, both deceived and oppressed it."
Armey said in his speech to ALEC members that "Government shouldn't do the right thing if it is not necessary," a distinctly different approach to governance than the authorities and limits set forth in the U.S. Constitution.
Visa's Exec Awarded ALEC Private Sector Member of the Year in 2012
Visa's interest in ALEC exceeds its interest in underwriting FreedomWorks' Dick Armey speeches to the organization. According to task force documents obtained by Common Cause and CMD, Visa has been a member of ALEC's "Commerce, Insurance, and Economic Development Task Force." Corporate members of that task force vote as equals with elected officials behind closed doors and vote alongside the Koch-funded Reason Foundation, foreign venture capital firms, and other entities, like the Heartland Institute which is a long-time ally of ALEC and which recently compared anyone who believes in climate change with the unabomber.
As CMD has detailed, that ALEC task force is responsible for most of the ALEC bills designed to crush workers' rights, by undermining union's power in a variety of ways. It is also the ALEC task force that has fought minimum and living wage laws, and advanced trade agreements that ship American jobs overseas.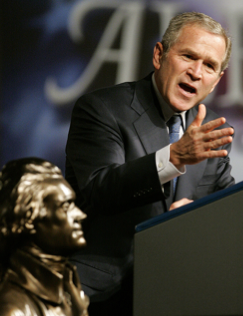 And last year ALEC gave Visa and its Vice President of "State Relations," Paul Russinoff, its highest award for corporate members, naming it a "Private Sector Member of the Year." It is not clear just what Visa and Russinoff did for ALEC in 2012 to warrant this distinction. Did it provide an exceptional amount of funding for ALEC that year as the group faced numerous corporate defections? If not, what other activity distinguished it? Visa's fellow ALEC honorees that year were tobacco giant Philip Morris International, German pharmaceutical company Boehringer Ingelheim (maker of the prostate urinary tract drug Flomax), the insurance company called Amerigroup, and the peddlers of the "clean coal" myth, the "American Coalition for Clean Coal Electricity."
According to archival documents about ALEC, it appears that Russinoff has been involved with ALEC in one capacity or another since at least 1998, when ALEC had its annual convention in Chicago. (Its 2013 summer convention will also be held in Chicago.)
Visa's ALEC Agenda Includes Bills to Benefit Whom? Visa
One of the recent ALEC resolutions known to be pushed by Visa through ALEC is an effort to limit state regulation of what are known as "payroll cards." This is a method that some companies and government agencies are being urged to pay their employees with instead of direct deposit to a bank or a paper check that the worker can cash and use without any fees.
At ALEC's November 2011 meeting at the posh Kierland Resort in Scottsdale, Arizona, Visa's state government relations representative (a registered lobbyist), Kate Viar, introduced the measure to try to get state legislators to block efforts to impose extra conditions, beyond what corporations want, on the use of these "reloadable pre-paid cards" that she asserted was one of the "least expensive means" (for whom?) for employees to be paid.
That ALEC resolution was put forward in the aftermath of a legislative fight Visa waged in Connecticut in 2011, for example, where some legislators and outside groups who examined the use of these cards were concerned that workers would be charged fees to access their wages.
For example, after concerns were raised, the Connecticut bill imposed conditions such as that workers must be allowed at least two "free" withdrawls of their wages from the card per week, that they must be able to check their balance for free, and that they not be charged low balance fees while they are employed, and that their wage payroll cards do not expire, even if the credit card company puts an expiration date on the card.
The state affiliate of the AFL-CIO labor union opposed the bill as initially introduced for not protecting workers' rights to have access to their wages without additional fees, and the state affiliation of grocers opposed the bill because credit and debit card processing companies, like Visa, were exacting fees for every transaction which amounted to roughly 44 cents or more for every grocery store bill paid by a credit or debit card, taking revenue from strapped grocery stores for "inter-bank fees." Visa asserted that the bill was essential for workers who are "under-banked," that is, do not have checking accounts, although such workers can often cash checks without any bank fees.
In CMD's views, such fees operate like a largely unregulated corporate tax on other businesses, which are often passed on to consumers. Visa, which is the largest retail electronic payments network in the world, reported revenue of $9.1 billion in 2011 on fees from over $4 trillion in transactions. Its net income was over $3.6 billion after expenses, which included total compensation of its CEO, Joseph Saunders, of more than $11 million in 2011.
ALEC's Agenda Would Bar Limits on ATM Fees and Interest Rates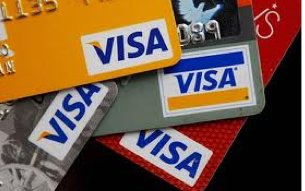 Beyond this recent example, CMD has exposed how ALEC's legislative effort to protect companies like Visa includes "model" bills to bar legislators from imposing any limit on the interest (or usery) rates that can be charged on credit as well as bills to block the people's representatives from putting any limit on ATM fees imposed by banks to get access to consumer's cash. (These bills are available below.) Visa does not actually issue credit cards or debit cards; it allows its name to be used by banks and takes fees from transactions.
Some other corporate funders of ALEC that would benefit from such bills have dropped out of ALEC, unlike Visa. These include both Wells Fargo and Bank of America, at the end of 2012, bringing to 41 the total number of for-profit companies that have announced they have left ALEC since ALECexposed.org was launched and since CMD helped connect the dots between ALEC and the proliferation of so-called "Stand Your Ground" laws like the one initially cited to protect Trayvon Martin's killer from arrest as well as efforts to make it harder for Americans to vote.
Bank of America's BankAmericard was actually the predecessor of Visa, which has long used a logo that echoed BofA's blue, white, and gold theme. But unlike its predecessor company, Visa appears to be standing by ALEC.
This is not the first controversy to come Visa's way. Almost a decade ago, it settled an antitrust lawsuit brought by retailers like Wal-Mart, another long-time ALEC member that stopped funding ALEC last year. In that case, Visa and MasterCard settled the claims for over $3 billion. Last year, the two companies also reached a $6 billion settlement in a case about the rates charged for credit card versus debit card transactions, and Visa continues to do battle in the EU over its decision to stop credit card transactions from funding WikiLeaks, even though Iceland issued a decision requiring that transactions be permitted through its Icelandic affiliate on the grounds of protecting freedom of expression.
BlackRock and Goldman Sachs Hold Big Portions of Visa Stock

The efforts of shareholders to obtain greater transparency from Visa was an uphill battle, given the other major shareholders of Visa, which went public a few years ago. According to Morningstar, a financial reporting outlet, BlackRock Advisors LLC is the largest stockholder of Visa, with over 32 million shares as of the end of 2012. BlackRock Fund Advisors holds another 4.5 million shares, and Goldman, Sachs & Co. holds 7.3 million shares. Fidelity, Vanguard, and T. Rowe Price are also both mutual fund investors and direct investors in Visa. It is not clear, however, which companies voted which way on the Boston Commons/Unitarian effort to get more disclosure about Visa's role in ALEC.
Even though the effort of Boston Common and the Unitarians did not prevail this time, BC's Campere told the American Banker that "A 37% vote in favor is a strong vote for this type of resolution," especially after Visa took the extraordinary step of writing to shareholders in response to the resolution and urging that it be voted down.
Meanwhile, Visa is only one of 49 companies that socially responsible investors wrote to last year to urge ALEC funders to reconsider their financial support for the controversial group. Walden Asset Management and their other allies are continuing their shareholder-based outreach that has helped move other corporations out of ALEC.
But as a result of the shareholder vote in January, the amount of money Visa has spent funding ALEC over the years will remain hidden from investors and the public.