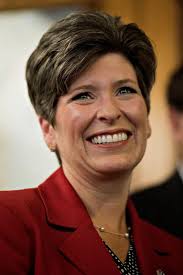 Newly-elected Senator Joni Ernst (R-IA) will give the Republican response to President Obama's State of the Union address, perhaps providing further proof that the Koch political network has evolved into an independent political force.
Ernst's political career has followed a rapid trajectory. Just four years ago, she was a local elected official in Montgomery County, Iowa. Today, she is addressing the entire nation in primetime.
What happened?
According to Ernst, her political rise can be attributed to support from the Koch network of funders and funding vehicles, which planned to spend an estimated $300 million on the 2014 elections.
Last June, Ernst told attendees at a secret Koch donor summit in Dana Point, California that, although she started as "a little-known state senator from a very rural part of Iowa," it was "the exposure to this group and to this network and the opportunity to meet so many of you, that really started my trajectory." (The summit was closed to press but a recording was obtained by The Undercurrent.)
It was the second Koch summit she is known to have attended.
In her campaign for Iowa's open U.S. Senate seat, Ernst was the underdog early in the crowded Republican primary, but soon became the darling of outside spending groups, maintaining a $12 million lead in outside spending over her Democratic opponent into the final weeks of the race, according to the Center for Responsive Politics. A few days after Ernst's appearance at the Dana Point summit, Charles Koch and his wife, son, and daughter-in-law maxed-out on donations to Ernst, and much of the outside spending supporting Ernst or attacking her opponent came from Koch-tied groups like the 60 Plus Association, American Future Fund, Freedom Partners Action Fund, the National Federation of Independent Business, and Americans for Prosperity.
Ernst won her election with 52 percent of the vote. Surely, Ernst had populist appeal--her military service and hog castrating abilities, for example--but the election was close enough that the tens of millions in Koch spending likely made a difference in the outcome.
And her being tapped to give the Republican response to President Obama's State of the Union address is a further indication that the Koch political operation has become one of the most dominant forces in American politics.
Koch Network Rivals Political Parties
As Politico has described, the Koch network has grown so sophisticated it rivals "even the official Republican Party in its ability to shape policy debates and elections." Besides spending hundreds of millions on electoral ads, its components include grassroots organizing, technology-driven get-out-the vote efforts, political consulting firms that recruit and train right-wing candidates, firms that provide technological and administrative support to Koch-backed groups, as well as arms of the network that aim at specific demographics, like the millenial-focused Generation Opportunity and Latino-focused Libre Initiative.
As the Washington Post noted last year, by many measures just one component of the Koch network, David Koch's Americans for Prosperity, is North America's third-biggest political party: it had 240 paid staff in 32 states, almost as many as the Republican Party itself, and planned to spend $100 million in the 2014 elections. After the elections, Americans for Prosperity announced its legislative agenda for Congress and state legislatures, which closely tracks the legislative priorities of Koch Industries.
Ernst clearly is a trusted Koch ally. Besides her gleeful participation in Koch donor summits and the Koch spending on her behalf, she has invited Koch-tied individuals into her inner circle. Her campaign spokesperson was Gretchen Hamel, a longtime Koch operative who led the Koch-backed group Public Notice and was listed as a "program leader" for TC4 Trust, a grant-making conduit for Koch funding. After Ernst took office, she appointed as her Chief of Staff a woman named Lisa Goes, a VP at the National Federation of Independent Business (NFIB), a Koch-backed group that purports to represent small business but gets much of its funding from big business interests.
ALEC Ties Connected to National Donor Network
Ernst's connections to national right-wing donor networks likely arose through her participation in the American Legislative Exchange Council (ALEC), which she joined after being elected to the Iowa State Senate in 2011. The Kochs have long funded ALEC and used it to push their anti-government agenda, and a Koch Industries representative has been on ALEC's corporate board for many years.
In 2014, Ernst wasn't the only ALEC member to cash in on her connections: the top three most expensive U.S. Senate races in the country all involved ALEC legislators seeking higher office. In addition to Ernst's race in Iowa, ALEC members Thom Tillis in North Carolina (ALEC's 2011 "Legislator of the Year") and Cory Gardner in Colorado both were elected to the U.S. Senate with tens of millions in outside support, much of it from Koch-tied groups. Gardner also attended the Koch summit in Dana Point.
ALEC has long been a tried-and-true way for state legislators to curry favor with national corporate interests, which in turn lend financial support when they run for higher office.
Politicians like Wisconsin Governor Scott Walker, House Speaker John Boehner, and Florida Senator Marco Rubio all were ALEC members when they were state legislators, and moved to higher offices with support from the same financial interests that back ALEC.
ALEC Legislative Agenda at Issue in State of the Union
Notably, Ernst's State of the Union response will come after Obama lays out an agenda that runs directly contrary to policies long pushed by ALEC.
Obama will highlight a proposal to promote municipal broadband by calling on the FCC to push back on state "preemption" laws, which prohibit local and municipal governments from expanding broadband internet access for their communities. At least nineteen states have enacted these municipal broadband preemption bills since 2001, when ALEC adopted the "Municipal Telecommunications Private Industry Safeguards Act" as a model, as the Center for Media and Democracy has described. According to Businessweek, AT&T and other big internet providers drafted the bill, which first passed in Utah. Common Cause and the Institute for Local Self Reliance have described how the laws represent commercial broadband companies using their political clout to crush competition--and have had the result of putting the U.S. well behind most developed nations when it comes to broadband connectivity.
Another Obama proposal is for all Americans to have access to paid sick days so workers don't have to fear losing wages or their job when they or a loved one become sick. In addition to federal legislation, Obama will also call on state and local governments to enact paid sick day measures, as fifteen cities and three states already have. Here too, ALEC-tied preemption measures will pose a roadblock enacting local paid sick day measures will be almost impossible in the eleven states that have passed paid sick day preemption laws after a similar measure was shared at ALEC's 2011 meeting. Legislators attending that meeting were also handed a target list and map of state and local paid sick leave policies prepared by ALEC funder the National Restaurant Association; an NRA executive also participated in that meeting.
Obama will also call for raising the capital gains tax from 20% to 28%, a policy that would primarily affect the wealthy few ALEC has called for abolishing the tax altogether. He will call for expanding the Earned Income Tax Credit to include more low-income workers ALEC wants to entirely eliminate this tax credit for low-income working families.
In tonight's response, it matters little whether Ernst lunges for a glass of water or stares into the wrong camera; her elevation to the national stage is evidence of the increasingly important role that deep-pocketed donors like the Kochs are playing in reshaping American politics.
Ernst will deliver the Republican response immediately following President Obama's State of the Union address, which airs at 9pm ET/ 8pm CT.