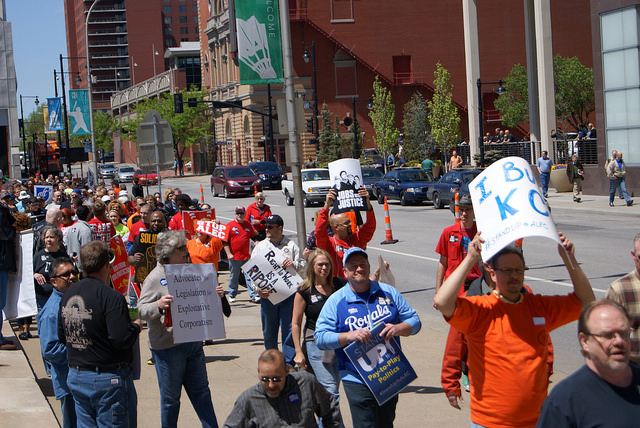 The hits keep coming for America's best-known corporate bill mill.
Hundreds of lobbyists and state legislators gathered in downtown Kansas City last week for ALEC's Spring 2014 task force summit, where a task force led by a tobacco lobbyist discussed education, corporate interests plotted ways to thwart shareholder activism, and legislators took a trip to a coal-fired power plant.
Yet Kansas City hardly gave ALEC a warm welcome. As ALEC members convened at the swank downtown Marriott, the Kansas City Star editorial board published a scathing piece calling out the group's "anti-worker, pro-business campaign" and the "Republican legislators in Missouri and Kansas [who] have been dancing the ALEC tune for years now."
Around 400 people gathered outside the ALEC meeting to raise their voices against the corporate bill mill. Demonstrators held hand-made signs reading "Missouri does not need ALEC" and "Money + Influence = Bribery."
"Behind closed doors, ALEC is pushing bills that are devastating for workers and their families," said Terrance Wise, a fast food worker in Kansas City, Missouri, citing ALEC's role in pushing bills to preempt local living wage and paid sick day laws.
"We are taking billion-dollar corporations head-on," he said, but "the fight for democracy is alive and well."
Hiding Sponsors, including Koch Industries
Amidst increasing public scrutiny of ALEC, the group has tried to sneak back into the shadows. ALEC's efforts to evade open records laws and to boot reporters from meetings have been well-documented, but at this meeting ALEC even tried to hide the name of its corporate meeting sponsors.
For years, ALEC's meeting agendas have prominently featured the names and logos of the corporations sponsoring the event, which made it easy for the press to report on who was footing the bill. At this year's meeting, though, ALEC stripped its agendas of all corporate logos, and took down placards near the registration table listing the meeting's corporate sponsors.
Although it has become more difficult from the outside to ascertain which corporate interests are backing ALEC, the identities of those bankrolling ALEC events were certainly made known to the politicians on the inside.
For example, placards inside the "Kansas City Reception" showed that the open bar cocktail hour was sponsored by Koch Industries, Anheuser-Busch, Kansas City Southern Lines, and PCMA, a trade association for pharmacy benefit managers.
Hundreds of politicians and corporate lobbyists mingled and munched on baked brie (topped with a raspberry glaze) and Kansas City barbecue (served on the hotel's china). Attendees sipped on free liquor, wine and beer (Anheuser-Busch, of course). After the reception, legislators jetted off to an undisclosed, invite-only event.
Brownback Addresses Sinquefield-Backed Event as ALEC-Backed Tax Cuts Tank Kansas Economy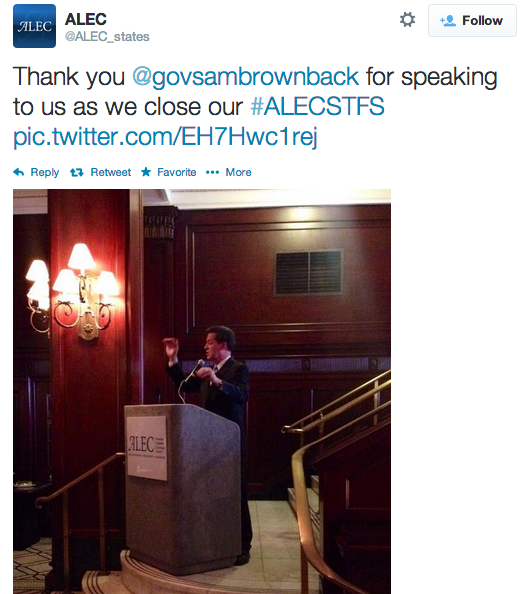 The "Chairman" level sponsor of the cocktail reception was a book, the "Nature and Causes of Wealth of States," which according to its description "explains why eliminating or lowering tax burdens at the state level leads to economic growth and wealth creation." It was authored by ALEC "scholars" Arthur B. Laffer and Stephen Moore, with title credits also given to Missouri oligarch Rex A. Sinquefield and his right-hand man Travis H. Brown.
As the Center for Media and Democracy and Progress Missouri have documented, Sinquefield has poured at least $31.5 million into Missouri politics since 2008 in an effort to impose steep income tax cuts and privatized schools on the state; in 2012 he gave $100,000 to Missouri House Speaker and former ALEC State Chair, Tim Jones, despite Jones running unopposed.
Sinquefield also backed a group called "Kansans for No Income Tax" that helped push massive tax cuts in neighboring Kansas, cuts championed by Kansas Governor (and ALEC fave) Sam Brownback, who wrote the foreword to ALEC's 2011 "Rich States Poor States" report. Brownback also hired Laffer as a $75,000 consultant when developing his tax plan.
The cuts that Brownback enacted in 2012 and 2013 were among the most drastic of any state, ever.
Brownback promised that slashing taxes would result in economic growth and job creation. Sinquefield predicted that businesses would flock across the Missouri border into Kansas. Yet this has not happened: since the cuts were enacted, the economy has grown more slowly in Kansas than in Missouri, where Democratic Governor Jay Nixon vetoed similar tax cuts. And Kansas is faced with big deficits, cuts to education and public programs, and raids to the highway fund.
In an appearance not announced publicly, Brownback addressed the ALEC crowd Friday evening. For years, ALEC has announced its high-profile speakers and keynotes -- yet said nothing about Brownback's appearance until it sent a twitter pic after his presentation.
The timing was inopportune. The same day as the ALEC meeting, the front-page headlines from newspapers across Kansas and Missouri read: "Moody's Downgrades Kansas' Credit Rating, Citing Sluggish Economy and Risky Tax Plan."