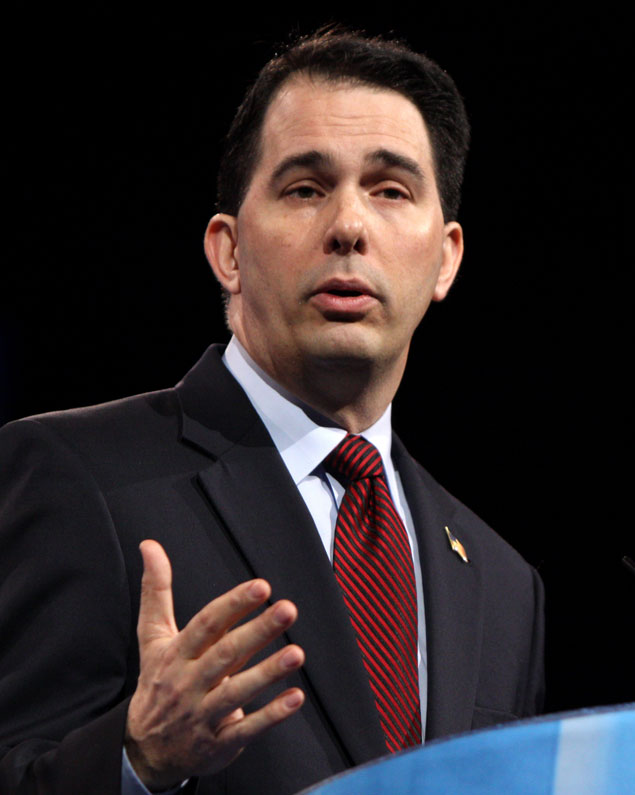 -- by Seep Paliwal and Brendan Fischer
"We cannot as a country allow people with mental illness to be treated as second-class citizens any longer" -- Sen. Paul Wellstone
One of the more disturbing exchanges in recently-unsealed court documents shows callousness among Scott Walker's staff and campaign as they worked to deflect criticism over mismanagement in a county mental health facility.
Emails released this week show that in the months before the 2010 gubernatorial election, Walker, his campaign, and his Milwaukee County Executive staff coordinated regularly on their response to problems at the Milwaukee County Mental Health Complex. A 33-year-old woman dying of complications related to starvation while under the County's care, staff failing to prevent patient-on-patient sexual assaults (including one patient who became pregnant), and other controversies had made the facility a campaign issue.
"We need to continue to keep me out of the story as this is a process issue and not a policy matter," Walker wrote on March 27, 2010, about the sexual assaults.
In an email chain from April, Walker insists that a state legislator issue a statement describing a press conference about problems at the facility as a "political stunt." Walker himself drafts a statement to be issued by Sen. Alberta Darling, and in an apparent effort to sidestep open records laws, wrote: "we need to find a personal email for someone on her staff to get this language (or read it to them over the phone). It should NOT be emailed to her official account." (The Center for Media and Democracy successfully litigated this issue against legislators who tried to avoid disclosure by shifting their correspondence with the American Legislative Exchange Council to a personal account).
"Last week was a nightmare," Rindfleisch wrote in a September 2, 2010 email. "A bad story every day on our looney bin. Doctors having sex with patients, patients getting knocked up. This has been coming for months and I've unofficially been dealing with it. So, it's been crazy (pun intended)."
Woman Dies of Complications from Starvation in Hospital
Cindy Anczak, 33, died of complications related to starvation in 2006 while committed to the Milwaukee County Mental Health Complex for treatment for her bipolar disorder. Anczak passed after losing 22 pounds during her five-week stay at the facility, according to the medical examiners report. Anczak's parents filed a legal complaint in October 2010.
Kelly Rindfleisch, Walker's Deputy Chief of Staff, forwarded the complaint to Walker and campaign staff at 2:21pm on a Friday, during the workday.
"It's not public," she wrote.
"Then we should not make it public," Walker replied.
Anczak, who had previously worked as a pharmacy technician, was admitted to the Milwaukee County Mental Health Complex on July 10, 2006, after she was found incoherent and wandering through a cemetary. On July 25, a County doctor, Karl Strelnick, released her from the facility, despite noting that she was unresponsive, psychotic, and "did not seem to be able to process what to do with the pen" when asked to sign her discharge papers, according to discharge notes. "Anczak was so dazed that she had to be walked out of the hospital door and into the cab that the county called to have her taken away," the Milwaukee Journal Sentinel wrote. "She drove herself back to the complex that evening."
Ten days later, Anczak was dehydrated, psychotic, and wouldn't leave her bed. Strelnick testified in court that Anczak was a danger to herself, so that she could be treated with anti-psychotic medication against her will; hours later, Strelnick attempted to force Anczak's 79-year-old father to take her home, despite her parent's fears that she would jump from the vehicle. Anczak refused to get in the car. "That was the last time we saw her alive," her mother, Jean Anczak, told the Journal Sentinel.
Four days later, Anczak was found unconscious and gasping for air, and was transferred to Froedtert Hospital, where she died days later. She lost 22 pounds during her stay at the facility; experts say doctors should have obtained a court order to ensure she was fed. According to the autopsy, she died of a blood clot that was significantly caused by her starvation and dehydration.
"No One Cares about Crazy People"
Anczak's parents sent the County a legal complaint in October 2010 to initiate settlement negotiations. The family later said they didn't have the resources for a full-fledged lawsuit.
Rindfleisch received the complaint on her county email address, then forwarded it to her personal email, then to campaign staff -- and went on to discuss campaign strategy while being paid by taxpayers in her County Executive job.
"Totally coincidental to the election," replied Walker campaign advisor RJ Johnson, about the timing of the filing.
"Corp council [the County's attorney] wants to offer 50-100k," emailed Rindfleisch.
"Ok - any time after Nov. 2nd would be the time to offer a settlement," replied Keith Gilkes, who headed Walker's campaign.
"Barrett is going to make this the center of his campaign," Rindfleisch wrote in another email.
"yep and he is still going to lose because that is his base," replied Joan Hansen, a County official.
"Yep," Rindfleisch wrote. "No one cares about crazy people."
---
This article has been updated.