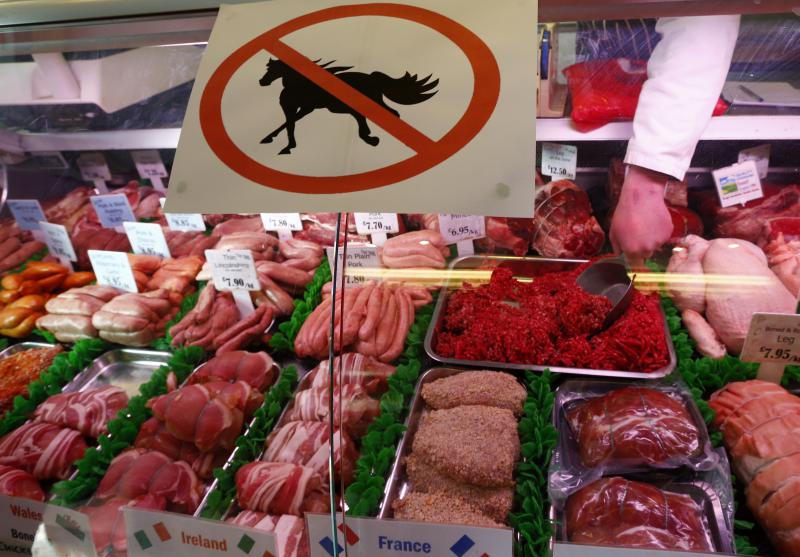 -- by Rebekah Wilce and Mary Bottari
Since the 2008 financial crisis, cash strapped states have accelerated the outsourcing of America in hopes of delivering the same services more cheaply. "Desperate government is our best customer," said one executive specializing in infrastructure purchases.
But in many instances, this explosion in outsourcing of government services to private for-profit firms has generated higher prices, poorer service, and scandal. Today, the Center for Media and Democracy (CMD) launches our in-depth investigation of outsourcing and privatization, which we have called "Outsourcing America Exposed." The investigation will include profiles of a "dirty dozen" list of corporate profiteers and regular reporting on the "Fine Print Follies" -- bad contract language that costs taxpayers big bucks -- and features a new video by Pulitzer Prize-winning cartoonist Mark Fiore.
For our first profile, CMD focuses on Sodexo, a multinational company based in France that provides food services to schools, college campuses, the U.S. military, and other government entities across the United States. With about $8.8 billion in annual revenues from operations in North America, Sodexo is a primary driver of the privatization and outsourcing of food services in America. But Sodexo has taken the low road to profitability.
Sodexo "Rebate" Scheme Ensures Race to the Bottom in Suppliers
In 2010, Sodexo was caught fomenting a race to the bottom in food service, by choosing food suppliers based not on quality but based on which supplier could give them the highest cash rebate for the contract. This iced out small local famers and other quality food suppliers in favor of big agriculture and big business that could best engage in the kickback scheme. Reporting by Lucy Komisar for In These Times brought public attention to the practice.
After an attorney general investigation, Sodexo paid an eye-popping $20 million in 2010 to settle claims that it overcharged 21 New York school districts and the State University of New York (SUNY) system for food and facilities services from 2004 to 2009. New York's case led to a "major investigation" by at least three other state attorneys general, and the U.S. Department of Agriculture's (USDA) Office of Inspector General began a nationwide audit in October 2011 for alleged systematic taxpayer fraud by multiple firms.
The scandal prompted Congressional hearings, and U.S. Senator Claire McCaskill (D-MO) declared, "Every day, the government provides meals to our soldiers at home and overseas, veterans, government employees, and to our children through the National School Lunch Program (NSLP). ... Recently, reports of fraud and other abuses on food service contracts have snowballed. ... The message that these reports and investigations send is clear. We are not doing enough to make sure that the government is not getting cheated."
Horsemeat Found in England, Listeria Found in the U.S.
Sodexo's unethical business practices ensure that low quality foods are the norm.
Most famously, Sodexo was implicated in the British horsemeat scandal earlier this year, when the company found horse DNA in some of its products and withdrew all frozen beef products from its catering operations at 2,300 British schools, care facilities, military bases, prisons, office canteens, and sporting venues.
In 2007, when Sodexo was contracted to provide food services to all Marine Corps mess halls in the United States, the USDA recalled 3,000 pounds of chicken that may have been contaminated with Listeria bacteria. Some of that chicken had been shipped to Camp Pendleton and the Marine Corps Recruit Depot in San Diego. In 2011, Sodexo lost part of its $1.2 billion contract, no longer catering Marine mess halls on both the West and East coasts.
For these and other reasons, numerous school districts and other institutions -- including eleven universities -- have cancelled some or all contracts with Sodexo, and many are happy with the change.
Public Schools Reject Sodexo, Embrace "Good Food" Instead
Public school district food service directors are often the unsung heroes of districts' successful efforts to kick Sodexo out of the schools and return food service to local control. They work to rebuild the district's food services in the wake of the multinational. Rick Hughes, a former Sodexo employee, now runs the Colorado Springs School District's food services in-house after the district ended its contract with Sodexo. He has been called the "good food guru," and he revamped Colorado Springs' meals program post-Sodexo by setting a high bar for what constituted good food, including whole grains and fresh produce; and no growth hormones, antibiotics, artificial preservatives, added sugars, trans fats, or dyes.
Gema Soto, who is now Food Service Director of the Ashland School District in Oregon after the district ended its contract with Sodexo in 2010, told CMD that the change has been "absolutely positive -- for the kids, for the parents, and definitely for the staff." Sodexo's "large cookie cutter approach" wasn't appropriate, she said, for a little community like Ashland. The kitchen staff now "feel empowered, the district has a measure of control, ... and parents feel like they have more of a voice." In contrast to when Sodexo ran the program, now "there's someone on site that they can go to with concerns and ideas, as opposed to a management company where you have to go through layers of control, and everyone's getting their orders from on high. Our flexibility has really worked out."
And healthy foods may bring more benefits to kids than previously known, according to new research that links outsourced food with poor performance.
Private Food Service Management Associated with Higher Costs, Lower Test Scores, and More
Privatization of food and other services in school districts and other public institutions has been linked to a whole host of problems. A 2008 study by Roland Zullo of the University of Michigan found "no substantive decrease in the cost of student lunches and a modest increase in the cost of breakfasts with private food management."
Alarmingly, Zullo's study also found that children at Michigan schools with outsourced food service had lower test scores than those whose food was prepared and provided by public employees. Why? An exploration of Centers for Disease Control data led the researchers to suggest that "the cause for the lower test scores is greater availability of high fat and high sugar foods under private food service management."
Zullo told CMD, "When you have privatized food service in schools, they tend to serve more sweetened drinks, and also more high fat and high salt foods. Schools are under financial pressure, and these private firms step up and say they can make the lunchroom into a moneymaker."
But the model under which they do that, when given free reign, he says, is to create virtually a fast food environment, "like a mall food court." The companies, he said, want to sell meals that they think children will want to buy, and they know that high fat, salty foods and sugary drinks are addictive to at least some students. And that kind of food is cheap and inexpensive.
Other Controversies regarding Outsourcing to Sodexo
Sodexo has been mired in other controversies as well. In 1994, Sodexo acquired a significant stock investment in private prison company Corrections Corporation of America (CCA), which is infamous for insufficient and inexperienced staff, security, facilities and medical care from efforts to save money and increase profits. CCA's poor management has resulted in frequent violence between inmates and a high record of escapes. By 2000, Sodexo was the largest investor in the company. In March 2000, the Prison Moratorium Project organized universities across the country to expose Sodexo's connection to the CCA. In the campaign, "Not With Our Money," students pressured schools to cut contracts with Sodexo if it did not divest from CCA's operations. After losing contracts with six universities, Sodexo announced in 2001 that it would sell all investments in CCA, but at the same time it increased ownership of private prisons in the UK and Australia.
And Sodexo paid $80 million in April of 2005 to settle a lawsuit brought by the company's thousands of black employees, who claimed that they were "routinely barred from promotions and segregated within the company." Critics also accuse Sodexo of cost savings on the backs of workers and a pattern of interfering with worker rights in many states, including the right to organize.
Sodexo Profits Rise
But through it all, Sodexo continues to rake in the big bucks, much of it from American taxpayers. In the last five years, Sodexo's profits have risen despite the financial crisis, and even as many public school districts -- and other public institutions with which the company contracts -- have seen their funding cut drastically.
The company made $1.036 billion in profits in 2008, and $1.292 billion in profits in 2012. Of its $24 billion in revenues internationally in 2012, 37 percent was from North American operations. Factoring in the fair market value of the stock options he was granted, Sodexo Group's CEO in France, Michel Landel, was paid a total of nearly $4.2 million in 2012.
As children return to school this fall, parents and school districts face a choice: whether to outsource school lunches to for-profit multinational firms like Sodexo with a track record of running up costs and running down quality or to maintain local control of food service and make sure that school boards and school officials sharpen their focus on providing what Rick Hughes calls "good food" as much as possible.
Find out more about Sodexo in CMD's corporate rap sheet here.
---
Today, CMD launches the first article of our in-depth investigation of outsourcing and privatization, which we have called "Outsourcing America Exposed." The investigation will include profiles of a "dirty dozen" list of corporate profiteers and regular reporting on the "Fine Print Follies" -- bad contract language that costs taxpayers big bucks. For an in-depth profile of Sodexo, visit OutsourcingAmericaExposed.org and follow us @PRwatch and #OutsourcingAmerica.