Amidst massive pro-labor protests, Michigan Gov. Rick Snyder has signed sweeping legislation attacking private and public sector unions, just hours after passing the lame-duck legislature. The operative language in the bills is nearly identical to the American Legislative Exchange Council's "model" Right to Work Act.
Both HB 4003, which affects public sector unions, and HB 4054 / SB 116 affecting private sector unions, undermine collective bargaining by allowing workers to opt-out of paying the costs of union representation. As the Center for Media and Democracy's Executive Director Lisa Graves reported today, the move is calculated political payback attacking unions for supporting Democrats. Wages are lower for both union and non-union workers in Right to Work states, according to the Economic Policy Institute.
The legislation is straight out of the Koch-funded ALEC playbook. It comes as no surprise that key sponsors of the Michigan bill in the House and the Senate such as Senator Arlan Meekhoff, Rep. Tom McMillin, and Rep. Pete Lund are ALEC members. Michigan legislators talked about their plans for passing Right to Work at the NASCAR reception of the ALEC Spring Task Force Meeting in Charlotte, NC earlier this year according to a legislator from New Hampshire. 
Compare the language in HB 4003 and HB 4054/SB116 with the ALEC "model" Right to Work Act: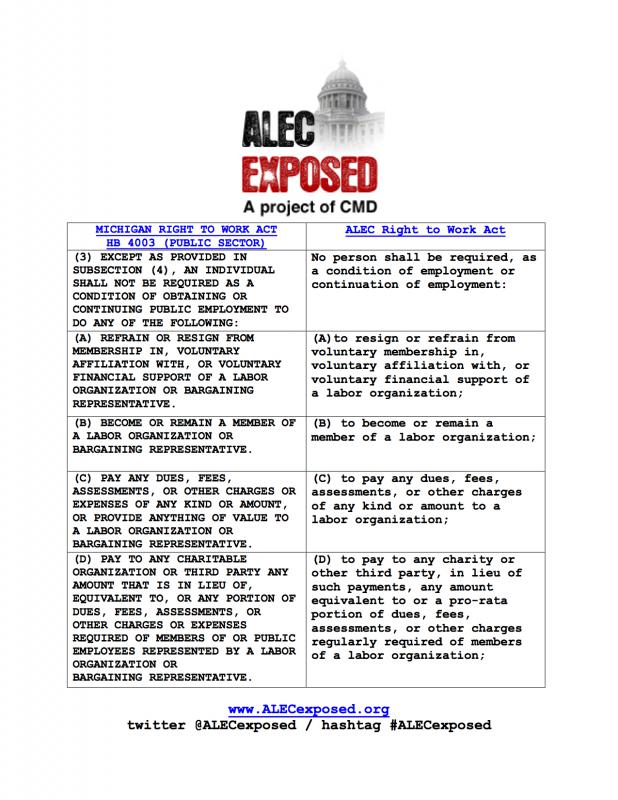 See a PDF of the HB 4033 side-by-side here, and a PDF of the HB 4054/SB116 side-by-side here.
Please share this page, or share the twitpic image on Twitter.
---
This article has been updated.