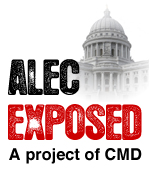 A stampede seems to be on the way as more and more groups break ties and dump ALEC. Intuit, Inc. (maker of Quicken and QuickBooks accounting software) told the Center for Media and Democracy (CMD) that Intuit also decided not to renew its membership after it expired in 2011. That comment came from Bernie McKay, Vice President of Government Affairs. He gave this response when CMD identified that Intuit was no longer listed on the board and contacted the company. CMD began its effort to spotlight Intuit and other corporate funders and tie these corporations to the ALEC agenda when it launched ALECexposed.org in July 2011.
Kraft Foods also announced that it won't renew its membership in ALEC when it expires this spring, according to an email from Kraft Corporate Affairs Director Susan Davison. These announcements follow on the news that Coca-Cola and Pepsi are out.
Intuit's McKay explained to CMD that the company doesn't "usually issue statements about membership in any organization" and declined to comment further. According to Reuters, Kraft's emailed statement explained, "Our membership in ALEC expires this spring and for a number of reasons, including limited resources, we have made the decision not to renew."
Other Corporations Refuse to Stand Down
Other corporate board members are doubling down, most notably Koch Industries and Wal-Mart Stores. "Yes, we plan to continue our membership in and support of ALEC," Philip Ellender of Koch Companies Public Sector, LLC told Politico. Wal-Mart refused to withdraw its support of ALEC, claiming, "Our membership in any organization does not affirm our agreement with each policy created by the broader group."
At what Reuters has called "political risk," Pfizer, Reynolds American, Altria/Philip Morris and non-board ALEC member Procter & Gamble refuse to leave ALEC. Exxon Mobil and British alcohol firm Diageo (makers of Smirnoff products and Johnnie Walker whisky) declined to comment.
Pfizer, the world largest drug manufacturer, whose mission is "applying science and our global resources to improve health and well-being at every stage of life," said, "We don't agree with every ALEC position, but we participate in ALEC's healthcare forums because state legislators that are the members in ALEC, they make decisions that impact our business and the country's business every day."
Reynolds, which makes Camel cigarettes and calls itself "the innovative tobacco company totally committed to building value through responsible growth," said ALEC provides "a valuable forum for sharing of ideas and fostering better understanding of a broad range of both legislative and business issues."
Some Corporations Keep Mum
Several other corporations that have served as ALEC leaders have been silent in the face of the growing controversy surrounding ALEC's agenda on guns, voting, and other matters. Other firms remaining on ALEC's corporate board are board chairman Centerpoint360, vice chairmen Bayer and GlaxoSmithKline, secretary Wal-Mart Stores; and Energy Future Holdings, Johnson & Johnson, PhRMA, the American Bail Coalition, Reed Elsevier, Inc. (publisher of Lexis-Nexis, among others), AT&T, coal giant Peabody Energy, UPS, Arizona's Salt River Project and, last but not least, State Farm Insurance Co. (PhRMA recently gave over $350,000 to the so-called ALEC "scholarship" fund to pay for trips for legislators to attend ALEC resort meetings where lobbyists and legislators vote as equals on ALEC task forces on these "model" bills.)
Keeping the Pressure On
CMD executive director Lisa Graves and leaders from other public interest groups including Color of Change (CoC), Common Cause and the NAACP attempted to deliver a letter asking the ALEC chairmen of its legislative and corporate boards to "fully disclose ALEC's financial relationship with all NRA entities, including any contributions, sponsorships, in-kind support or other support ALEC has received" last week.
CoC announced a public boycott of Coca-Cola and other ALEC corporate board members this week, joined by other public interest groups. Coke published its statement backing out of ALEC within eight hours. Koch issued its statement that day re-affirming its stand with ALEC, where it has served on the corporate board for over a decade and previously was the ALEC private sector chairman of the board.
CMD launched a new set of petitions to all the corporations remaining on ALEC's corporate board last week in the wake of the tragic death of Trayvon Martin. Concerned citizens can click here to tell ALEC companies to stand down.