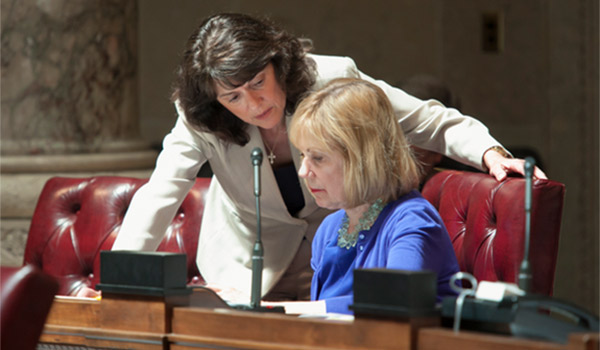 Two Wisconsin Republicans who have copied-and-pasted model legislation from the American Legislative Exchange Council (ALEC) and passed the bills off as their own ideas are claiming that Democratic gubernatorial candidate Mary Burke is not suited for office because her jobs plan contained language borrowed from other candidates.
Senators Alberta Darling and Leah Vukmir issued a statement on September 20 knocking Burke for lifting portions of her jobs plan from proposals by gubernatorial hopefuls in other states. Burke blamed the copy and paste job on a consultant, who had worked for those same candidates.
"Mary Burke has betrayed the trust of Wisconsin families and caused irreparable damage to her credibility, and she must immediately end her bid for Governor," Darling and Vukmir said in a dramatic statement published on the Wisconsin Republican Party website. "By directly plagiarizing major portions of her jobs plan, Burke demonstrated that she puts her ambition and self-interest before the people of Wisconsin."
The statement slammed Burke for "selling a dishonest plan with ideas that are not her own."
Yet both Vukmir and Darling have regularly tried to pass-off ALEC "model bills" -- which are drafted and voted on by corporate and special interests -- as their own ideas.
Vukmir, for example, introduced the "Special Needs Scholarship Act" in 2011 and 2012, which was nearly a word-for-word version of the ALEC bill of the same name. The bill advances the ALEC school privatization agenda by carving out taxpayer-funded vouchers for students with special needs, of all income levels, to attend for-profit or private schools not bound by legal protections for students with disabilities.
Mark Pocan, a Democrat who is now in the U.S. Congress but was a Wisconsin state representative in 2011, read from Vukmir's "plagiarized" passages on the Assembly floor.
"When I went down to New Orleans to the ALEC convention last August," Pocan said, "there was a proposal to provide special needs scholarships. And lo and behold, I come back to Wisconsin and what gets introduced? Get ready, I know you're going to have a shocked look on your face... a bill to do JUST THAT, the exact model legislation!"
"Let me just take something at random," Pocan continued, reading from the Wisconsin bill Vukmir introduced. "Section 6: Accountability Standards for Wisconsin Schools. What's here [in the model bill]? Section 6 ... Accountability Standards for Participating Schools."
"Shock!," he said. "Once again, identical legislation."
Vukmir is on ALEC's board of directors, and previously chaired the ALEC Health & Human Services Task Force. She engaged in a protracted legal battle with the Center for Media and Democracy in 2013 to keep her communications with ALEC secret. CMD prevailed in its suit earlier this year, and the Wisconsin State Journal noted that some of the documents she fought to keep hidden showed a "lobbying group pulling legislators' strings."
Darling has also been an ALEC darling.
During the 2011 budget cycle, when Darling was co-chair of the Joint Finance Committee, she was one of the legislators to introduce a motion to give a big tax break to Altria/Phillip Morris by taxing moist tobacco products based on weight rather than price, lowering the overall cost of smokeless tobacco products like Snus that are favored by young people. The proposal mirrored "ALEC's Resolution on the Enhancement of Economic Neutrality, Commercial Efficiency, and Fairness in the Taxation of Moist Smokeless Tobacco (MST) Products." Both Reynolds Tobacco and Altria/Phillip Morris sit on ALEC's governing private sector board, and Darling received a $1,000 donation from the Altria/Phillip Morris PAC several months earlier.
ALEC even sent an email to Wisconsin legislators urging them to support Darling's proposal.
No word yet on if the senators, who may have suffered "irreparable damage to their credibility" for plagiarizing a tobacco tax break and other special interest legislation, are willing to abide by their own standard and immediately resign their positions.