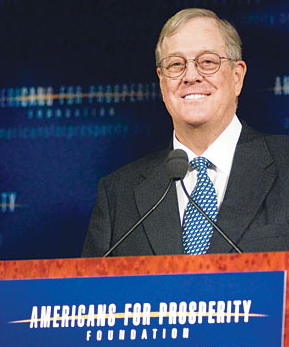 Leaked audio from an invite-only Koch donor summit highlighted the role of the billionaire brothers in boosting Scott Walker in Wisconsin -- and suggests that David Koch's Americans for Prosperity Foundation may have violated its charitable status during the state's 2012 recall elections.
Phil Cox, Executive Director of the Republican Governors Association (RGA), told a gathering of right-wing donors this summer that Americans for Prosperity (AFP) was a "tremendous partner" and "heavily involved" during Wisconsin's 2012 recall elections. He also thanked David Koch for "his very strong support of the RGA," according to a recording obtained by The Undercurrent.
AFP spent at least $10 million touting Walker's policies during the 2012 Wisconsin recalls, much of it from the group's "charitable" arm, which is organized under Section 501(c)(3) of the tax code and barred from any political intervention. AFP's television ads, bus tour, phone banks, door hangers, and door-to-door canvassing during the recall certainly looked like electioneering, but AFP's leaders claimed that its activities had nothing to do with "any candidates, political parties or ongoing races."
Yet, if AFP's charitable arm coordinated during the recalls with the RGA, a 527 Political Action Committee that spent $9 million expressly calling for Walker's reelection, the Koch-backed charity may have run afoul of federal tax law.
An "IRC 501(c)(3) organization should not coordinate its activities with a non-IRC 501(c)(3) organization for partisan political purposes," according to IRS guidance, "including any coordination with a candidate or IRC 527 organization."
"In Wisconsin, it was a really tough battle in 2012," Cox said at the Koch gathering. At the time, the RGA was led by former Virginia Governor Bob McDonnell, who is currently on trial on public corruption charges.
"AFP was a tremendous partner" to RGA during the recall effort, he added.
AFP "Not Dealing With Any Candidates, Political Parties or Ongoing Races"
AFP consists of two legal entities.
One is a "social welfare" organization incorporated under Section 501(c)(4) of the tax code, a group legally permitted to engage in some political activity and which serves as the conduit for most of AFP's ad spending on the national level.
The other is the AFP Foundation, a "charity" organized under Section 501(c)(3) of the tax code. Much of AFP's $10 million in spending during the Wisconsin recalls came from its 501(c)(3) charitable arm, despite facing an absolute bar on political intervention. (The $900,000 AFP has spent on Walker ads so far in 2014 has also come from its charitable wing.)
AFP did not report its expenditures in 2011 and 2012, so the precise breakdown of spending between the 501(c)(3) and 501(c)(4) is not known, but AFP's Wisconsin leaders went out of their way to claim the group's activities had nothing to do with elections.
"We're not dealing with any candidates, political parties or ongoing races," AFP's Wisconsin director, Luke Hilgemann, told a Hudson, Wisconsin online news site in late May of 2012. It was apparently a coincidence that the AFP Foundation had launched a ten-city bus tour, shipped 80 paid staffers into the state, and sent hundreds of AFP canvassers door-to-door in the weeks before the June 5 recall election. "We're just educating folks on the importance of reforms."
As activists began circulating petitions for Walker's recall in late 2011, the AFP Foundation launched a huge television ad buy that carefully avoided naming Walker, yet promoted his signature anti-union legislation and budget cuts with the slogan "It's Working!" The "Its Working" ads pushed a message consistent with that of the Walker campaign, ran through the spring of 2012, and cost the AFP Foundation an estimated $3.7 million. (This campaign came on the heels of AFP's "Stand With Walker" ads in Spring of 2011, as protests were at their peak; however, that spending appears to have come from AFP's 501(c)(4) arm.)
As the June 5 election day pulled closer, AFP brought in staff and volunteers from around the country. AFP's ten city bus tour included mobile phone banking, where volunteers read from a script that included lines like, "did you know that Governor Walker's reforms have saved taxpayers more than $1 billion?" Businessweek reported that "AFP ground troops knocked on 6,500 doors in the three days before Walker prevailed," carrying Samsung tablets loaded with voter information, maps, and scripts. Just before election day, AFP volunteers distributed door hangers that pictured Walker and Lt. Governor Rebecca Kleefisch, under the message "Policies That Work for Wisconsin."
At an AFP national convention held in Washington DC a few months after Walker survived the recall, Hilgemann boasted of his group's role in Walker's reelection -- describing how they "beat back the liberal hordes that had taken over" the state with ads, rallies, bus tours and canvassing -- but again emphasized that "we don't advocate for politicians."
AFP Foundation May Violate Tax Law if It "Improperly Coordinates or Colludes" With 527 Group Like the RGA
Taken alone, the AFP Foundation's activities pushed the envelope on impermissible political intervention by charities. The Center for Media and Democracy noted this at the time, and the Wisconsin Democracy Campaign filed an IRS complaint in 2011 asking the agency to investigate.
Yet if the AFP Foundation coordinated with the Republican Governors Association -- organized under Section 527 of the tax code, a provision designated for political groups -- it almost certainly would have violated rules barring political intervention by charities.
According to the IRS, a charity like the AFP Foundation "might indirectly intervene in a campaign or operate for a substantial nonexempt purpose if it improperly coordinates or colludes with" a 527 group such as the RGA.
Improper collusion can include "coordinating the content, timing, or distribution of information materials," or distributing one another's materials.
"While coordination may often be difficult to prove, any public statements or private memoranda . . . indicating coordination between the officials or agents of the two organizations would be damaging," the IRS has stated.
Cox calling AFP a "tremendous partner" at the secret Koch summit was not the first time an RGA official made such a reference. Four months after the recall election, then-RGA Chair Bob McDonnell said:
"We spent $9 million in Wisconsin . . . the combination of the Walker team, Americans for Prosperity, the NRA (National Rifle Association), formed a formidable grass-roots coalition."
Separate Investigation under State Law into Campaign Coordination
Cox's possible admission of coordination between the RGA and the AFP Foundation comes amidst a separate criminal coordination investigation in Wisconsin.
For more than a year, a bipartisan group of Wisconsin prosecutors have been examining whether Walker and his campaign violated state campaign finance law by coordinating with independent groups like Wisconsin Club for Growth during the 2011 and 2012 recall elections. Under Wisconsin law, expenditures coordinated with a candidate are counted as campaign donations, and must comply with disclosure laws and contribution limits.
The alleged coordination between the Walker campaign and outside groups like Wisconsin Club for Growth could be a violation of Wisconsin campaign finance law. In contrast, if the RGA and AFP-Foundation improperly coordinated with one another, it would mean that AFP violated federal tax law.
Wisconsin prosecutors may not looking at federal tax law violations. Yet, both the RGA and AFP have reportedly received subpoenas in the state criminal probe, and the RGA's name has recently been mentioned in connection with the investigation. Taken together, the allegations indicate how closely many Republican groups worked together during the recalls.
According to newly-unsealed court documents, prosecutors allege that the Walker campaign -- in addition to coordinating with Wisconsin Club for Growth -- worked with the RGA-run Right Direction Political Action Committee in 2012, which ran at least eight ads attacking Walker's opponent Tom Barrett.
Prosecutor Francis Schmitz, a former federal prosecutor with Republican credentials who voted for Walker, alleged in court filings that agents of the Walker's campaign "were regularly conducting meetings and conference calls with the RGA to discuss campaign strategy, including polling." Schmitz also alleges that the campaign worked closely with the Republican State Leadership Committee which, like the RGA, receives Koch funding.
David Koch Is Top Funder to Both AFP and RGA
David Koch and the privately-held Koch Industries have been major funders of both AFP and the RGA.
AFP does not disclose its donors, but documents obtained by the Center for Media and Democracy show that David Koch -- who founded the group -- has been its top single donor in some years, giving as much as $1 million annually during the early 2000s. Koch Industries has also been a top AFP donor, giving nearly $1 million in 2000 and 2001. It is not known how much Koch Industries or David Koch may have provided to AFP in more recent years, as the group has played an increasing role in elections and its budget has grown exponentially. David Koch, as well as top Koch Industries executives, are on the AFP Foundation's board of directors.
David Koch is also one of the RGA's top donors. In 2010, David Koch wrote a $1 million check to the RGA, as the Center for Media and Democracy noted at the time, and in 2012 he gave $2 million. (The RGA reported spending $5 million getting Walker elected in 2010, and another $9 million during the 2012 recall.) In the first half of 2014 Koch has donated $3.75 million, and Koch Industries has chipped-in another $525,000.
Cox acknowledged this financial backing when addressing the Koch summit in June.
"I want to thank David specifically for his very strong support of the RGA and AFP's great partnership over the last four years," he said.
---
Get more Koch news at KochExposed.org