By Brendan Fischer and Nick Surgey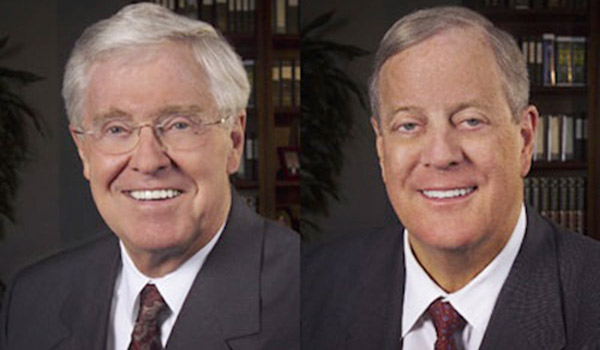 Newly-obtained documents show that the billionaire Koch brothers' political giving is much more expansive than has previously been known.
In addition to the hundreds of millions flowing into politics by way of the Kochs' network of foundations and funding vehicles like Freedom Partners, David Koch writes millions of dollars in personal checks to political organizations every year, and funds from the Koch Industries corporate treasury are used to bankroll the right-wing infrastructure the Kochs have developed. Koch Industries, the company David runs with his brother Charles, is the second-largest privately-held company in the country.
In some cases, Koch giving through largely untraceable personal or corporate checks outstrips the known donations made through the Koch family foundations and secretive pass-through groups like Freedom Partners.
Overall, the size of the Koch-funded political universe is vaster than has ever been reported.
Secret Koch Cash Even More Secret Than We've Known
The Kochs have long been notoriously secretive about the hundreds of millions they've poured into politically-active nonprofits.
In January, the Washington Post and Center for Responsive Politics followed the $400 million money trail flowing from two Koch-connected funding vehicles, the 501(c)(6) Freedom Partners and 501(c)(4) Center to Protect Patient Rights (now called "American Encore"), to other politically active nonprofits, like David Koch's Americans for Prosperity and the American Future Fund. Many of the recipients of that funding spent money influencing elections, only a fraction of which was reported to the Federal Elections Commission.
Tracking the funds passed from those two nonprofit funding vehicles was an enormous feat, made even more difficult by the Koch network passing funds through intermediaries and limited-liability corporations known as "disregarded entities."
Yet, following the money trail was made possible because nonprofits, by law, must disclose the grants they make to other groups, even as they keep their funders secret.
This means that donations made by the Koch family foundations -- the Charles G. Koch Foundation, the David Koch Foundation, and the now-closed Claude R. Lambe Foundation -- as well as Koch nonprofit funding vehicles, must be publicly reported.
In contrast, there is no public reporting requirement for donations directly from the personal bank accounts of David and Charles Koch, who together are worth an estimated $83 billion, unless donating directly to a candidate or PAC.
And, there is no public reporting of contributions from Koch Industries itself. Koch Industries is a closely-held company, so its majority owners, David and Charles Koch, do not have to publicly disclose how they use profits from the company's $115 billion in annual revenue to fund their personal political agenda.
However, a handful of recently uncovered documents provide a snapshot into this secret, entirely off-the-books political spending.
Direct Koch and Koch Industries Donations Offer Snapshot Into Koch Network
These documents do not provide a comprehensive list of private Koch donations, but instead offer a glimpse into the nearly incomprehensible breadth of the Koch political universe. That universe goes beyond the $400 million the Kochs and their operatives raise and spend through the Freedom Partners/Center to Protect Patient Rights network.
It is likely that both David Koch himself and Koch Industries have given more to the groups discussed below and to others in additional years, but those records have not been made available.
Known donations from David Koch himself include:
$850,000 to Americans for Prosperity in 2003 (making him the top donor that year), $1 million to AFP in 2001, and $1 million to AFP's predecessor Citizens for a Sound Economy in 2000
$100,000 to the Competitive Enterprise Institute in 2009
$125,000 to the Massachusetts-based State Policy Network member think tank Pioneer Institute for Public Policy Research in 2007 (making Koch the largest single donor that year), and $100,000 to the Pioneer Institute in 2005
$25,000 to the George Washington Institute for Religious Freedom in 2009
$150,000 to the Bill of RIghts Institute in 2011
$400,000 to the Institute for Humane Studies in 2007
Koch Industries has also ponied up cash, including:
All of these contributions are in addition to millions of dollars of donations, cumulatively, from the Koch family foundations.
In some cases, donations from Koch Industries exceeded donations from the Koch family foundations. For example, in 2010, the Texas Public Policy Foundation -- the State Policy Network affiliate in Texas that once counted Ted Cruz as a fellow -- received $159,834 from Koch Industries, nearly double the $69,788.61 it received from the Kochs' Claude R. Lambe Foundation.
Blurred Lines between Koch Business and Political Sides
The sizeable political donations from Koch Industries provide further evidence of the overlap between the Koch Industries "business" and the Koch political network.
Koch Industries is the second largest privately-held company in the world, a diversified conglomerate with at least $115 billion in annual revenue. Koch has interests in oil, gas, paper, textiles and much more, including consumer brands like Dixie Cups, Stainmaster Carpet, and Quilted Northern toilet paper.
In press releases, Koch Industries has tried to draw a line between its corporate interests and its owners' political interests. It states on the KochFacts website, for example, that "AFP and AFP Foundation operate independently of Koch Industries." Yet, it is now known that Koch Industries itself was pouring as much as $1 million each year into AFP during the early 2000s, the only years that such records are available, in addition to contributions from the Koch family foundations and David Koch himself. It is not known how much Koch Industries or David Koch may have provided to AFP in more recent years, as the group has played an increasing role in elections and its budget has grown exponentially.
Even besides the corporate checks going to the Kochs' pet political causes, many Koch groups are populated with Koch Industries executives.
Richard Fink is on the board of Koch Industries Inc. and its DC lobby shop Koch Companies Public Sector LLC (as well as Koch subsidiaries Georgia Pacific Equity Holdings, LLC and Flint Hills Resources, LLC). He is also a board member of Koch political groups like Americans for Prosperity and the Institute for Humane Studies. Fink also sits on the board of the three Koch family foundations. With Koch funding, Fink helped launch the Mercatus Center at George Mason University, and remains on its board.
Americans for Prosperity board member Nancy Pfotenhauer was previously director of the Koch Industries DC office, and then led the Koch-funded Independent Women's Forum.
Koch Industries representatives also play a major role at the secretive Koch conferences where the Koch network raises funds and plots strategy. At the February 2014 summit, for example, Koch Industries' chief financial officer, Steve Feilmeier, was scheduled to meet with billionaire real estate tycoon Carl Berg, according to a document obtained by Mother Jones. The president of Koch Fertilizer, Charles Koch's son Chase, was scheduled to take part in a meeting with a donor named George Gibbs. The June 2014 summit included participation by Koch Industries representatives like General Counsel Mark Holden and Vice President Dale Gibbens, as well as the President and CEO of Koch Companies Public Sector, Phillip Ellender.
Freedom Partners, the Koch-connected $250 million mega-fund, is also stacked with Koch Industries executives. The board includes Koch Industries board member Fink, Koch Industries Managing Director of Federal Affairs Wayne Gable, and Koch Companies Public Sector Vice President for Special Projects Kevin Gentry. Its employees include Michael Lanzara, Jeff Noble, and Peter Lipsett, all of whom worked for Koch Industries Public Sector, and some of whom also participate in the Koch conferences. Other board members and employees are directly tied to the Kochs' political work.
Yet, Koch claims that Freedom Partners "operates independently of Koch Industries." Although Freedom Partners is technically a separate legal entity, the extent of the Koch connections suggests that it is hardly independent of the Kochs as a practical matter.
It is not known to what extent Freedom Partners -- which spent nearly $250 million in the 2012 election cycle -- is financially supported by Koch Industries or the Kochs individually.
---
Correction: This article has been corrected to clarify the amount provided by the Kochs to ALEC from 1997 to 1998, due to an overlap in reporting periods.
For more on the billionaire industrialists and the power and influence of the Koch cadre and Koch cash, see CMD's unique wiki resource KochExposed.org.