-- by Jon Queally, Common Dreams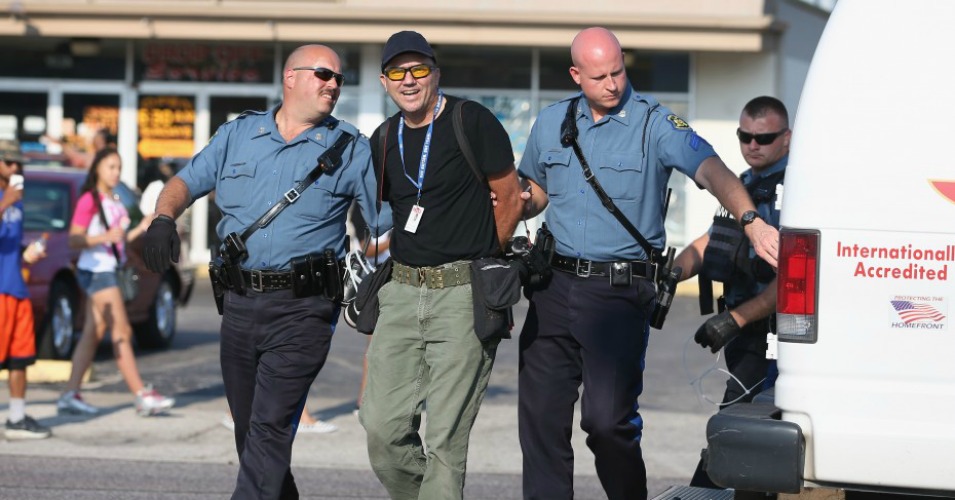 Monday night saw another peaceful protest turn into a series of running clashes between some demonstrators and police in riot gear as tear gas canisters flew and police faced angry portions of the crowd who reportedly threw bottles and other projectiles. Gun shots were also reported amid the chaos and two victims of gun shots wounds—not police, but other demonstrators—were sent to local hospitals.
The four journalists detained by police—Scott Olson, a photographer with Getty from Chicago; Ryan Devereaux a New York-based reporter for The Intercept; and two German reporters—add to the list of other professionals who have been detained, arrested, or otherwise impeded from covering the ongoing Ferguson protests that have become international news.
Olson—who has so far captured some of the most iconic images from Ferguson—was arrested late afternoon on Monday as he continued to document events in the community. Reportedly told to move by law enforcement officials, Olson refused and was handcuffed and arrested before later being released.
The two German journalists, Ansgar Graw and Frank Hermann, were also handcuffed and detained for several hours before being let go. According to the English-language German outlet The Local.de:
The journalists had wanted to take pictures of a burned out gas station on Florissant Avenue, the street at the centre of the week-long protest. The building was looted and burned the night of Brown's death.

"The street was empty at the time, there was no hint of violence or riotous assembly," Graw wrote for Die Welt of his ordeal.

Police told him that journalists were gathering on the other end of the street, in the large shopping mall, for security reasons.

"We felt there were no threats, everything is completely peaceful, and we said that we would stay on and take the photos we wanted," Graw wrote.

Then a young police officer says: "Okay, but only if you keep moving. The moment you stay standing, you'll be arrested. That's the last warning."

Graw took the pictures walking around in small circles in an attempt to assuage the officer, but was then cuffed in zip ties anyway. The officer gave his name as Donald Duck.

The journalists were processed, relieved of their personal belongings and transported to a jail in St. Louis. Requests for water were ignored. Requests for a phone call were always answered with "later".

After three hours, the journalists were released without explanation.
The Intercept's Devereaux, who arrived from New York to cover the protests on Monday, provided hours of running on-the-ground coverage via his Twitter account throughout Monday night until his feed went dead just after midnight local time:
Later, a post from his editor at The Intercept John Cook said he had received word from another journalist who witnessed the event that Devereaux had be detained by police. Cook described his efforts to contact his reporter and referenced the possibility that out-of-town journalists were being listed by law enforcement officials as among the "criminals" who had been arrested. Cook wrote:
We haven't been able to reach officials with the St. Louis County Police Department or Ferguson Police Department to find out if Ryan has been arrested or charged, or under what pretext he was detained. But needless to say, it's an outrage that he was stopped and handcuffed by police in the course of lawfully doing his job on the streets of Ferguson. We are trying to contact Ryan now.

At a press conference early this morning, Missouri Highway Patrol Capt. Ron Johnson told reporters in Ferguson that 31 arrests had been made, including members of the "criminal element" from "as far away as New York." When asked by a reporter if any of those 31 had been reporters, he immediately–and falsely–replied, "these people were not journalists that were arrested."

But he quickly admitted that in the "chaos" of the protests, officers may not be able to distinguish between reporters and other bystanders: "So yes, we may take some of you into custody. But when we do take you into custody, and we have found out that you are a journalist, we have taken the proper action." This begs the question as to why police would be compelled to arrest an otherwise law-abiding non-journalist simply for attending a protest. But we insist that the St. Louis County Police Department, Ferguson Police Department, and Missouri Highway Patrol take the proper action and release Ryan Devereaux immediately.
Writing at The Nation, journalist John Nichols slammed the police for their pattern of abuse against working journalists in Ferguson, but also noted the broader issue of how press freedoms are under increasing threat in the modern era:
The assault on press freedom does not begin or end in Ferguson. The robust journalism that America requires has, of course, been undermined by the constant cuts imposed by hedge-fund media moguls. But even where media outlets still try to tell the stories that need to be told, they face threats from government agencies that are supposed to be checked and balanced by a constitutional prohibition on any official action abridging the freedom of the press—or of the related democratic rights to speak, to assemble and to petition the government for a redress of grievances.

Press freedom groups are busy these days, calling out local police forces in communities that deny reporters to news scenes, challenging state officials who refuse to obey open-records requests and federal officials who have grown increasingly aggressive in their efforts to monitor reporters and to try and force journalists to reveal the names of whistleblowers.
In an update, The Intercept announced just before 9 AM EST that their journalist had been located in police custody and would be released soon:
Our reporter @rdevro was shot with rubber bullets/beanbags by police last night, spent night in jail. Is due to be released w/o charge soon.

— The Intercept (@the_intercept) August 19, 2014
---
The article originally appeared on Common Dreams.
This work is licensed under a Creative Commons Attribution-Share Alike 3.0 License