By Mary Bottari and Sean Hoey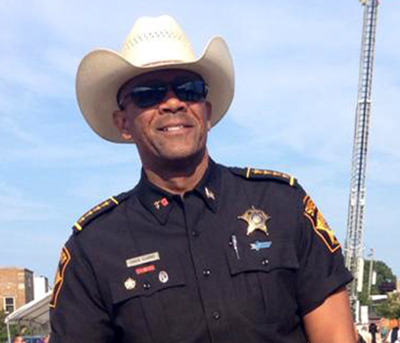 Sheriff David Clarke effectively won his reelection for Milwaukee County Sheriff yesterday, holding back a challenge in the Democratic primary with what appears to be a great deal of help from Republicans.
The race between Clarke, a favorite of the Tea Party and conservative talk show hosts, survived a primary challenge from Chris Moews, a city of Milwaukee police officer, in a race that saw a dramatic influx of phony "issue ad" spending in the final weeks. No Republicans are on the ballot for the general election, so Clarke's victory Tuesday almost guarantees that he will keep his position.
The liberal dark money group, Greater Wisconsin Committee (GWC), made $400,000 in TV and radio buys against Clarke -- more than the Clarke and Moews campaigns combined. GWC's hard-hitting ad, entitled "Sheriff David Clarke: Don't call 911 -- just shoot to kill," claimed, "Sheriff Clarke says 911 is not our best option." Here the group is referencing the controversial public service announcement Clarke authorized as sheriff telling citizens to take up firearms and defend themselves. The ad also featured an interview Clarke gave to Project Veritas, the right-wing attack dog website promoted by James O'Keefe.
Independence USA PAC, the PAC founded and funded by former New York Mayor Michael Bloomberg to support moderate candidates in support of saner gun policies, also ran ads against the sheriff for his anti-gun control position. Bloomberg's group spent $150,000 in the race. The PAC did not make its ad available for online dissemination and the group could not be reached by CMD.
Known as the "Democratic" darling of the National Rifle Association -- which raised money for his reelection -- Clarke is not really a Democrat. He has been serving as Milwaukee County Sheriff since his appointment from Republican Gov. Scott McCallum in 2002. Democrats in the state call him a DINO, a Democrat in name only, but the party has failed twice now to unseat him.
With the support of conservative talk show hosts, like WTMJ's Charlie Sykes, it appears that Clarke garnered thousands of votes from Republicans in the suburbs of Greendale, Hales Corners, Cudahy, Greenfield, Oak Creek – all of which are in Paul Ryan's congressional district. It appears that many of these voters also supported long-shot Democratic contender Brett Hulsey, to embarrass frontrunner Mary Burke in the Democratic primary. Wisconsin has a open primary system (instituted by Progressive era governor Bob La Follette) and this type of crossover voting and mischief making is common in the state, but rarely so successfully.
Former governor and 2012 senatorial candidate Tommy Thompson also sent a letter to local Republicans, encouraging them to vote in the Democratic primary.
According to their pre-election finance reports, Clarke had spent $68,000 throughout the campaign while Moews had spent just under $27,000 -- nothing near the level of spending by dark money groups that do not disclose their funders.