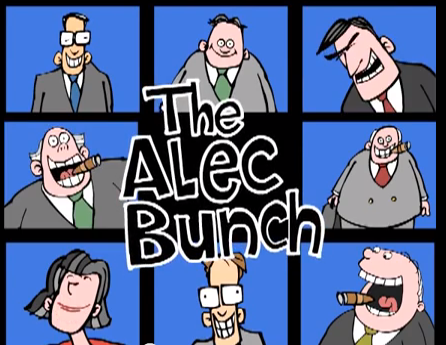 Wisconsin is the latest state to line up behind a national effort to amend the Constitution and cripple the federal government's ability to spend -- likely forcing steep cuts in popular earned benefit programs such as Social Security and blocking Congress from responding to economic downturns or natural disasters -- apparently with the ultimate goal of completely overhauling America's system of governance.
Assembly Joint Resolution 81, which passed out of committee on Wednesday, would call for an Article V Constitutional Convention to force a federal balanced budget amendment. Article V of the U.S. Constitution provides that thirty-four states (two-thirds) can trigger a convention to propose an amendment, which must then be ratified by 38 states (three-fourths). The legislation closely tracks the "Balanced Budget Amendment Resolution" from the American Legislative Exchange Council (ALEC) and allied advocacy groups promoting an Article V convention.
ALEC's Stealth Convention
"AJR 81 comes right out of the 'Convention of States' workshop and materials presented at ALEC where state legislators were promised bundled campaign contributions and grassroots support if they joined this effort to amend the federal constitution," said Rep. Chris Taylor, a Madison Democrat who attended ALEC's Annual Meeting in Chicago last summer, in a statement. "I am alarmed that this effort is now making its way through the Wisconsin legislature and is tentatively scheduled to be considered by the full Assembly next Tuesday."
ALEC has published a "how-to" manual for an Article V constitutional amendment, and at its last two meetings hosted workshops on amendment strategy from the group "Citizens for Self Governance," led by Tea Party Patriots co-founder Mark Meckler, and whose board includes WisconsiniteEric O'Keefe (who has spoken publicly about being subpoenaed in Wisconsin's John Doe probe in his role as Director of Wisconsin Club for Growth). Citizens for Self Governance seeks to use the amendment process to severely restrict federal power, for example by redefining the Commerce Clause to prohibit Congress from enacting child labor or anti-discrimination laws. In recent years, the Article V idea has spread in Republican circles thanks to right-wing radio host and author Mark Levin, and has been elevated by the likes of Glenn Beck.
Following ALEC's December 2013 meeting in Washington D.C., the primary sponsor of AJR 81, Wisconsin Rep. Chris Kapenga (R-Delafield), co-organized a convening of around 100 state legislators to discuss the Article V amendment process. (Last year, Rep. Kapenga was one of nine Wisconsin lawmakers who told a Tea Party group they wouldseek to arrest federal officials implementing the Affordable Care Act in the state). A followup meeting is planned for Spring of this year.
The push for a constitutional convention has garnered limited attention in the mainstream media. "A lot of Americans outside of these conservative circles have no idea this is going on, that all of these strategies are being developed to basically neuter the federal government, and what the ramifications of those strategies would be in the long run," says Rachel Tabachnik, a research fellow at Political Research Associates, who has tracked the evolution of "state's rights" efforts to amend the constitution. "These states are seeking to undo all civil rights, social safety nets, and regulatory functions that they don't want."
Amendment Would Cripple the Government's Ability to Respond to Economic Crises and Disasters
Although some advocates have pushed for a broader call for a constitutional convention -- the Convention of States group, for example, hopes to "call a convention for a particular subject rather than a particular amendment" to radically alter state-federal relations -- AJR 81 is focused more narrowly on calling for a balanced budget amendment.
Since World War II, the federal government has deliberately used deficit spending as a policy tool to soften economic downturns, preventing recessions from turning into depressions by spending on programs like unemployment benefits, targeted tax breaks, or jobs training. Tax revenues decline during a recession, just as these necessary expenditures increase. Similarly, natural disasters can wreak havoc on the economy, and disaster relief can also require deficit spending. A Balanced Budget Amendment would handcuff the government at a time when economic crises, drought, and catastrophic hurricanes are on the rise.
As Jon Peacock of the Wisconsin Budget Project explains:
A balanced budget amendment in the U.S. Constitution would result in much longer and deeper recessions and would cause unnecessary job losses. When the economy goes into a dive and people are without jobs, the need for food stamps, health insurance and unemployment insurance rise sharply. Since tax revenue typically falls as the need for those programs rises, a balanced budget would require cuts to these safety net programs and other areas of spending at the worst possible time. That would not only take away vital help during a recession, but would also exacerbate the downturn by requiring program cuts and/or tax increases as the recession worsens.

A highly respected economic forecasting firm, Macroeconomic Advisers, considered the effects of a balanced budget amendment during a period like the recent recession. They described the impact on the economy of cutting spending at such a time as "catastrophic" -- leading to depression-like conditions and millions of additional jobs lost. A balanced budget amendment is also likely to jeopardize Social Security and other earned assistance upon which retirees depend.
Companion Bill to Rein-In "Runaway Convention" Reflects ALEC Model
The right is not united in their support for the Article V constitutional amendment effort. The U.S. Constitution has never been amended through the Article V process, and many fear a "runaway convention" where delegates approve amendments other than a balanced budget -- for example, an amendment that would address the harm caused by the Supreme Court's Citizens United decision. The Heritage Foundation opposes an Article V convention for these reasons. One of the most consistent critics of the Article V effort has been The John Birch Society; the Convention of States group has taken their criticism seriously enough to post a response on their website.
In response to those fears, Rep. Kapenga has introduced a companion bill, AB 635, aimed at stymieing a "runaway convention" by declaring that delegates to the convention may not vote on other issues besides the balanced budget amendment, and providing that those who do will be immediately dismissed by the other delegates. This is nearly a word-for-word copy of the ALEC "Resolution for Limitations on Authority of state Delegates to a 'Convention for Proposing Amendments' under Article V of the US Constitution."
"You really don't need people to do this"
Almost every Republican member of the Wisconsin Assembly has signed on as co-sponsors to AJR 81 and AB 635. Lobbying for the bill in Wisconsin are Americans for Prosperity, the state U.S. Chamber of Commerce affiliate Wisconsin Manufacturers and Commerce, as well as the National Federation of Independent Business, which purports to represent small business but is a front for right-wing corporate interests.
Outside of Tea Party circles, it does not appear that most Wisconsinites were clamoring for their legislators to push this proposal. But it does not appear that citizen support is a necessary component of the Article V convention effort.
At last year's ALEC meeting in Chicago, where an Article V convention was discussed, Rep. Taylor recounted a conversation with a private sector ALEC member. In response to her concerns about average Americans not wanting a radical overhaul of their Constitution, he told her:
"You really don't need people to do this. You just need control over the legislature and you need money, and we have both."