This is a special excerpt of the cover story of In These Times magazine, written by the Executive Director of the Center for Media and Democracy, which publishes PRWatch.org.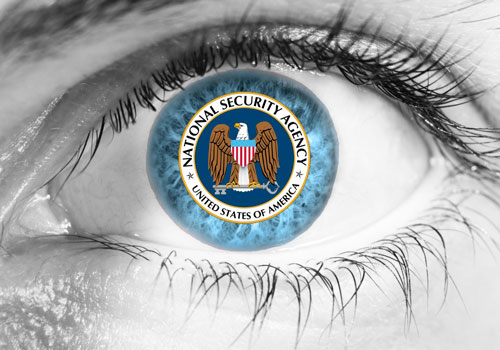 The documents leaked by Edward Snowden and published by The Guardian and other outlets confirm what privacy advocates have been saying for years: The government has secretly turned its most powerful weapons of foreign intelligence surveillance inward on millions of Americans.
How can an ordinary citizen cut through the brush -- with the avalanche of complicated, classified materials released, the flurry of political finger-pointing, and the various denials and narrowly crafted dodges? Welcome to a guided tour of the National Security Agency (NSA) scandal. We'll explore how we got here and what Nixon's got to do with it.
Who? Me?
The NSA has rebuffed demands by some in Congress for an estimate of the number of Americans whose information has been gathered, stored and searched, but the math is simple. Unless you are a child, a Luddite or a hermit who has never dialed a phone or used the Internet, records of your phone calls and online interactions have been captured by the NSA.
This includes your number and everyone you dial or text, plus how often and how long you talk, as well as your location -- although the NSA has claimed it doesn't actually use the location data. In other words, the NSA has the fact of all your calls with your friends, family, lover(s), bank(s) and doctors' offices for whatever ails you, along with calls to psychic hotlines or phone sex workers, if that's your thing. The number of innocent Americans affected: at least 260 million.
That's not all. For nearly a decade, the NSA was gathering records about Americans' "Internet transactions," including "metadata" such as the "to, from, cc and bcc lines of a standard email," when your email was sent and opened, your IP address and location, and an array of data about you as you search the Internet, and interact with friends and strangers through social media. That program is no longer authorized by a secret court in Washington, D.C., but whether it continues is unknown. Also unknown: whether the NSA's gathering of Americans' credit card transactions is continuing or was secretly stopped.
Even that's not all. Though the NSA has emphasized that it does not obtain the "contents" of your calls or emails through this program, the government has decided that the contents of all international phone calls and emails "to or from" Americans and others abroad are fair game for acquisition by the NSA without a warrant. At least 40 million American citizens travel internationally each year, and America is home to 40 million immigrants, who call or email their loved ones overseas about their most intimate worries and desires.
And there's more. Newly declassified documents prove that countless purely "domestic" conversations between innocent Americans here in the United States have also been acquired and searched by the NSA.
---
This article was first published as the cover story for the November 2013 issue of In These Times magazine.