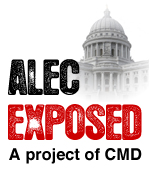 An examination of the promotional brochure for the Chicago meeting of the American Legislative Exchange Council (ALEC) reveals that the meeting -- where corporate lobbyists secretly vote as equals with legislators on model bills at ALEC task force meetings -- has fewer corporate sponsors willing to tell the public they bankroll ALEC's operations. This news comes in the aftermath of 48 corporations and six non-profits leaving ALEC after the Center for Media and Democracy (CMD) connected the dots between "Stand Your Ground" legislation and ALEC, and coalition of organizations pressed for corporations to stop funding ALEC.
Two years ago, shortly after ALECexposed was launched by CMD to help the public and the press track ALEC's extreme legislative agenda, ALEC's annual convention featured three corporations underwriting the convention at the highest fee level. Last year, the number dropped to two. This year, however, ALEC's summer meeting brochure indicates that only one corporation, a tobacco company, was willing to pay the one hundred thousand dollar asking price to be listed as a top ALEC sponsor for the event at the Palmer House hotel in Chicago.
Reynolds Tobacco Is ALEC's Sole "President" Level Sponsor in Chicago
Only Reynolds American, the global purveyor of cancer-causing cigarettes, was willing to be listed as ALEC's top sponsor. According to an ALEC sponsorship guide, a $100,000 gift to ALEC buys a lot of access. Gold level sponsors get designated as "President" and receive: seven invitations to all of the ALEC VIP events (which are unnamed); seven complimentary registrations for corporate lobbyists, their spouses, or guests; VIP photo opportunities (plural) with lawmakers; advertising; and seating at the ALEC head table, of course.
ALEC's love fest with Big Tobacco goes back decades with numerous documents that show the close ties between ALEC and Reynolds and similar companies. For years, ALEC has been fronting efforts by tobacco companies to escape liability for their dangerous products. The corporation's subsidiaries sell Camel and Winston Salem cigarettes as well as snuff.
ALEC is not the only controversial group Reynolds American bankrolls. As noted in CMD's SourceWatch profile of the company, the Center for Public Integrity has documented that Reynolds American gave $175,000 to Grover ("drown [the government] in a bathtub") Norquist's Americans for Tax Reform and also gave at least $50,000 to David Koch's "Americans for Prosperity" in 2012.
The total amount of money Reynolds American has given ALEC this year, beyond helping to underwrite the annual gathering of lobbyists and lawmakers at Chicago's posh Palmer House hotel, is unknown.
Downgrading its level of conference sponsorship from the highest level last year is Tracie Sharp's "State Policy Network," (SPN), which includes 59 affiliated think tanks that help peddle ALEC's corporate-fueled agenda as good policy. As CMD has documented, a number of SPN special interest groups are funded by the Koch family, other Big Oil companies, Big Tobacco, and/or Big Insurance.
Also gone from the presidential designation of ALEC from 2011 are Takeda (the Japanese drug maker), even though it was named one of the two ALEC Private Sector Members of the Year, and BP (British Petroleum). In fact, BP is no where to be found in ALEC's 40th Anniversary list of conference underwriters.
Controversial Peabody Energy Stands Firm as an ALEC "Chairman"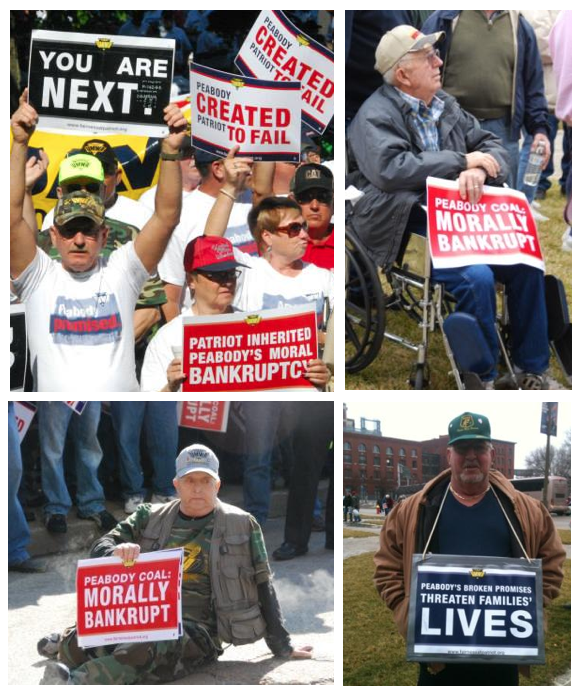 The next level of funding, dubbed "Chairman," comes with a $50,000 price tag. ALEC's funding brochure notes that giving this amount to ALEC for the conference gets four invitations to all VIP events, four conference registrations, a VIP photo opportunity, and advertising. At this fee level, donors can get the opportunity to have a "workshop" with legislators or the introduction to one of its luncheons.
The only repeat donor at this level from 2012 is Peabody Energy, more widely known as Peabody Coal, which was immortalized in song for its strip mining: "And daddy won't you take me back to Muhlenberg County down by the Green River where paradise lay? Well, I'm sorry my son, but you're too late in asking... Mister Peabody's coal train has hauled it away."
Peabody is the world's largest privately held coal company.
It has mines in Wyoming and other states (Illinois, Indiana, Colorado, New Mexico and Arizona), and it is a major exporter of American coal to other countries.
One of the workshops for ALEC legislators at the conference was entitled "The Economic Benefits and Political Challenges to Coal Exports." That workshop touted the benefits of expanded export terminals on the West Coast for selling coal to Japan, South Korea, and Taiwan. Peabody Energy has contracts to export at least 24 million tons of coal through the SSA Marine terminals in California. Other ALEC seminars and sessions in Chicago touted how to bust unions and push so-called "right-to-work" laws that undermine union organizing and the power of labor in the private sector.
Workers Rally to Expose Peabody's Efforts to Avoid Paying Their Pensions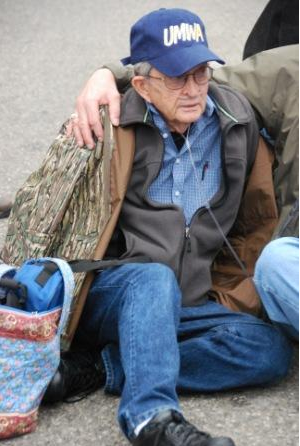 Since January of this year, thousands of miners and their families have protested Peabody spinning off its eastern United States coal mining operations -- where many workers were represented by the United Mine Workers of America -- in order to get rid of what its CEO Gregory Boyce called "legacy liabilities," a fancy word for the earned retirement pensions and health care obligations of the men and women who toiled in underground mines for decades building Peabody's wealth. The operations that were spun off were dubbed "Patriot Coal," a corporation that has sought to escape its obligations to miners through federal bankruptcy proceedings.
At the first of several rallies near Peabody's headquarters and a federal courthouse in St. Louis that is considering the bankruptcy petition, numerous miners -- including the president of United Mine Workers of America, Cecil Roberts -- have been arrested for civil disobedience.
The UMWA's Roberts decried Peabody for its role in what he called a "scam" to deprive hardworking miners of their retirement futures and access to life-saving health care benefits, claiming that the corporations may "have $1,000 an hour lawyers, but they've got $1 an hour morals," according to a report on that rally. The local leader of the Coalition of Black Trade Unionists called the effort to discharge the pension obligations "despicable and criminal."
Peabody Makes Billions; Peabody's CEO Paid Nearly $15,000 a Day in Total Compensation
According to Forbes magazine, Boyce (Peabody's CEO) is one of the top 25 highest paid CEOs in America this year, with a total annual compensation package of $30.7 million (or the equivalent of $14,759 per day in total compensation). When Boyce created Patriot Coal, he boasted that his maneuver would reduce Peabody's "legacy liabilities by roughly $1 billion," and his Chief Financial Officer bragged that Peabody's "retiree health care liability and related expense will be reduced by 40%..."
Peabody's revenue in 2012 was more than $7 billion. While the U.S. and global economies have staggered since the Wall Street meltdown in late 2008, Peabody's income has risen by nearly 33% in the past three years (which is roughly the same period since it loaded up Patriot Coal with its pension debt). Over the past decade, Peabody has spent millions on lobbying as well as more than a million on campaign contributions to politicians, in addition to untold sums on its legal and PR teams.
Peabody is one of nine private sector funders of ALEC's conference at the "Chairman" level, down from eleven last year and down from the nineteen special interests funding ALEC at this level at its 2011 conference in New Orleans.
Peabody Joins Other Climate Change Deniers as Top Funders of ALEC
An industry front group, which Peabody has invested in, is also funding ALEC at the $50,000 silver rate for the conference: the "American Coalition for Clean Coal Electricity" (ACCCE), which was previously known as the "Center for Energy and Economic Development" (CEED).
According to a memo leaked to DeSmog Blog in 2009, CEED reported to its investor, Peabody, on the execution of ongoing plans to counter efforts to regulate coal and address climate change. That PR plan included opposing any government control of "greenhouse gases," orchestrating efforts to block the Environmental Protection Agency from new efforts to regulate carbon dioxide emissions, opposing regional climate change agreements that mandate carbon trading rules, and blocking efforts to regulate mercury, the neurotoxin released from the burning of coal which has poisoned lakes and oceans restricting the level of safe consumption of seafood by pregnant women, children and others. One of the key parts of the coal industry strategy was to "sow discord."
These policies are echoed in the ALEC playbook, which includes numerous bills or resolutions that would make it harder to regulate carbon or address global climate changes, as well as efforts to limit regional climate change agreements and to block the regulation of coal ash.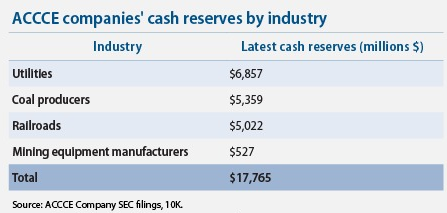 As noted by the Center for American Progress, ACCCE's own documents reveal that the industry it represents has at least $17 billion in cash reserves on their books that could be deployed to help address these problems, if they were required to do so. Meanwhile, ALEC's model legislation includes a measure to bar taxes on windfall profits of energy companies, like the corporate benefactors of ACCCE.
ACCCE was designated by ALEC as one of its Private Sector Members of the Year, like Peabody was the year before.
Also underwriting ALEC's Chicago meeting at the $50,000 level is ExxonMobil, whose long-time funding of climate change denial is extensively documented by Greenpeace.
New ALEC "Chairmen" Emerge; Old Funders Drop Off or Fade Away
Others funders at the "Chairman" level include K12 (the "virtual school" company largely funded by taxpayer dollars, which paid its CEO nearly $4 million in total compensation last year) and ALEC's allies at SPN, the network of state think tanks that have promoted ALEC's efforts to privatize America's public school system through vouchers and other legislative measures, as noted in CMD's special report on ALEC's education agenda.
Also paying ALEC at that level: the U.S. Chamber of Commerce Institute for Legal Reform (which has fought paid sick leave and worked to make it harder for Americans killed or injured by corporations to sue and win full damages) and the Cigar Association of America (a trade group funded by tobacco companies), which often co-hosts the cigar party at the ALEC convention.
Rounding out the list of Chairman-level funders are a group called "Citizens for Self Governance" (which was created by Tea Party Patriots co-founder Mark Meckler) and a book called "How Money Walks," by Travis Brown, the founder of a lobbying firm called Pelopidas, LLC, who also spoke at one of the lunches at the ALEC meeting.
Here is the list of corporations, other than Peabody, which funded ALEC's summer convention at the Chairman level in 2012: Big Oil (Chevron), Big Tobacco (Altria), Big Drugs (PhRMA, Bayer, Alkermes, and GlaxoSmithKline), for-profit schools (Imagine Learning); two SPN special interest groups: the Heartland Institute and the Texas Public Policy Foundation; and the German global software company, SAP. None of these, besides Peabody, funded ALEC's summer convention at the same level as last year. In fact, only two (SAP and PhRMA) are listed in this year's brochure as sponsors.
Missing from this donor level from 2011 are: Mega Retail: Wal-Mart and the Walton Family Foundation; Big Oil (Shell, American Electric Power, and AmericasPower.org): Big Drugs (Allergan); Big Insurance (UnitedHealthCare and State Farm): and Big Telecomm (AT&T), as well as the Lumina Foundation and Big Credit (VISA and EZCorp, a huge payday loan company).
Some of these corporations left ALEC last year in the wake of the widespread outcry over ALEC's role in pushing "Stand Your Ground" legislation, including Wal-Mart, GlaxoSmithKline, and the Lumina Foundation. However, the family fortune behind Wal-Mart, the Walton Foundation, has not announced that it has stopped funding ALEC.
Fewer "Vice Chairman" Level Funders Publicized, Too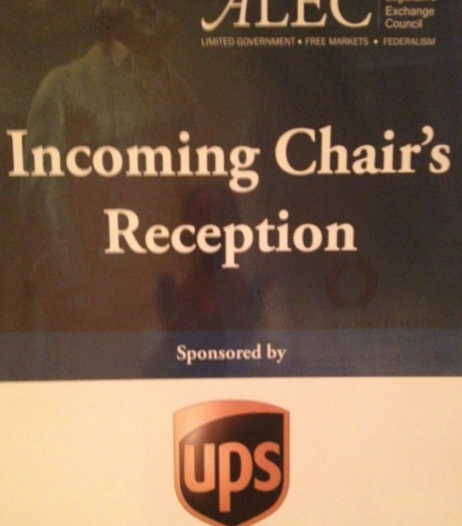 At this summer's ALEC meeting, five corporations funded ALEC at the "Vice Chairman" level -- which includes three VIP tickets and three conference registrations (but no special VIP photo ops) -- drugmaker Celgene, PhRMA, UPS, BNSF Railway, and the Illinois Policy Institute (which is part of SPN).
Last year, eight corporations underwrote ALEC's Salt Lake City convention at this level of funding: State Farm, AT&T, UPS, American Electric Power, the Sutherland Institute (which is part of SPN), and two Utah companies Zions Bank and Micron; in addition to ExxonMobil, which increased its level of sponsorship this year -- to Chairman.
In 2011, 16 corporations were listed as Vice Chairmen. Not listed this year, but by no means gone are Koch Industries (which sits on ALEC's corporate board) and the Franklin Center. Also not listed at this level for 2013 and among the corporations that announced that they stopped funding ALEC: Johnson & Johnson, Intuit, and Louis Dreyfus Commodities. Also missing from this level of funding, compared with 2011, and not apparently underwriting this year's ALEC's convention: Pfizer, FedEx, Sanofi, and Together RX Access, plus three Louisiana companies that helped sponsor ALEC's New Orleans convention in 2011.
Fewer "Director" Level Funders of ALEC's Convention
At the "Director" level of sponsorship, for which corporations received two invitations to VIP events and two registrations plus discounted ads for paying $15,000 for general sponsorship (or for paying $15,000 to be listed on hotel room keys, $15,000 to have a logo on a tote bag, or $10,000 to sponsor internet in conventioneers' rooms), ALEC also had fewer companies listed.
This year, there were 12, which is down from 15 last year. This year's sponsors at the Director level include stalwart ALEC funders like Takeda and Crown (which is pushing legislation to escape responsibility for people injured or dying from asbestos), plus TransCanada (which has been pushing the controversial Keystone XL pipeline), Cloud Peak Energy, Century Link (formerly Qwest), U.S. Steel, Progressive Solutions, Boehringer Ingelheim, SAP, Uline, Monarch Beverage Company, and the Oklahoma-based Liberty Foundation of America.
More "Trustee" Level Underwriters of ALEC Refreshments, like David Koch's Americans for Prosperity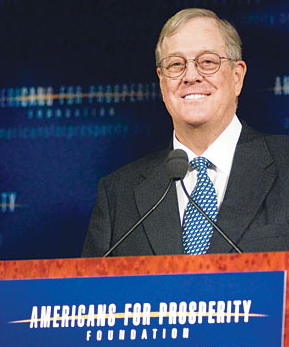 ALEC's lowest level of convention underwriting, the "Trustee," is the only level of sponsorship that showed an increase in the number of funders this year over the last. This year, 14 companies or groups were willing to shell out the $5,000 per reception break sponsored to get one VIP invitation and one registration.
David Koch's Americans for Prosperity is listed in the ALEC brochure at this lowest level of donation, but Koch Industries remains on ALEC's board (through its lobbying arm, Koch Companies Public Sector). Others giving to ALEC at the lowest level for the Chicago meeting include: Betsy DeVos' American Federation of Children (public school privatizers), drug company Lilly, Caterpillar, Norfolk Southern and also Union Pacific railways, the Oklahoma Council of Public Affairs, Opportunity Ohio, and five Illinois home-state entities: Ameren Illinois, the Illinois Chamber of Commerce, the Illinois Credit Union League, Prairie State, and Exelon Generation.
Notably, one of the $5,000 level ALEC sponsors is Wells Fargo, one of the Wall Street banks that announced last year that it had declined to renew its membership in ALEC in 2012.
Missing from the lowest level of ALEC convention funding compared with 2011 are some of the companies that have publicly left ALEC, such as: Amazon, BlueCross BlueShield, Kraft, HP, and Walgreens.
Corporations Pay up for Other Sponsorship Opportunities, too
Five railway companies (BNSF, Norfolk Southern, Union Pacific, CSX, and Watco Companies) ponied up cash to sponsor ALEC's invitation-only "Leadership Dinner," which featured former British Member of Parliament Conor Burns (a long-time ally of ALEC hero Margaret Thatcher). Before that event, a software company called "Progressive Solutions," sponsored ALEC's "Leadership Reception." The price tag for these sponsorships is not known.
According to ALEC's sponsorship brochure, the price for sponsoring its reception for its incoming chairmen was $50,000. UPS was the sole sponsor of that event for the top leaders of ALEC.
There were also receptions for various ALEC task forces. The Energy, Environment, and Agriculture Task Force reception, for example, was sponsored by Ameren Illinois, Commonwealth Edison, Dynergy, Inc., Exelon Generation, MidAmerican Energy, Midwest Generation, Peoples Gas and North Shore Gas, the Illinois Energy Association, and the Edison Electric Institute.
Similarly, the private sector entities listed as ALEC's host committee were: Reynolds American (tobacco), Peabody, ACCCE, Exxon Mobil, the U.S. Chamber of Commerce Institute for Legal Reform, the Cigar Association of America, K12, the Illinois POlicy Institute, SPN, Citizens for Self-Governance, and the book "How Money Walks."
The National Rifle Association Is Still There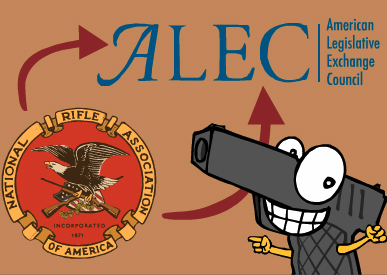 Despite ALEC's efforts to try to distance itself from its legacy of gun laws that it pushed for years alongside its long-time partner, the National Rifle Association, the NRA has not kept its distance from ALEC.
Like last year, the NRA was no longer listed on ALEC's brochure as a sponsor, but that did not stop the NRA from having a booth in the ALEC convention hall and pushing its agenda with its buddies within ALEC. Curiously, ALEC's membership brochure with its map of booths omits any reference to the NRA while describing 40 of the other organizations with booths in the ALEC convention hall.
The NRA's rep was also observed at special VIP events, that were purportedly reserved for members of ALEC. No flyers were observed touting the NRA's annual event at a shooting range for ALEC legislators and lobbyists, however.