-- by Mary Bottari and Sara Jerving
The fossil fuel industry has paid a hefty price for the privilege of framing the political discourse about America's energy future. Hundreds of millions have flowed into campaign coffers from energy companies attempting to purchase complete freedom to drill, frack, and burn. Huge "dark money" groups, the Koch's, Karl Rove, the U.S. Chamber of Commerce, join dozens of oil and gas industry associations in pouring money into television ad campaigns demanding "energy independence," while trashing wind and solar.
Things were going great. Even though hurricanes had slammed into two Republican National Conventions in a row, no one seemed to notice, and Romney's only mention of climate changes was as a punchline. No reporter asked a single climate change question of Romney or Obama during the debates. Even though the U.S. now had 175,000 wind and solar jobs, pro-green energy forces were disappointed in Obama and were less active. For big oil and gas the White House and the Senate were within reach. Critically, they had to move fast before the majority of voters started to not only notice the changing climate patterns, but really started to worry about them.
Then something happened that completely scrambled the board.
Hurricane Sandy blew New Jersey out of the water and inundated New York. The massive storm threw the Romney campaign completely off-message. Not only did they have nothing to say about the serious issue of climate change and the potential for more frequent and more devastating monster storms, the Romney-Ryan message of "smaller government" and "fewer first responders" sank in the Brooklyn Battery Tunnel.
In an unprecedented, last-minute move, Independent Mayor Michael Bloomberg threw his support behind Obama yesterday. His statement "A Vote for a President to Lead on Climate Change" lays out the seriousness of the situation. "In just 14 months, two hurricanes have forced us to evacuate neighborhoods -- something our city government had never done before. If this is a trend, it is simply not sustainable," Bloomberg states.
It wasn't supposed to be this way.
Polluting High Rollers Dominated the Airwaves
Until Sandy rolled in, the airwaves were completely dominated by the fossil fuel industry.
According to The New York Times, by mid-September there had already been a $153 million spent on TV ads that promoted the fossil fuel industry. The analysis showed that energy topics were mentioned more frequently than any other issue besides jobs and the economy. This figure is four times what clean energy advocates were spending.
The numbers stand in sharp contrast to the last presidential election in which the green energy industry and other forces spent $152 million compared to $109 million spent on fossil fuel interests.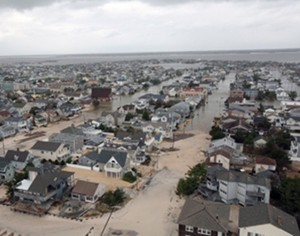 Broadly, the ads promote fossil fuels in the context of jobs, domestic security, and energy prices. Combined, they try to convince Americans that "energy independence" should be the nation's top priority. Yet they neglect to point out that solar and wind also create high-wage jobs and energy independence too. According to Open Secrets, oil and gas campaign contributions are at historic highs and are more lopsided than ever before with 90 percent of the funds going to Republican candidates. Top contributors include William Koch's Oxbow Corp, Chevron, Exxon Mobil, and Koch Industries, who have already contributed $59 million to federal candidates. Leading coal mining corporations, such as Alliance Resource Partners, Cumberland Development, and Murray Energy, have kicked in $11.6 million to federal candidates.
But the money does not stop there. The Citizens United Supreme Court decision has opened the door to unprecedented spending by "dark money" nonprofits, SuperPACs and new constellations of trade associations that are on track to spend over $1 billion to "educate" voters about the issues, including the urgent need to extract and burn every last bit of fossil fuel.
Rarely are voters seeing any counter-narrative. Alternative energy forces have spent only $2 million, and some environmental groups are weighing in with modest resources. New ads by the League of Conservation Voters saying U.S. Senate Candidate Tammy Baldwin (D-WI) will stop the offshoring of U.S. jobs and "will end big oil subsidies" -- with cheerful Wisconsin windmills and pumpkins in the background -- started only in the final days of the campaign. Is it any wonder that candidates have been able to ignore the serious issues?
"To ignore a global crisis that has been fully understood for over 15 years and is quickly slipping out of control shows just how far coal and oil money have drowned out constituents all the way from the Statehouse to the White House," said Greenpeace's Connor Gibson.
What Does the Fossil Fuel Industry Want?
Although environmentalists are not happy with what they perceive as Obama's timidity, the fossil fuel industry is apoplectic about the steps he did take as president. They have leveled blistering criticism about Obama's efforts to slow down the Keystone Pipeline; they don't like his new auto emissions standards; they are unhappy with new EPA mercury emissions rules for boilers; and they don't like the fact that permits for drilling and fracking on federal lands have slowed.
The industry is looking for a victory in the battle over TransCanada's Keystone XL pipeline project, which would carry heavy tar-sands crude oil from Canada to Gulf Coast refineries, exporting some portion of the oil overseas. Construction of the pipeline was confronted by an active movement of citizens concerned about the impact that the pipeline would have on communities and on the threat burning the tar sands posed to the planet. Burning all the available tar sands would be "game over" for the climate, according to NASA scientist Jim Hansen, one of the nation's most respected climate change experts. Romney has vowed to give the project clearance on his first day in office, while Obama has approved a portion of the segment, and has allowed for further environmental impact study of the northern portion.
The industry also wants carte blanche to use federal lands for the highly controversial practice of hydraulic fracturing or "fracking" for shale oil and gas. Fracking has the documented potential to contaminate drinking water sources and foul both air and land -- in addition to spoiling millions of gallons of fresh water as part of the drilling process.
The industry is calling for a streamline on the permitting process for fossil fuel development on all lands. While industry's ads have argued that increased drilling will decrease gas prices, global gas prices largely follow international trends.
The industry is also keen to hold onto to the billions of fossil fuel subsidies it receives each year from the federal government. According to the International Energy Agency, fossil fuel subsidies from the government are 12 times greater than renewable energy.
No matter who wins the presidency, there will be major battles on each of these issues. The question is, after years of fossil fuel propaganda, how engaged will the American public be in the effort to save the planet from the fossil fuel industry?
The Price of Fossil Fuel Propaganda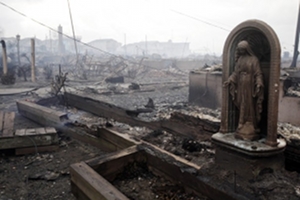 According to author and activist Bill McKibben, "This will be the warmest year in American history. It came with the warmest month in American history, July. It featured a statistically almost-impossible summer-in-March heat wave. It brought us a drought so deep that food prices have gone up 40 percent around the world. It brought us this completely unprecedented mega-storm, the biggest storm, as one weatherman put it yesterday, to hit New York since its founding in 1624," McKibben told Time.
The problem according to McKibben is that "there's been a 20-year bipartisan effort in Washington to accomplish nothing, and it reached its comedic height this summer when our presidential candidates, despite barnstorming through the warmest summer in American history, seemed not to notice. The reason is the incredible power of the fossil fuel industry. Until we can diminish that power, I imagine nothing very large will be done to deal with climate."
Hurricane Sandy has launched a full frontal attack on fossil fuel industry propaganda.
It is up to us to follow in her path.
---
Will Dooling contributed to this article.