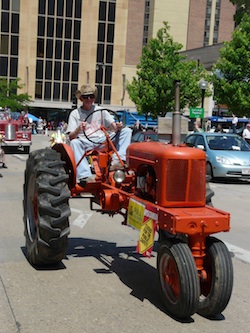 SCHEDULE FOR FRIDAY, JUNE 3, 2011
SCHEDULE FOR SATURDAY, JUNE 4, 2011
CMD REPORTS: BEER REVOLUTION: PROTESTERS GATHER TO PROTEST PROPOSAL THAT FAVORS MILLERCOORS AT THE EXPENSE OF SMALL, CRAFT BREWERS
7:00 a.m. - Jessica Opoien reports for CMD:
"This is the Wisconsin revolution, and it's powered by beer!" John Nichols, associate editor of the Capital Times and Washington correspondent for The Nation, gave a rousing introduction to Friday's "Save Our Craft Beers" rally, held on the State Street side of the Capitol at 5 p.m. Protesters gathered to unite in opposition against a measure added to the budget Tuesday by the Joint Finance Committee that effectively bans brewers from purchasing wholesale distributors and, according to the Wisconsin Positive Business Alliance, requires new wholesalers and breweries to secure 25 "separate, independent retail customers before a wholesale license can be granted."
CMD REPORTS: WITH EDUCATIONAL OPPORTUNITY UNDER ATTACK, PROTESTERS DISRUPT PROCEEDINGS WITH CIVIL DISOBEDIENCE
9:00 a.m. - Jessica Opoien reports for CMD:
Clarissa Sanchez, a freshman in high school from Racine, Wisconsin, knew the state legislature's Joint Committee on Finance's majority vote was not likely to shift in her favor. But that didn't stop her from boarding a bus with fellow members of Youth Empowered in the Struggle (YES!), the youth branch of Milwaukee-based immigrants rights group Voces de la Frontera, and traveling to the Capitol for the committee's June 2 meeting, during which it was expected to vote to repeal the 2009 measure granting in-state tuition rights (for the University of Wisconsin system and state tech schools) for the children of undocumented immigrants who grew up in Wisconsin.

"That's just taking our dream away," Sanchez said. "They want us to be successful, but how can we be successful when we can't go to college?" Sanchez added that she, along with many of her friends, would be adversely affected by the decision, and many people she knew would not be able to afford college.
FRIDAY, JUNE 3RD NEWS ROUNDUP
Milwaukee Journal Sentinel: Was Kapanke's team in on talks about running spoiler Democrat?
With friends like these, who needs to worry about opposition research? A secretly recorded meeting of La Crosse County Republicans last week showed they discussed running a spoiler candidate against Democrat Jennifer Shilling in an effort to delay the recall election of Sen. Dan Kapanke. The move, they said, would give Kapanke more time to campaign and force Dems to spend more cash. Kapanke, a La Crosse Republican, and his team quickly distanced themselves from the talk. "If we have six weeks or ... 10 weeks, the timing of it is not a concern for us," Kapanke campaign manager Jennifer Harrington said. "We're not in the business of candidate recruitment. We're focused on the campaign. Any conversations are happening outside of this campaign." But in another section of the secretly recorded meeting obtained by No Quarter, a La Crosse County Republican leader said he had discussed the issue with Harrington. "I would just advise, I guess, having talked to Dan's campaign manager, to make sure that as the process goes along, we know that it would be better for them to have an extended period of time," said Chris Rochester, who oversees public relations for the county party. La Crosse County Republican Party Vice Chairman Julian Bradley responds, "Yes, but this is a wish that comes from the RPW's political director, Mark Jefferson." Rochester didn't return repeated calls Friday. Jefferson is the former executive director of the state Republican Party who recently left to take a post with the national GOP. Harrington, Kapanke's campaign manager, adamantly dismissed Rochester's comments, saying his remarks about her were untrue. "I have never discussed this with him," Harrington said. At the same meeting, Kapanke worried about the number of public-sector workers in his district and openly wished that many of them "are sleeping" on Election Day. READ THE FULL ARTICLE HERE.
Milwaukee Journal Sentinel: Milwaukee police chief slams concealed-carry measure
The chief of Wisconsin's largest police department issued his most scathing criticism of the state's proposed concealed-carry bill during a news conference Thursday. Milwaukee Police Chief Edward Flynn urged Gov. Scott Walker to "provide some adult supervision" and ensure that the final version of a concealed-carry bill outlines a strict permitting process for carrying guns and stipulations including basic training and not being a "criminal, drug abuser or insane." He also called for changing the charge of carrying a concealed weapon from a misdemeanor to a felony." READ THE FULL ARTICLE HERE.
Milwaukee Journal Sentinel: Capitol singers upset state rep
One state lawmaker is not happy with the raising of the Capitol's roof. In a letter to Capitol Police Chief Charles Tubbs, Rep. Paul Farrow (R-Waukesha) complained that a protest group called the Solidarity Singers has been disrupting work in the Capitol by singing in the building every day at noon. On Tuesday the American Red Cross was scheduled to hold a blood drive in the Capitol, but the noise in the Capitol forced the Red Cross to shut it down for the day and reschedule the drive for Thursday. Members of the singing group say they have since apologized to Red Cross staff and have made amends. "There is no justifiable reason that one group should be able to shout down the rights of another -- or 'sing down', as the case may be," Farrow said in the letter. READ THE FULL ARTICLE HERE.
Milwaukee Journal Sentinel: Barrett: Walker acts like a king instead of a governor
Milwaukee Mayor Tom Barrett sharpened his criticism of Gov. Scott Walker Thursday in an email solicitation for contributions to his mayoral re-election campaign. "If Scott Walker continues to act like a king instead of a governor, nine months from now -- no matter whom we choose to be our nominee -- we will be out there working together and we will make Scott Walker listen," Barrett says of the Republican governor in the email. The pointed remark appeared to be a reference to a possible recall campaign against Walker, which critics of the governor's move to take away collective bargaining for most public workers have raised. A recall effort couldn't begin against Walker until January -- a year after he's held office. READ THE FULL ARTICLE HERE.
Milwaukee Journal Sentinel: Amid protests, panel votes to expand school choice, cut aid to local governments
The Legislature's budget committee - disrupted repeatedly by protesters opposed to Gov. Scott Walker - voted late Thursday to expand the state's school choice program to much of Racine County. The sweeping plan adopted by the Joint Finance Committee on an 11-4 party-line vote would also eliminate the enrollment cap on Milwaukee's choice program and raise the income limits for the parents of those attending choice schools. It would also allow choice students to attend private schools no matter where they were located, rather than just those based in Milwaukee. That means private schools in suburban Milwaukee - or even beyond the suburbs - could use taxpayer money to educate children from Milwaukee and eastern Racine County. READ THE FULL ARTICLE HERE.
The Nation: A Jeffersonian Challenge to the Tories of Fitzwalkerstan
When Wisconsin immigrant rights activists from the group Voces de la Frontera and their allies from the civil rights and labor rights movements confronted members of the state legislature's Joint Finance Committee Thursday, they did so by quoting from a statement written by the son of an immigrant. Radical in language and character, challenging to the powers that be, it declared: "We hold these truths to be self-evident, that all men are created equal, that they are endowed by their Creator with certain unalienable Rights, that among these are Life, Liberty and the pursuit of Happiness." READ THE FULL ARTICLE HERE.
THURSDAY, JUNE 2ND NEWS ROUNDUP
La Cross Tribune: Secret tape: GOP considered spoiler candidate to challenge Shilling
La Crosse County Republicans discussed running a spoiler candidate against Democrat Jennifer Shilling in an effort to delay the recall election of Sen. Dan Kapanke, according to a secret recording of the party's general membership meeting last week. On the recording obtained by the Tribune, party vice chairman Julian Bradley says he just spoke with Mark Jefferson, executive director of the state GOP, and "we are actively keeping our ears to the ground and if anybody knows anybody for a candidate that would be interested on the Democratic side in running in the primary against Jennifer Shilling.... So if anybody knows any Democrats who would be interested, please let us know." READ THE FULL ARTICLE HERE.
Wisconsin Rapids Tribune: Most Walker priorities remain in 2011-13 plan
MADISON -- Gov. Scott Walker's priorities of balancing Wisconsin's budget without raising taxes while also buying down the state's debt remain largely intact under the two-year state spending plan expected to be forwarded to the full Legislature by the end of the week. Republicans who control the Joint Finance Committee have agreed with Walker's general approach to eliminating the state's $3 billion budget shortfall while they have broken with him on some issues like changing the popular SeniorCare prescription drug program. READ THE FULL ARTICLE HERE.
Wisconsin State Journal: DA, lawyers say no high court action on bargaining suit needed due to Sumi's order
There's no need for the state Supreme Court to act next week on an open meetings lawsuit involving the law curtailing public employee bargaining rights, lawyers for two Democratic legislators and Dane County District Attorney Ismael Ozanne wrote in court filings Wednesday. A motion by lawyers for state Sen. Mark Miller, D-Madison, and state Rep. Peter Barca, D-Kenosha, argues that the case is moot now that Dane County Circuit Judge Maryann Sumi issued a final order in an open meetings lawsuit brought by Ozanne. READ THE FULL ARTICLE HERE.
Milwaukee Journal Sentinel: State board requests more time to review recall petitions
State election officials asked a court Wednesday to give them an extra week to determine whether recall elections should be held for three Democratic senators. Meanwhile, the chairman of the board that governs elections said he favored delaying recall elections for Republican state senators to coincide with those for the Democrats, to avoid the appearance of bias. Thomas Barland, chairman of the state's nonpartisan Government Accountability Board, said the move would require a separate court order, and he conceded that the board did not ask to move Republican senators' recall elections in a court filing Wednesday, even though it did seek to delay elections for three Democrats. READ THE FULL ARTICLE HERE.
Wisconsin State Journal: 'Walkerville' camp at Capitol Square in the works to protest budget
With lawmakers gearing up for a vote on the state budget, a "Walkerville" camp similar to the one that sprang up during the protests at the state Capitol earlier this year may be returning this weekend -- this time to the terraces of Mifflin and Carroll streets. We Are Wisconsin, an alliance of community groups, labor unions and others, has asked the city for a permit to set up the camp across from the Capitol to provide information about Gov. Scott Walker's budget proposals and efforts to recall Republican legislators who voted to eliminate bargaining rights for most public employees. READ THE FULL ARTICLE HERE.
The Nation: Record Number of Wisconsin Legislators Face Recall Over Anti-Union Bill
Three more Wisconsin Republican state senators who voted for Governor Scott Walker's anti-labor bill have been approved by the Government Accountability Board to face recall elections. At this point, recall efforts against Democratic and Republican state senators are under way, but The Nation's John Nichols on The Ed Show makes a key distinction. The petitions to recall Republican state senators were gathered through grassroots campaigning. Petitions gathered to recall Democratic state senators, on the other hand, were collected by out-of-state people who may have used fraudulent methods. READ THE FULL ARTICLE HERE.
The Ed Show: GOP Wisconsin senators face recall elections
WEDNESDAY, JUNE 1ST NEWS ROUNDUP
Wisconsin State Journal: Recall-targeted GOP senators challenge validity of petitions
Three Republican state senators who are likely to be scheduled for recall elections on July 12 are asking that judges stop the elections because of alleged irregularities in the filing of recall petitions. State Sens. Dan Kapanke, R-La Crosse; Luther Olsen, R-Ripon; and Randy Hopper, R-Fond du Lac, all want judges to block the state Government Accountability Board from calling elections based on the recall petitions filed in April by groups seeking to recall the GOP senators. READ THE FULL ARTICLE HERE.
Wisconsin State Journal: Wis. budget panel cuts tax credit for poor
Republicans on the Legislature's finance committee tucked a host of tax changes into the state budget Tuesday, reducing credits for the working poor and expanding tax breaks on business investments. The committee adopted a massive motion covering a wide swath of tax revisions on a 12-4 party line vote. Chief among them was a provision cutting back on the earned income tax credit. READ THE FULL ARTICLE HERE.
The Cap Times: Plain Talk: Ryan's plan plays into hands of insurers
The top story in an early May edition of The New York Times had a headline reading: Health Insurers Profit as Many Postpone Care Earnings Hit Records Patients Cut Spending, but Premiums Are Still Rising. The story went on to detail how the nation's top health insurers are basking in good times while most working Americans continue to struggle with the impact of the Great Recession. Many have had to postpone health care decisions because they either don't have insurance or have policies that require them to pay a substantial portion of the care costs themselves. READ THE FULL ARTICLE HERE.
Milwaukee Journal Sentinel: GOP panel votes for corporate tax break
Madison - Republican lawmakers voted Tuesday to trim taxes for corporations and investors while further cutting tax credit programs for the working poor. The Joint Finance Committee also voted to shut down two youth correctional institutions and repeal early-release provisions for state prisoners. The pair of 12-4 party-line votes came as the powerful committee entered a marathon week of work that could stretch into Saturday as GOP lawmakers strive to approve the budget by the end of June. The bill must still be approved by both houses of the Legislature and signed by Gov. Scott Walker. READ THE FULL ARTICLE HERE.
Wispolitics.Com: Committees seeking Dem recalls blast GAB
Representatives of committees seeking to recall three Senate Dems accused the Government Accountability Board of partisan bias in its decision to delay taking up legal issues raised against their petitions. Dan Hunt, who leads the effort to recall Sen. Robert Wirch, D-Pleasant Prairie, called upon GAB Director Kevin Kennedy to resign or for Gov. Scott Walker or the GAB board to force him to do so. Hunt said the GAB is acting outside of its statutory authority in delaying action beyond the court-authorized extension of June 3 and its decision to lump together all three challenges regarding Democratic senators together amounts to a "blatantly partisan maneuver to further the objectives of a particular party." He noted that the board was proceeding with decisions regarding recalls of Republican senators, some of which were filed after those targeting Dems. He said his group did not oppose the initial extension, but does not support further delay. "The GAB has had sufficient time to conduct an investigation into any alleged fraud," Hunt said. "We are of the strong opinion that no fraud has been committed. "This is an egregious violation of the rights of all the residents of our respective districts and it is clear that Kevin Kennedy is attempting to disenfranchise those people who signed the recall petition." He said the Friday afternoon timing of the release of the decision was designed to keep it out of the press away from public scrutiny. "Rather than reflecting the actions of a government agency which is evenhanded in its dealings, it shows an inherent bias," Hunt said. Hunt said the impact of delays on the elections is unclear, and his concern is about how the process is not being followed. READ THE FULL ARTICLE HERE.
Milwaukee Journal Sentinel: Panel OKs recall elections against 3 more Republicans
State election officials on Tuesday approved recall elections against three Republican senators Tuesday but put off decisions on certifying recall petitions against three Democrats. That drew cries of partisanship from Republicans and set up the possibility that two sets of recall elections would be held a week apart, rather than all on the same day. "This is an example of a supposedly neutral government agency acting in a blatantly partisan manner to further the objectives of a particular political party," said Dan Hunt, who led the effort to recall Sen. Bob Wirch (D-Pleasant Prairie). Shane Falk, an attorney for the board, said the board has been working overtime to review all the petitions, with half a dozen board employees working on them over the Memorial Day weekend. But they have not had time to fully analyze the challenges to the recalls against Democrats, which are based on different arguments than the Republican challenges. READ THE FULL ARTICLE HERE.
Milwaukee Journal Sentinel: Kloppenburg concedes election to Prosser
Assistant Attorney General JoAnne Kloppenburg on Tuesday conceded the Supreme Court race to Justice David Prosser, ending a contentious campaign that culminated in a rare statewide recount. Kloppenburg made the concession at a Madison news conference just more than a week after the state's Government Accountability Board reported that the final count showed Prosser with 7,006 more votes - a thin margin but one unlikely to change. She said she had called Prosser on Tuesday morning to congratulate him and say she would not seek to challenge his victory in court. READ THE FULL ARTICLE HERE.
TUESDAY, MAY 31ST NEWS ROUNDUP
Wisconsin State Journal: Local food, not politics, center stage at Alt Bratfest
Despite dark skies, local food outshined politics Sunday at Alt Bratfest in Orton Park. At the weekend's third alternative to the long-running World's Largest Brat Fest, local eateries served up gourmet brats and corned pork sandwiches, grilled chicken wings and tacos stuffed with portobello mushrooms in roasted red chile sauce topped with fresh pico de gaillo, arugula and crumbled queso fresco cheese. READ THE FULL ARTICLE HERE.
The Cap Times: Scott Walker should take the bulls-eye off the backs of teachers
Gesturing like a conductor, the Van Hise Elementary teacher exhorted her third-graders for answers while deftly involving a special-needs youngster. I was in class as part of the Foundation for Madison's Public Schools' "principal for a day" program, and I recall thinking: This would be a really tough job to do well day after day. Teachers have always impressed me, apparently a lot more than they do Scott Walker. READ THE FULL ARTICLE HERE.
---
Wisconsin Protests photo gallery