CMD REPORTS: WISCONSIN COMMON CAUSE: COUNT EVERY VOTE
9:15 a.m. - Mary Bottari reports for CMD:
Many voters went to sleep in Wisconsin and thought they woke up in Florida on Friday after a "Republican activist" county clerk announced that she discovered an extra 14,315 votes in a hotly contested Supreme Court race. Not surprisingly, the votes went to the conservative candidate giving incumbent justice David Prosser a 7,500 lead over challenger Joanne Kloppenburg. Oddly, 7500 was the exact number of votes Prosser needed to avoid a statewide recount.

The Supreme Court race has garnered national attention as a proxy vote on Governor Scott Walker's radical proposal to end collective bargaining in the state and cut a billion dollars from public schools.
SCHEDULE FOR SATURDAY, APRIL 9, 2011
John Nichols on breaking Supreme Court news
FRIDAY NEWS ROUNDUP
Daily Kos: Kathy Nickolaus in Waukesha forgot to save? Really?
It was with great interest that I watched the press conference of Waukesha County Clerk Kathy Nickolaus. You see, my "day job" is in the field of information technology, and I was tuned in to her every word regarding her use of Microsoft Access to tabulate the county wide vote totals. So I decided to make a little voting database in Microsoft Access 2010 and 2007, to test her story.Results after the jump... Nickolaus says repeatedly that she imported the data into Access, but through a process of "human error", she "forgot to save". Then come the tears, repeatedly, throughout her presser. Here's the problem. Microsoft Access (any version) doesn't ask you to save. When you enter data into a table, it automatically updates the underlying database. If you close the database accidentally, the data you entered (or imported, in the case of Nickolaus) remains. READ THE FULL ARTICLE.
John Nichols, The Nation: Scandal in Fitzwalkerstan: Federal probe, full recount required in high court race
Suppose the Democratic governor of Illinois had proposed radical changes in how the state operates, and suppose anger over those proposed changes inspired a popular uprising that filled the streets of every city, village and town in the state with protests. Then, suppose there was an election that would decide whether allies of the governor controlled the state's highest court. Suppose the results of that election showed that an independent candidate who would not be in the governor's pocket narrowly won that election. READ THE FULL ARTICLE.
Milwaukee Journal Sentinel: Prosser: 'I'm not conceding, and I'm not congratulating. And I'm not claiming victory'
Madison - Justice David Prosser appeared on Fox News Thursday night and told host Greta Van Sustern, "I'm not conceding, and I'm not congratulating. And I'm not claiming victory." "We're simply waiting out the process," Prosser added. Prosser gained 7,582 votes over challenger JoAnne Kloppenberg after a canvass of votes in Waukesha County. READ THE FULL ARTICLE.
Milwaukee Journal Sentinel: Supreme Court race bombshell: What the campaigns were told
Madison -- Both campaigns in the Supreme Court race received calls at roughly the same time Thursday about the surprise announcement of thousands of recovered votes in Waukesha County. Waukesha County Clerk Kathy Nickolaus called the campaign managers for challenger JoAnne Kloppenburg and for incumbent David Prosser around 5 p.m. Thursday to let both sides know that she would be dropping a bombshell. At a news conference roughly a half hour later, Nickolaus said she had failed to correctly report all the votes from the city of Brookfield to the media on Tuesday night after the election. READ THE FULL ARTICLE.
Milwaukee Journal Sentinel: The Waukesha Surprise: a closer look at whether the 'missing' Brookfield vote adds up
The Brookfield Bombshell -- the sudden appearance of thousands of decisive ballots in the state Supreme Court race -- invites all sorts of obvious questions and suspicions about politics and incompetence. But do the voting figures look "fishy" from a purely numerical standpoint? Are they implausible on their face based on what we know about the turnout history of Brookfield and Waukesha County compared with other places? Not at first glance. READ THE FULL ARTICLE.
The Cap Times: Crime and Courts: Elections chief sends staffers to Waukesha to verify results
Wisconsin Government Accountability Board Director Kevin Kennedy has dispatched a team to Waukesha County to review an election night blunder that upon discovery changed the results of the state Supreme Court election. Read his statement here. Incumbent Justice David Prosser, who trailed by 204 votes on Wednesday out of 1.5 million cast, took the lead in the election Thursday after Wakesha elections officials added votes from the city of Brookfield, which were omitted from the election night tally. READ THE FULL ARTICLE.
Milwaukee Journal Sentinel: 27-year-old with slim résumé resigns from state government
Brian Deschane is gone from state government, but he won't soon be forgotten.Deschane, the 27-year-old son of a prominent supporter of Gov. Scott Walker, resigned from his state job following public criticism over his appointment to an $81,500-per-year job in the Walker administration. He informed officials at the state Department of Commerce, where he had been named administrator of environmental and regulatory matters in February. "He has resigned," said agency spokesman Tony Hozeny. Hozeny said he didn't believe Deschane gave a reason for leaving the government job. "Not that I know of," Hozeny said. "He just resigned." Earlier this week, Walker demoted Deschane from the post after No Quarter highlighted how Deschane -- who has no college degree, very little management experience and two drunken-driving convictions -- had landed his plum assignment. Walker's team gave Deschane the cushy job despite the governor's repeated statements that the state is broke and government workers are overpaid. READ THE FULL ARTICLE.
The Cap Times: High-profile lawyers retained for possible Supreme Court recount
Twenty-four hours ago challenger JoAnne Kloppenburg was looking at an all but certain recount of her razor-thin victory over incumbent Justice David Prosser in the Supreme Court race. Now that it's come to light that Prosser might take a thin but substantial lead due to a computer error in Waukesha County, Kloppenburg could be the one to trigger a recount. But one thing hasn't changed: both camps are lawyering up and have brought in the big guns. Kloppenburg's campaign is working with Marc Elias, an attorney with Perkins Coie, a Washington D.C.-based firm with an office in downtown Madison. Elias is the same attorney who represented Democratic challenger Al Franken in his eight-month epic recount battle with incumbent Republican Norm Coleman. Franken eventually prevailed, winning his U.S. Senate seat by 312 votes. READ THE FULL ARTICLE.
The Cap Times: Prosser gains 7,500 votes in Waukesha County after inputting error
WAUKESHA - Incumbent Justice David Prosser gained a 7,500-vote lead in the hotly contested state Supreme Court race Thursday after the clerk in conservative-leaning Waukesha County announced she undercounted the votes because of an inputting error. If the new results stand, they would swing the election to Prosser after unofficial results Wednesday showed challenger JoAnne Kloppenburg was the winner with a 204-vote lead out of nearly 1.5 million votes cast. The new totals showed Prosser with 92,263 votes in Waukesha County, while Kloppenburg had 32,758. County totals previously showed Prosser with 81,255 votes and Kloppenburg with 29,332. Waukesha County Clerk Kathy Nickolaus said the votes from the city of Brookfield weren't reported to The Associated Press on Tuesday because of "human error." READ THE FULL ARTICLE.
THURSDAY NEWS ROUNDUP
BREAKING NEWS: NEW VOTE COUNT EMERGING FROM "REPUBLICAN ACTIVIST" CLERK IN SUPREME COURT RACE
Milwaukee Journal Sentinel: Prosser gains 7,500 votes in Waukesha County
Madison - In a political bombshell, the clerk in a Republican stronghold is set to release new vote totals giving 7,500 votes in the state Supreme Court race back toward Justice David Prosser, swinging the race significantly in his favor.The Waukesha County clerk's office has told state elections officials that they will be adjusting the vote totals to give incumbent David Prosser more than 7,000 new votes, said Mike Haas, staff attorney for the state Government Accountability Board."Waukesha will be adjusting their vote totals by 14,000," Haas said the Accountability Board was told.The numbers will add some 11,000 votes for Prosser and some 3,000 for Kloppenburg, he said.The new numbers may provide some clarity to a race that had appeared to be headed toward the first statewide recount in two decades and provided a new surprise for a state that had already faced two months of chaotic politics.Around the state, elections officials Thursday were tweaking unofficial results from the day before that had put challenger and Assistant Attorney General JoAnne Kloppenburg ahead of Prosser by a razor-thin 204 votes. But the new figures appearing to put Prosser ahead were also far from final, and could change multiple times before the contest is finished.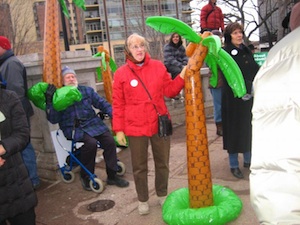 Prosser Hires Bush v. Gore Recount Lawyer Who Claims GOP Opposes Equal Protection
ThinkProgress is reporting that Prosser has hired recount attorney Ben Ginsberg, who represented Bush in the Bush v Gore case and former Sen. Norm Coleman in his unsuccessful recount in Minnesota in 2008.
Citizen Action Wisconsin Calls for Federal Investigation Into Vote Count Irregularities in Waukesha County
"Given the shocking character of this afternoon's revelations, and its tremendous importance for the perceived integrity of Wisconsin's governmental institutions, it is absolutely essential that there be a full investigation which is so beyond reproach that all Wisconsin citizens can have faith in the validity of the outcome," said Robert Kraig, Executive Director of Citizen Action of Wisconsin. "In the current political climate in Wisconsin, only an investigation by a U.S. Attorney can be seen by all citizens of the state as independent and above politics," Kraig continued. While it is far too early to judge all the facts of the situation, there are so many apparent discrepancies and contradictions in the currently available fact-base that a full, impartial, and independent investigation is clearly warranted. These warning signs that should trigger a full and independent investigation include:

During her press conference Waukesha County Clerk Kathy Nickolaus claimed this was an open and transparent process. Yet According to Nickolaus she found out about this at noon yesterday. She then sat on this information for 29 hours before disclosing it.
According to 3 observers who attended the county vote canvass, the issue of 14,315 additional votes from Brookfield never came up in the room. While it was hidden from the people in the room, others involved in the process, Charlie Sykes, a representative of the Wisconsin Policy Research Institute, National Review, and conservative bloggers had the story hours before it was announced.
Kathy Nickolaus has a long history of questionable practices in vote counting. The issue of Nicklaus keeping records on her personal computer was central to the audit conducted on her last fall. Was the "human error" she is apologizing for her own personal error made on her personal computer? She has been repeatedly warned about the danger of that process and criticized for keeping information "secret" from even others with in her own office in the past.
County clerk candidate was granted immunity in state probe
From June 3, 2002 Associated Press article:
A candidate for Waukesha County clerk is one of several caucus workers who was granted immunity from prosecution in the criminal investigation into illegal campaigning on state time. Kathy Nickolaus, 42, a Republican, said she hopes voters will accept her role in the ongoing scandal -- but she can't talk about it. "I can't really say anything about the probe," she said. "I was offered immunity and I took it." Nickolaus, who lives near Oconomowoc, worked for 13 years as a data analyst and computer specialist for the Assembly Republican caucus, one of four GOP and Democratic legislative groups now under scrutiny. District attorneys are investigating whether caucus employees did illegal political work on state time. Nickolaus resigned from her state job May 10 and launched a campaign for county clerk. She said she is under orders not to say anything about the investigation. "I expected this to come out, and I expected to get questions," she said. "I believe in open and accountable government." But some people said they are concerned about Nickolaus' history, since the county clerk oversees elections. Republican opponent Kathy Milbrath-Karalewitz, 41, the Menomonee Falls village clerk, said her decision to enter the race was solidified when she heard a former state caucus worker with no clerk experience wanted the job. "I don't think voters want that today," she said. "They want someone who's honest and up front." Nickolaus has not been accused of any wrongdoing, and her campaign is drawing support from some high-profile Republicans in Waukesha County. County GOP Chairman Don Taylor, who does not endorse anyone until after the party primaries, said Nickolaus' immunity deal should not taint her candidacy. "I don't think it's relevant." Incumbent Patricia Madden, who is retiring after 14 years, is backing Milbrath-Karalewitz.
More on Waukesha County Clerk Kathy Nickolaus' past election mishaps
This Milwaukee Journal-Sentinel newspaper article from 2006 shows Nickolaus initially reporting an assembly candidate winning the election before recognizing the error. From the article: "County Clerk Kathy Nickloaus said some returns from the City of Waukesha inexplicably had data recorded in the wrong columns, which momentarily skewed results." And as has been reported elsewhere, the Journal-Sentinel wrote in January of this year: "Waukesha County Clerk Kathy Nickolaus' response to audit recommendations aimed at improving election security in her office was not a hit with the County Board leaders ..." Nickolaus was brushing off criticisms of her security procedures, prompting the County Board Chair to say: "There really is nothing funny about this, Kathy," he said, raising his voice. "Don't sit there and grin when I'm explaining what this is about." And last August, the same newspaper wrote about how "Officials dispute reliability of Waukesha County clerk's election data system," criticizing Nickolaus for maintaining the election system on her personal computer and maintaining unilateral control over election data.
Why 7500 Votes for Prosser is Significant
At the Daily Kos, Cieran points out that, under Wisconsin law, the state only will pay for a recount if an election is within 0.5%. "That means in this election with approximately 740k for Kloppenburg and 739k for Prosser, the vote gets recounted at state-expense if the election is within ~7400 votes." With Prosser's current lead exceeding 7500 votes, a recount can only happen on Kloppenburg's dime. Cieran estimates that Kloppenburg will be under pressure to concede instead of paying for a recount, and that she risks accusals of being a "sore loser" who is wasting the time of election workers and further dividing the people of Wisconsin by asking for a recount. In any case, a recount will likely be expensive, and will have to come from Kloppenburg's coffers.
JoAnne Kloppenburg campaign manager Melissa Mulliken statement:
"Wisconsin voters as well as the Kloppenburg for Justice Campaign deserve a full explanation of how and why these 14,000 votes from an entire City were missed. To that end, we will be filing open records requests for all relevant documentation related to the reporting of election results in Waukesha County, as well as to the discovery and reporting of the errors announced by the County. We are confident that election officials in Waukesha County will fulfill these requests as quickly as possible so that both our campaign and the people of Wisconsin can fully understand what happened and why. Just as Assistant Attorney General Kloppenburg has run to restore confidence in the court, Wisconsin residents also deserve to have full confidence in election results."
Statement from David Prosser:
"I'm encouraged by the various reports from the county canvases. Our confidence is high, and we will continue to monitor with optimism, and believe that the positive results will hold. We've always maintained faith in the voters and trust the election officials involved in the canvasing will reaffirm the lead we've taken."
The Nation's John Nichols on The Ed Show: Wisconsin sets off another domino effect
Conservative paper Weekly Standard Points to Incompetence of the Waukesha Clerk
Weekly Standard: Prosser Now Up 7,000+ Votes After Error Is Corrected
Supreme Court justice David Prosser has picked up more than 7,381 votes in Waukesha County, a conservative county outside of Milwaukee, as part of the statewide canvass following the election for Supreme Court on Tuesday. The total gives Prosser a comfortable lead as the canvass continues Friday.
The error came when Waukesha County clerk Kathy Nickolaus failed to save some 14,000 votes that came from wards in Brookfield before passing the vote total along to the Associated Press. County officials discovered the mistake Wednesday and shared the information with state election officials on Thursday. Prosser won Waukesha County with more than 70 percent of the vote there.
Wisconsin sources say that the paper trail on the votes will be obvious and difficult for anyone to dispute. Either votes from Brookfield were counted in the initial tally or they weren't. Still, the discovery of the extra votes is sure to stoke the embers of the heated battles that have taken place across the state over the past two months, particularly because Nickolaus, the woman at the center of the controversy, is a Republican activist. A posting on the website of the Republican Women of Waukesha County indicates that Kathy Nickolaus recently served as president of that group.
But several sources have pointed to questions about her competence in the past. In August, the Milwaukee Journal Sentinel reported that her superiors "ordered an audit of the county clerk's election equipment and system beginning with the September primary despite several memos she sent to the committee over the weekend defending her practices and resisting the move." READ MORE HERE.
WAUKESHA COUNTY CLERK'S SECRETIVE PRACTICES HAVE COME UNDER FIRE IN THE PAST, EXCERPT FROM OLD MILWAUKEE JOURNAL SENTINEL ARTICLE
Milwaukee Journal Sentinel: Waukesha County to audit election equipment
County Corporation Counsel Thomas Farley told the committee Monday that as an elected official with responsibility for elections, "If she wants to keep everything secret, she probably can."
"I don't know if that's wise or what she should do, but if she wants to and the public is satisfied that that's what they want -- someone who keeps everything secret -- that's up to them."
The issue came to a head when Nickolaus removed the election results collection and tallying system from the county computer network this spring and installed it on standalone personal computers in her office. She has said they are backed up with redundant systems. READ MORE HERE.
Wisconsin State Journal: La Follette asks court to withdraw appeal of injunction against collective bargaining bill
Secretary of State Doug La Follette is asking the state Supreme Court to withdraw his appeal of a judge's order barring him from publishing Gov. Scott Walker's bill curbing most public sector collective bargaining, telling the court that he never asked for the appeal. In a document filed with the high court on Wednesday, La Follette's lawyer, Roger Sage, wrote that there was a conflict of interest between La Follette and the state attorney general's office, which was representing La Follette, when the AG's office sought to appeal a March 18 order by Dane County Circuit Judge Maryann Sumi that stopped La Follette from publishing Walker's union law. On Friday Sumi broadened the order to bar any implementation of the union law until an open meetings complaint brought by Dane County District Attorney Ismael Ozanne gets a full hearing and certain legal questions are researched and answered. READ THE FULL ARTICLE.
Wisconsin State Journal: Supreme Court vote doesn't shake Walker's resolve
Gov. Scott Walker said the stunning outcome of the Wisconsin Supreme Court race has not shaken his resolve, even as critics called it an outright rejection of his agenda. On Tuesday, challenger JoAnne Kloppenburg edged incumbent Justice David Prosser, a self-described judicial conservative, in a race for the court. The unofficial results, which will likely lead to a recount because of the narrow margin of victory, seemed to many a referendum on Walker's brief tenure and a repudiation of his efforts to curb collective bargaining for public employees. "The average Wisconsinite stood up to Gov. Scott Walker's historic overreach," said Mike Tate, Wisconsin Democratic party chairman. "His message and his philosophy have been rejected." But the governor on Wednesday rejected that interpretation, saying the results only confirmed that Wisconsin is a divided state. READ THE FULL ARTICLE.
RACHEL MADDOW TOUTS CMD REPORT: Corporate interests take long view in attack on Democrats
Progressive victory party in Madison hears cries for recalls
9:00 p.m. - Erica Pelzek reports:
Celebrating victories for progressives, the founders of the national Fighting Bob Fest event Ed Garvey John Nichols rallied a jubilant crowd at the historic Barrymore Theater in Madison Wednesday evening.
Over the past few weeks, Wisconsin saw a surge in support for underdog JoAnne Kloppenburg in her race to unseat a sitting state Supreme Court judge, David Prosser. In February, Prosser -- who had not faced an opponent since his appointment to the court by Tommy Thompson -- handily won the non-partisan primary. But Scott Walker's controversial plans to strip workers of their rights and slash spending on education provoked historic and sustained protests in Madison and elsewhere.
Prosser, whose votes in the statehouse were closely aligned with Walker's when they served together, began to stumble when his campaign released a statement touting how his re-election would "complement" Walker's agenda, and additional controversies ensued. The face was also marked by a surge in spending by outside interest group spending, at near record levels for a court race, on "issue" ads that attacked the candidates in this non-partisan election.
The Barrymore event, which was planned well before the outcome of the election was in view, had the festive tones of a victory party following this week's spring election. With all precincts reporting, Kloppenburg won the race by a little over 200 votes. Both political parties in the state are calling for volunteers to assist in monitoring the recount to come.
At the Wednesday community event, Nichols praised Wisconsinites for turning out a historic number of voters in a Supreme Court election. He also praised the passage of Move to Amend's county and city resolutions calling on constitutional amendments to repeal the U.S. Supreme Court's decision in Citizens United to allow corporations to spend unlimited money influencing elections. Nichols praised Wisconsinites from on stage as his seven-year-old daughter Whitman clung to his side, cheering along with the crowd.
Nick Niles, outreach coordinator of Wisconsin Progress, encouraged the crowd to participate in the recall efforts, whether through phone banking or other outreach efforts, including passing out flyers. Niles said the Democratic recall effort garnered 10,000 signatures at Wisconsin polls Tuesday from 7 a.m. to 8 p.m.
"That's 13 signatures every minute!" Niles exclaimed, saying that voters wishing to recall Sen. Alberta Darling, R-Shorewood, often lined up in queues longer than the lines to vote Tuesday, simply to sign the Darling recall petition.
Newly elected -- and former -- Madison Mayor Paul Soglin also spoke, thanking the audience members for their support and voicing his respect for Dave Cieslewicz, Madison's mayoral incumbent and Soglin's competitor.
The event ended on a festive note, with Nichols encouraging donations of partygoers to pay for the beer they drank in celebration.
COURT RACE THROWS A SPANNER IN THE WORKS OF WISCONSIN WINGNUTS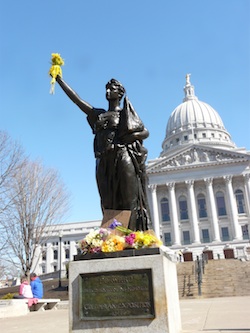 3:10 p.m. - Mary Bottari reports for CMD:
While Wisconsin Congressman Paul Ryan prepares to shut down the federal government to prove that government is bad, analysts say the radical agenda of Wisconsin Governor Scott Walker suffered a major set back today as his good friend incumbent Justice David Prosser was defeated for Wisconsin Supreme Court. The AP unofficial vote count, with 100 percent of the precincts reporting, puts challenger Joanne Kloppenburg ahead by slightly more than 200. A recount is doubtless on the way. In a state that has never unseated a conservative Supreme Court justice, people power fueled a concentrated effort to deny the Imperial Walker one branch of government. Walker's opponents hope a Kloppenburg victory will swing the Supreme Court in a more independent direction and set the stage for the court to strike down Walker's controversial collective bargaining law. While the fate of the law is uncertain, Kloppenburg's three week sprint from dead-in-the-water to victor may give Walker, Ryan and other Wisconsin politicians pause as they rush to radically reshape government to benefit the privatizers and profiteers.
COUNT AND RECOUNT?
Wisconsin's Supreme Court Race is down to the wire and a historic recount is in the offing. With 99% of the vote counted, just 835 votes separate the candidates for state Supreme Court. The Associated Press said early Wednesday that the race was too close to call and that it would take hours or most of the day to get a final tally. READ FULL ARTICLE.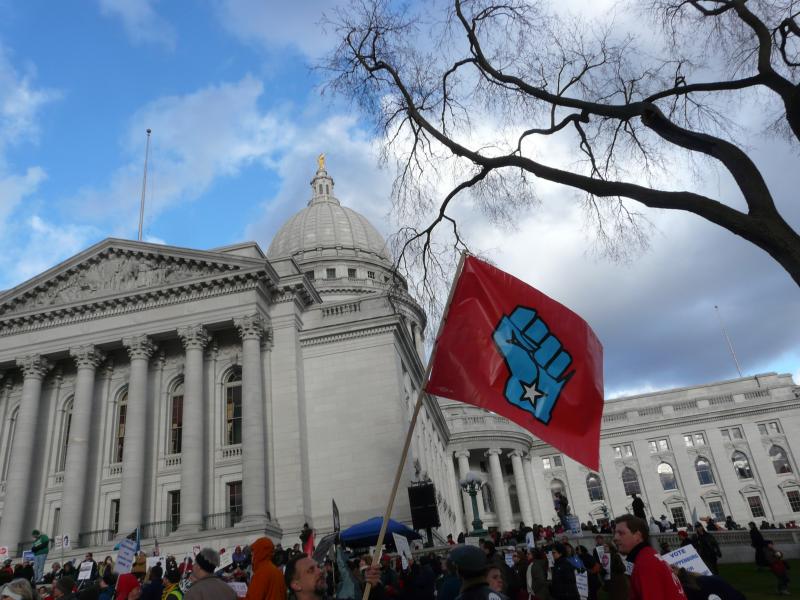 Milwaukee Journal Sentinel: Tuesday's Supreme Court turnout in Wisconsin was off the charts
Absolutely massive for a spring election, Tuesday's turnout is unmistakable evidence of the impact the state's budget and labor wars are having on Wisconsin voters. With 99% of the returns in, almost 1.5 million people had voted in the state Supreme Court race, which would represent a turnout of 33.5% of voting-age adults. That's 68% higher than the official state prediction of 20% turnout, which was based on recent historical norms. A 20% turnout would be about 874,000 votes. Tuesday's turnout exceeded that by almost 600,000 votes. READ THE FULL ARTICLE.
John Nichols, The Nation: Increase ways to thwart lawless governors
The struggle to retain the rule of law in Wisconsin has been difficult indeed, since Gov. Scott Walker and Senate Majority Leader Scott Fitzgerald decided to disregard the legislative rules, the opening meetings law and, finally, the clear dictates of the state constitution. The dean of the state Senate and the longest-serving legislator in the country, Fred Risser, accuses the governor and his minions of assuming "dictatorial" powers, while former legislative Joint Finance Committee Co-chair Mark Pocan combines the names of the authoritarian Republicans to suggest that Wisconsin is being turned into a failed state by the name of "Fitzwalkerstan." Yet, despite all the decay of democratic processes and constitutional clarity that has occurred since Walker assumed what he apparently presumed were kingly powers, the rule of law has made something of a comeback thanks to the determined efforts of a pair of relatively obscure elected officials, Secretary of State Doug La Follette and Dane County Circuit Judge Maryann Sumi. READ THE FULL ARTICLE.
Post-Crescent: Wisconsin Governor Scott Walker orders son of lobbyist demoted
Gov. Scott Walker has ordered that the 27-year-old son of a lobbyist appointed to an $81,500 job in his administration be demoted to his original job at a lower salary that doesn't involve supervising others. Walker's spokesman Cullen Werwie said Tuesday that Brian Deschane will return to his previous job within the Department of Regulation and Licensing today. Deschane had been promoted to head a division that oversees environmental and regulatory matters and dozens of employees even though he has no college degree and little management experience. Werwie says when Walker learned of the staffing decision, he ordered that Deschane be put back in his original job, which pays nearly $65,000 a year. READ MORE HERE.
John Nichols, The Nation: Too Close to Call In Wisconsin, As Challenger Wrestles Walker Justice to a Virtual Tie
Unknown sixth months ago, unviable six weeks ago, first-time candidate JoAnne Kloppenburg has wrestled a senior justice on the Wisconsin Supreme Court to an electoral tie. And in so doing she has opened a remarkable new chapter in the story of the political uprising that began when Republican Governor Scott Walker launched his assault on public employee unions, public schools and local democracy in Wisconsin. READ THE FULL ARTICLE.
Wall Street Journal: Wisconsin Race Headed to a Recount
A Wisconsin State Supreme Court race with implications for Republican Gov. Scott Walker and his battle with unions likely is headed for a recount after the candidates finished just a few hundred votes apart out of nearly 1.5 million cast. The race, between incumbent David Prosser and Assistant Attorney General JoAnne Kloppenburg, is widely seen as a proxy battle over Mr. Walker and the law he championed that curtails collective-bargaining rights for public-employee unions. The law has divided the state and has become the axis around which a national battle has turned. With 99% of the votes tallied, Mr. Prosser led Ms. Kloppenburg by fewer than 600 votes, 733,074 to 732,489 according to an unofficial tally made by the Associated Press. READ THE FULL ARTICLE.
MIDNIGHT REPORT
It's midnight in Madison. Madison has a new Mayor, Paul Soglin, but the Supreme Court race it too close to call. Waiting for final results from Marathon and Eau Claire counties. Track the results here. Stay tuned and while you are waiting you may want to watch this weekend's zombie march. "What do we want? Brains. When do we want them? Brains."
SCHEDULE FOR WEDNESDAY, APRIL 6, 2011
CMD REPORTS: KOCH'S AMERICANS FOR PROSPERITY AIMS AT KLOPPENBURG, STRIKES GOP ATTORNEY GENERAL?
9:15 a.m. - Brendan Fischer reports for CMD:
The Koch-funded Americans for Prosperity is behind a mailer criticizing Wisconsin Supreme Court candidate Joanne Kloppenburg for prosecutions that were trumpeted by her boss Wisconsin's Republican Attorney General J.B. Van Hollen, who is defending Governor Walker's union-busting bill in court.

The Koch-funded Americans for Prosperity is behind a mailer criticizing Wisconsin Supreme Court candidate Joanne Kloppenburg for prosecutions that were trumpeted by her boss Wisconsin's Republican Attorney General J.B. Van Hollen, who is defending Governor Walker's union-busting bill in court.[(full size version attached below)] The Americans for Prosperity postcard has the title "Joanne Kloppenburg: 'Her job as a government lawyer cost Wisconsin jobs,'" and notes three cases she prosecuted during her more than twenty years at the Wisconsin Department of Justice (DOJ). The Attorney General is the elected official in charge of the DOJ.
CMD REPORTS: FROM MEMPHIS TO MADISON RALLY APRIL 4th
10:15 a.m. - Jennifer Page reports:
April 4th marked the 43rd anniversary of Martin Luther King's untimely death. Thousands came together in Madison, Wisconsin to commemorate his untimely passing and the AFSCME sanitation worker protests that brought King to Memphis in the spring of 1968. Supporters of workers' rights gathered in over 1,000 locations across the country as part of the We Are One campaign for workers rights.

In Madison, thousands of teachers, firefighters, sanitation workers and more gathered in solidarity in the quickly-changing weather to hear Rev. Jesse Jackson talk about King's life and how average citizens can further his message by participating at the voting both. Today is election day in Wisconsin and hundreds of localities will chose new mayors, county executives and judges, and there is critical Supreme Court race as well. The windswept crowd, cheering whenever the sun peaked through rain clouds, stood on the hill and stairs leading up to the Capitol, were stirred with the inspirational words of action and faith that Jackson passionately spoke above them from the podium.
CMD REPORTS: TWO WHO MARCHED WITH KING TAKE THE LONG ROAD FROM MEMPHIS TO MADISON
9:20 a.m. - Jennifer Page reports for CMD:
Two men who were a part of the historical transformation of this country during the Civil Rights Movement of the 1960s stood humbly in the background Monday at different rallies across Madison. Part of the original group of sanitation workers in Memphis who unionized and boycotted for, Elmore Nickleberry and Baxter Richard Leach answered with gentlemanly nonchalance when asked why they came on the long trip from Memphis to Madison: "Because Jesse asked us to."

The passion and zeal that has become the fuel behind the current workers' rights protests that have spread across the country have been inspiring to watch. It is hard not to compare these protests with the protests and labor actions in Memphis and other cities during the civil rights movement of the 1960s. Today, that connection was evident at the "Memphis to Madison" rally in Madison, Wisconsin on the 43rd anniversary of the Rev. Dr. Martin Luther King's assassination in Memphis. Thousands of protesters, men and women alike, carried historic "I Am A Man" posters, and thousands more carried bright green signs saying "We Continue the Fight, Thank You Dr. King."
ED SHULTZ INTERVIEW OF REV. JACKSON ON MADISON TO MEMPHIS RALLY: Commemorating MLK's fight for workers' rights
John Nichols, the Nation: From Memphis to Madison: Civil Rights, Labor Rights, Voting Rights
The Rev. Jesse Jackson was quick to recognize the connection between the civil rights struggles of his youth and the worker rights struggles of Wisconsin in 2011. Six weeks ago, when the struggle that would capture the imagination of the nation and the world was in its infancy, Jackson was in Madison, telling 50,000 demonstrators at a rally protesting Governor Scott Walker's anti-labor agenda that they were part of "a Martin Luther King moment." Jackson, inspired by the crowds, and by the fact that they kept coming back for more rallies saw in Wisconsin a reflection of the energy and commitment who knew when he and the Rev. Martin Luther King Jr. were marching together. He heard the echo in the mention of collective-bargaining rights. King marched his last marches, spoke his last speeches, with public employees who were battling for fair pay, respect and, yes, collective bargaining rights in Memphis. Jackson, who was with King for those last marches and speeches, who was with King on the night he was assassinated, says the struggles of 1968 and 2011 are of a piece. "We marched for civil rights and for workplace rights. We marched for social progress and economic progress," Jackson said when he returned to Madison Monday for a series of union rallies leading up to the largest of more than 1,000 "We Are One" marches, rallies, demonstrations and teach-ins. READ MORE HERE.
MADISON TO MEMPHIS RALLY - APRIL 4, 2011
5:45 p.m. - Jennifer Page reports:
Jesse Jackson marches up to Capitol with WI teachers to join the crowds: "You are not just fighting Scott Walker you are fighting the system."
5:00 p.m. - Mary Bottari reports: Thousands of teachers marched with Reverend Jackson and two Memphis sanitation workers who marched with Martin Luther King Jr. on the day before he died for collective bargaining rights in Memphis.
At the Capitol, 7,000 people chant "this is what democracy looks like!" and "come alive April five!" This time there were more signs for Kloppenburg reminding people to vote in tomorrow's Supreme Court race than any other type of sign at the rally. There is also a large brass band section with two saxophones, a trumpet and a tuba pelting out jazzy renditions of "Solidarity Forever." The marchers marched up to State Street to link up with the TAA march and headed toward the Capitol.
CMD REPORTS: WALKER, VAN HOLLEN, PROSSER AND OTHERS ATTENDED KOCH-FUELED AMERICANS FOR PROSPERITY'S TEA PARTY CONVENTIONS
7:15 p.m. - Brendan Fischer reports for CMD:
MADISON -- David Koch-funded Americans for Prosperity conventions in Wisconsin over the past two years may have helped lay the groundwork for the state's controversial battle over labor rights and budget cuts. The conventions featured leading figures in the right-wing's attack on workers, and may also have skirted disclosure rules in the process. Governor Scott Walker and Attorney General J.B. Van Hollen appeared when they were running for office, and both conventions featured Wisconsin Supreme Court Justice David T. Prosser, Jr., whose race with challenger JoAnne Kloppenburg will come to an end with Tuesday's state-wide election.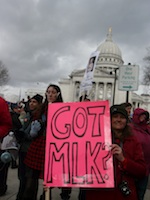 WE MARCH TODAY TO COMMEMORATE DR. KING'S FIGHT FOR WORKING PEOPLE
"Dangerous Unselfishness"
Terrance Heath, Campaign for America's Future:
King was in Memphis to support a sanitation workers' strike. The catalyst for the strike was the death of two men -- sanitation workers Echol Cole and Robert Walker -- who had climbed inside a sanitation truck seeking shelter from a rainstorm. They were crushed to death when an electrical malfunction activated the truck's compactor. As the documentary At The River I Stand shows, their deaths were the spark that lit the economic kindling in Memphis -- the conditions under which blacks, and sanitation workers in particular, lived and worked -- and ignited the movement that brought Martin Luther King Jr. to town.
King went to Memphis to support the sanitation workers' strike, and efforts to organize a union. But in his final speech, King urged Memphis' black community to use its collective economic power and support sanitation workers' efforts with boycotts. In his final speech, King use a biblical parable to urge his audience to practice a "dangerous unselfishness" by supporting sanitation workers.
Click here to read the full post and see One More River to Cross.
3:00 p.m. - Jennifer Page reports that Jesse Jackson surprised a group of protesters at the UW Hospital. He said "Tomorrow Wisconsin's victory is America's victory," in regards to the upcoming Wisconsin elections.
2:20 p.m. - Jennifer Page reports that Jesse Jackson is speaking to students at a Madison middle school. "The many races I see under one roof here would make Dr. King proud today."
Budget proposes cuts to public transportation and a bonanza for roadbuilders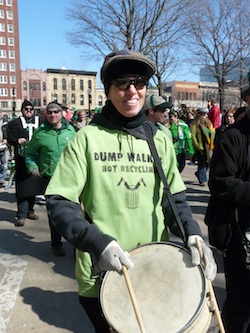 1:44 p.m. - Rebekah Wilce reporting for CMD:
Public transit cuts proposed by Governor Walker in his budget bill will "shackle drivers' hands to the wheel," according to Steve Hiniker, Executive Director of 1,000 Friends of Wisconsin, who spoke along with other experts at a news conference at the Capitol this morning.
Hiniker cited a 14% increase in spending for new highways, amounting to $140 million, and a contrasting lack of new funding for local roads, as well as a mandated 10% cut in state appropriations for public transportation, at a time when fewer passenger miles are being driven by residents and more by trucks passing through the state.
Hiniker was joined by Chuck Kamp, General Manager of Madison Metro Transit. According to Kamp, ridership of Madison public transportation in 2010 was the second highest in 40 years -- 13.6 million rides. About a third of last year's rides were students getting to and from school or after-school activities and jobs, both K-12 and post-secondary; and about half of those rides were people commuting to and from work. These are all riders who would be negatively affected by the cuts.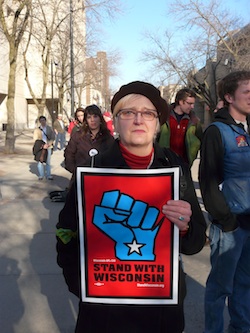 The Governor's budget would cut 10%, or $1.8 million, from public transit funding, but it would also source those funds from the general fund rather than the transportation fund, where it would face competition that might increase the cuts further in 2012. "Transit would be the only transportation mode to be removed from the transportation budget... in the Governor's proposal," according to Kamp.
In response to questions, Kamp warned that layoffs have not been ruled out as a result of these cuts, but said that there are a significant number of retirements approaching, and they are seeking alternative solutions, such as a regional transit authority funded in part by a sales tax increase.
When asked if he thought that the increased spending on highways and the corresponding cuts to public transit were a "payback" for the contributions given by roadbuilders to Governor Walker's campaign, Kamp responded, "I don't know what else you could call it."
FROM MEMPHIS TO MADISON APRIL 4TH, rally at 5:00 pm at the Wisconsin State Capitol. Today in Wisconsin people are fighting for the same rights Dr. King died for: the right to collectively bargain, equal treatment of all citizens and justice in society. This year, Americans are organizing and mobilizing throughout the country to revive Dr. King's dream. The theme for these events: We Are One. Learn about events across Wisconsin here. Learn about events across the Nation here.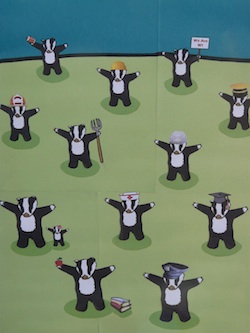 MONDAY NEWS ROUNDUP
Wisconsin State Journal: Fitzgeralds can only blame selves
The Fitzgerald brothers are complaining loudly about a Dane County judge holding up their collective bargaining bill. But it's their own fault for winding up in court to begin with. Had Assembly Speaker Jeff Fitzgerald and Senate Majority Leader Scott Fitzgerald simply given 24 hours of public notice before a key committee meeting and vote last month, their bill would now be in effect. Instead, because the Fitzgeralds got cute with Wisconsin's open meetings law, the bill is stuck in an exhausting and complex legal battle that could drag on for weeks if not months. READ MORE HERE.
The Associated Press: Wisconsin Senator Majority Leader Scott Fitzgerald says no cop would arrest missing Senate Democrats
MADISON — Senate Majority Leader Scott Fitzgerald said he couldn't find any police agency that would enforce his order to forcibly detain the 14 state senators who fled Wisconsin. Memos and emails obtained by the Wisconsin State Journal from the offices of Fitzgerald and Senate Sergeant-at-Arms Ted Blazel show attorneys from three state agencies told Fitzgerald he was on shaky legal ground. READ MORE HERE.
The Northwestern: Effort to oust Hopper close to gathering required signatures for recall election
Organizers of a campaign to oust Republican Senator Randy Hopper believe they may have enough signatures to force a recall election. Organizers are in the process of verifying that the signatures came from eligible voters before filing the petition with the state, said Fond du Lac Democratic Party Chairman Rich Mantz. He would not say how soon organizers would be ready to file the recall petition. READ MORE HERE.
Milwaukee Journal Sentinel: No degree, little experience pay off big for Walker hire
Just in his mid-20s, Brian Deschane has no college degree, very little management experience and two drunken-driving convictions. Yet he has landed an $81,500-per-year job in Gov. Scott Walker's administration overseeing environmental and regulatory matters and dozens of employees at the Department of Commerce. Even though Walker says the state is broke and public employees are overpaid, Deschane already has earned a promotion and a 26% pay raise in just two months with the state.How did Deschane score his plum assignment with the Walker team? It's all in the family. His father is Jerry Deschane, executive vice president and longtime lobbyist for the Madison-based Wisconsin Builders Association, which bet big on Walker during last year's governor's race. The group's political action committee gave $29,000 to Walker and his running mate, Lt. Gov. Rebecca Kleefisch, last year, making it one of the top five PAC donors to the governor's successful campaign. Even more impressive, members of the trade group funneled more than $92,000 through its conduit to Walker's campaign over the past two years. Total donations: $121,652. READ MORE HERE.
The Cap Times: Crime and Courts: Special interest groups make end run around campaign finance law
As of Thursday night, special interest groups have aired ads, mostly negative, worth more than $2.16 million, according to an analysis by the Brennan Center for Justice, and that doesn't include cable television markets. That compares with $438,000 spent on media by the candidates themselves. The Kloppenburg campaign said last week that its media buyer reported about $4 million in ad buys scheduled up to the election. The Brennan Center reported that "spending by non-candidate groups in this year's contest is likely to reach -- or surpass -- the levels seen in the record-setting election between then-Justice Louis Butler and challenger (and now Justice) Micheal Gableman," a race in which special interests spent about $3.38 million. But the ads haven't triggered any matching funds. READ MORE HERE.
SCHEDULE FOR MONDAY, APRIL 4, 2011, "We Are One" Day Of Action
FOR EVENTS ACROSS THE NATION VISIT WE ARE ONE.
FOR EVENTS ACROSS THE STATE OF WISCONSIN VISIT WE ARE WISCONSIN.
11AM EST KOCH EVENT IN DC (Sponsored by We Are One)
1PM - WE ARE ONE NATIONWIDE (Sponsored by We Are One)
5-8:00 PM FROM MEMPHIS TO MADISON. Rally to commemorate Dr. Martin Luther King's assassination on the day he rallied in Memphis with city sanitation workers for collective bargaining rights. The Reverend Jesse Jackson was with King that day and will be with us in Madison along with Madison's-own Mt. Zion Baptist Choir, Michelle Shocked and many more.
---
Wisconsin Protests photo gallery