REP. KUCINICH FIRES UP MADISON WORKERS' RIGHTS RALLY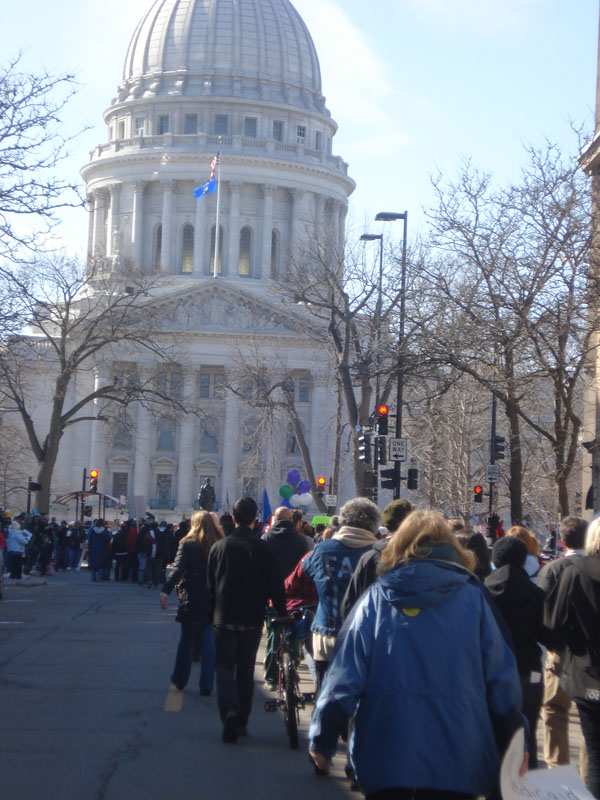 CMD REPORTS: P.O.W.E.R. WALKERS ARRIVE IN MADISON ON A SUNNY SUNDAY
A new report from CMD's Jennifer Page:
Walking over 84 miles from Milwaukee to Madison to make a point is no laughing matter. But no one would know that looking at the smiling, happy, albeit tired - looking, people who decided to make the journey to protest Governor Scott Walker's budget bill. "It's a great day for a walk," says one of the organizers of the P.O.W.E.R. Walkers event, Steve Whitlow, as the group gets ready to finish the last leg of their walk after stopping for lunch at a Williamson Street store that provided free food for everyone involved.

Chris Fons, a teacher with Milwaukee Public Schools and another organizer, says this is a social movement started on the internet and hopes it will just keep on growing. "We were studying Chavez in class and how he led the farm workers movement to do marches to Sacramento, and we said 'lets do it too'," said Fons. "We are showing that we don't want our public schools to be destroyed and it is just amazing how many people know about us through Facebook and Twitter."

On the last day of a three-day walk, the group is the biggest it has ever been, walking to the Capitol through downtown. Carolyn Daughtry Krill, one of the walkers from Madison who heard about the event through Facebook, thinks a community-level protest like this is just as important as the huge rallies that Madison has seen in the past three weeks.

"I think demonstrating at all levels is really important. A smaller scale protest like this gives you the chance to interact with community members; Have them come out and cheer us on or ask why we are doing this," said Daughtry Krill.

The original group of about 10 from Milwaukee were joined by others over the past three days, at times bringing the group up to 30 or more. Taking residential routes through half of the state, Whitlow said the support of complete strangers was overwhelming. In Deerfield, Wisconsin, a small town where the group slept on Saturday night, they were greeted by cheering crowds in the little downtown area. The area school teachers there also provided free dinner for the walkers.

As the group makes its way to their final stop under the Capitol's rotunda, most are limping due to the sloping right shoulders on the roads they took. Cars slow as they pass and beep the constant chant "This is what democracy looks like" that has been used throughout the Madison protests. As the group approaches the Capitol Square, remaining revelers and protesters co-mingle after the St. Patrick's Day Parade and begin to cheer the walkers on, adding to their strength and numbers.

Whitlow and Fons lead the final group of about 200 to the Capitol doors and slowly move through the security checkpoints. Fons sees the community they have created over the past three days. "I feel a sense of accomplishment that we could get this many people to do this. It took a lot of effort and a lot of people came out to help."

Steve Whitlow thinks this is the perfect end to the small idea of "walking for the Wisconsin idea" that started a week ago in Milwaukee. "Wisconsin will grow beyond the wounds of Scott Walker. And this just reminds us that the individual is powerful."
MASSIVE MADISON PROTEST MARCH 12, 2011
CMD REPORTS: LARGEST CROWD YET TO PROTEST RENEGADE GOVERNOR'S MOVES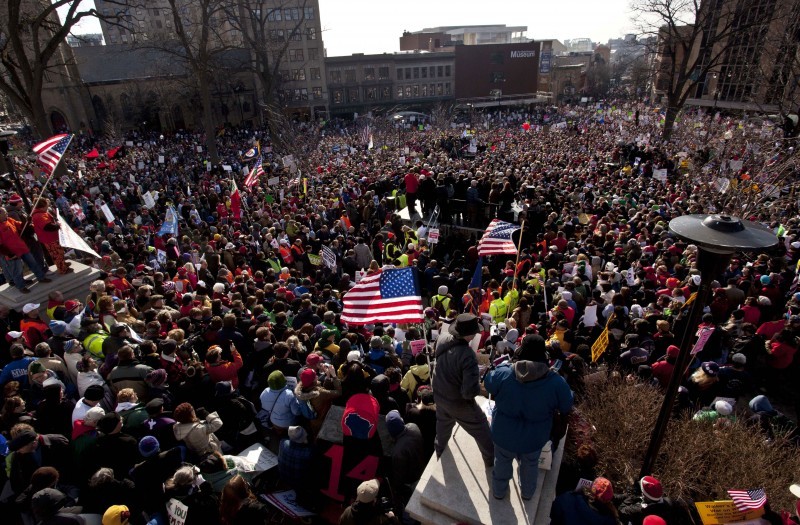 A new report from CMD's Erica Pelzek:
In what many called possibly the largest labor demonstration in U.S. history, Wisconsin state legislators rallied a crowd Saturday afternoon that rivaled previous weekends' protests of Gov. Scott Walkers radical budget repair bill.

"Our fight to protect union rights has become a fight to protect all our rights -- a fight to protect democracy," said Minority Leader Sen. Mark Miller, D-Monona. "You have inspired the nation with your passionate and peaceful protests."

The Democratic 14—the state senators who fled Wisconsin to Illinois in an effort to slow voting on a bill that strips public workers of their collective bargaining rights—stood tall and proud Saturday, thanking the protesting Wisconsinites for their enthusiasm and fiercely strong presence in Madison the past three weeks.

"Thank you for being our voice while we were gone!" shouted Sen. Spencer Coggs, D-Milwaukee, to the massive sea of people filling the Capitol lawn and spilling over into Madison's downtown area.

"We have become symbols of hope to hundreds of thousands of people," continued Sen. Bob Jauch, D-Poplar.

The Wisconsin 14 applauded protesters for being unwilling to give up their fight even after state Republicans—in a surprise, sneak-attack move—amended the "budget repair bill" to contain only non-fiscal items, such as removing collective bargaining rights, and subsequently passed it Thursday, March 10.
CMD REPORTS: FIRST THEY CAME FOR THE LABOR UNIONS. THEN THEY CAME FOR THE IMMIGRANTS. WHO'S NEXT?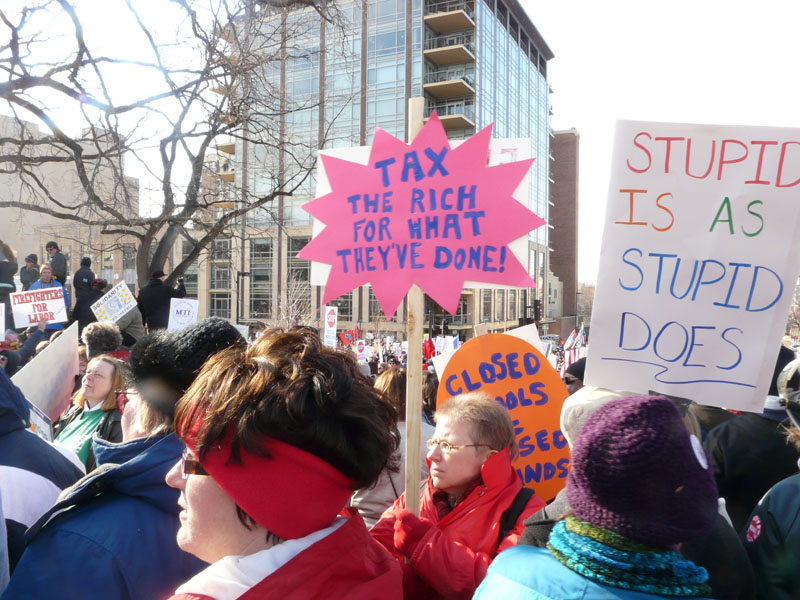 From a new report by CMD's Brendan Fischer:
The divide-and-conquer attack on working people by Wisconsin Republicans continues. After pitting private sector workers versus public employees, Walker and the GOP are now targeting Wisconsin's quickly-growing Latino and immigrant communities.

The latest census numbers show that Wisconsin's Latino community has grown by seventy four percent in recent years, and GOP lawmakers have responded aggressively to this shift in Wisconsin's ethnic composition. Walker's budget eliminates laws that had treated immigrants humanely, and a GOP bill circulating through the legislature seeks to impose a draconian racial profiling bill modeled after Arizona's SB1070. What's more, the anti-immigrant sentiment may be fueling the out-of-state effort to recall Wisconsin's Democratic Senators.

Here are four ways the Wisconsin GOP is attacking immigrant and Latino communities.
Follow Live Video Feed of the Rally at The UpTake
REPORTS FROM THE SATURDAY LABOR FARM RALLY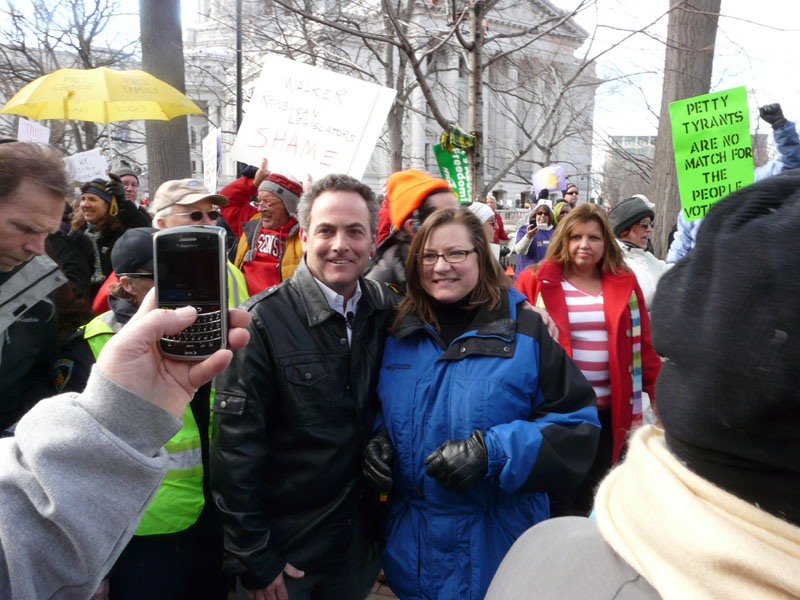 CMD REPORTS: WISCONSIN'S DEMOCRATIC SENATORS GET HEROES WELCOME AS FITZGERALD CALLS THEM, "MOST SHAMEFUL IN STATE"
4:00 p.m. - Lynn Welch reporting for CMD:
Speaking three and four at a time before a room full of reporters and cameras from across the country at noon Saturday, Wisconsin's returning 14 Democratic Senators said they're happy to be home with the people who helped them keep their resolve, and were never in fear of being arrested and branded scofflaws by those they serve.

Earlier that morning Senate Majority Leader Scott Fitzgerald, had welcomed his colleagues home with a statement today calling them, "the most shameful 14 people in the state of Wisconsin." But the massive turnout at the capitol of constituents eager to welcome home the 14, demonstrated that few Wisconsinites agreed with Fitzgerald. The crowds were the largest yet in excess of 100,000.

Echoing film maker Michael Moore, who spoke at a large Madison protest rally last Saturday, several of the Senators said at a press conference at the Monona Terrace Convention Center that Scott Walker has "awakened a sleeping giant," and that they are eager to be back to work on moving the process ahead forward in every way.

"We followed the law," said Bob Jauch of Poplar. "If anyone should be charged with contempt it's the Republicans who ignored the law."

Jauch and Tim Cullen, Janesville, described disappointment following discussions they had in Kenosha with Walker's top aides this week, that were used to try to divide the 14 and a ploy to enable quick passage of a stripped down bill to eliminate most public worker collective bargaining rights.

"They started at a point where they were unwilling to negotiate even on matters of workplace safety. We started at a point thinking that this has worked pretty well for 50 years," Cullen said of collective bargaining.

John Erpenbach explained how the core issue is fairness.

"In the end, this is all about fairness. And what (Walker) has proposed is not fair," said Erpenbach. The Middleton lawmaker, who put out a series of 14 popular webcasts while the 14 Senators were tucked away in Illinois, was asked by some in the press corps if he has been offered a contract by MSNBC.

Longtime Madison Senator Fred Risser reminded reporters that "Walker's war" has just begun.

"There's a legal war and ultimately at the ballot box, there are a number of Senators up for review and the end result will belong to the people," Risser said.

Before marching to the square, with hundreds of people trying to catch a glimpse of the "heroic 14," several of the "heroic 14" appeared wide-eyed before hundreds of people gathered outside the press conference and offered encouragement and thanks. Each appeared stunned by the enormous response to their return.

The Senators were described as astounded and ebullient as they appeared outside the Inn on the Park to a tightly-packed crowd packed before speaking in front of masses of people estimated at more than 100,000. They marched the totally transformed capitol square, as if for the first time, as tens of thousands shouted "thank you, thank you." "No, no thank you shouted," Senator Miller shouted back whenever his voice could be heard above the crowd.

All 14 took to the stage to the roar of the crowds and all 14 spoke. Best line? "You go away for a few weeks and look what happens," said State Senator Jon Erpenbach who gained some degree of fame on the Daily Show's "Crisis in Dairyland" series over the past few weeks.
SATURDAY, TRACTORCADE - MADISON, WISCONSIN
TRACTORS AND WORKERS "PULL TOGETHER" TO START BIGGEST PROTEST DAY IN MADISON
Lynn Welch reporting for CMD:
Sam Anderson, a retired Teamster who now runs a hobby farm in Marshall, thought Scott Walker needed to listen to the people. So did Elliot Zander, 15, who works on his family's organic vegetable and grain farm in Columbus, as well as Nick Huyvetter, a dairy farmer from Fairchild.

These and other farmers brought their tractors to Madison in the early morning for a mid-morning Tractorcade organized by the Wisconsin Farmer's Union and Family Farm Defenders to make their point. Fueled by free coffee, carrot cake and coffee distributed at the Alliant Energy Center staging area by businesses including the Mermaid Café in Madison, farmers drove 53 tractors from across rural Wisconsin to the Capitol Square Saturday morning to roaring cheers of, "Thank you!"
WISCONSIN WORKERS SPEAK OUT "This is our Tea Party"
QUOTES FROM THE WI 14
Erica Pelzek reports:
Joe Erpenbach: "Well, you leave for three weeks and look what happens!" Crowd erupted in cheers.
Lena Taylor: "This is our house! We will not let them take it from us. Whose house? Our house!"
Mark Miller: "We are so proud of all of you!"
Mark Miller: "Is there shame in being a teacher? No! Is there shame in being a union worker? No!"
Miller then said that there was indeed shame in being a Walker crony and being funded by corporate interests. "He has handed our government over to corporate private interests!"
QUOTES FROM THE CROWD
5:04 p.m. - Jennifer Page reports:
Father and son team from Marinette, WI: "I'm proud to be a Wisconsin Badger and everyone that's here, needs to be here to fight for the rights of the middle class."
HAPPENING RIGHT NOW IN MADISON
A SEA OF PEOPLE
4:15 p.m. - Steve Horn reporting:People crowded on all four sides of the the Capitol. A true sea of people.
4:10 p.m. - Erica Pelzek reporting:
Peter Barca just spoke denouncing the Republicans for their dirty tricks including turning microphones off during assembly discussion.
The WI 14 have just been announced and are being welcomed to huge cheers from the throngs of protesters. (Erica estimates the number of protesters to be 100,000.)
3:50 p.m. - Mary Bottari reports:
The crowd at today's rally is much bigger than it was 2 weeks ago when the numbers reached 100,000 plus making this is the largest labor protest in recent history.
A cross-section of middle class working people all chanting "Tell me what democracy looks like?" "This is what democracy looks like!"
WI 14 JOIN THE PROTEST
3:38 p.m. - Mary Bottari reports:
For the first time since the Wisconsin protests began, the 14 Wisconsin state senators have joined the protesters marching around Capitol square. The WI 14 are pumped -- smiling, their fists in the air. They are being welcomed home like heroes.
UPDATE: NEWS CONFERENCE OF THE 14 RETURNING DEMOCRATS
1:50 p.m. - Lynn Welch reports:
Senator Jon Erpenbach addresses the crowd in Monona Terrace saying, "Watching you all made us coalesce more. This is only the beginning."
IMMIGRANT WORKER UNION MEMBERS MARCH AROUND CAPITOL
1:30 p.m. - Steve Horn reports:
The Union de Trabajadores Immigrantantes (UTI) march in huge numbers around the Capitol shouting, "An injury to one is an injury to all!"
SUSAN SARANDON TAKES THE STAGE AT RALLY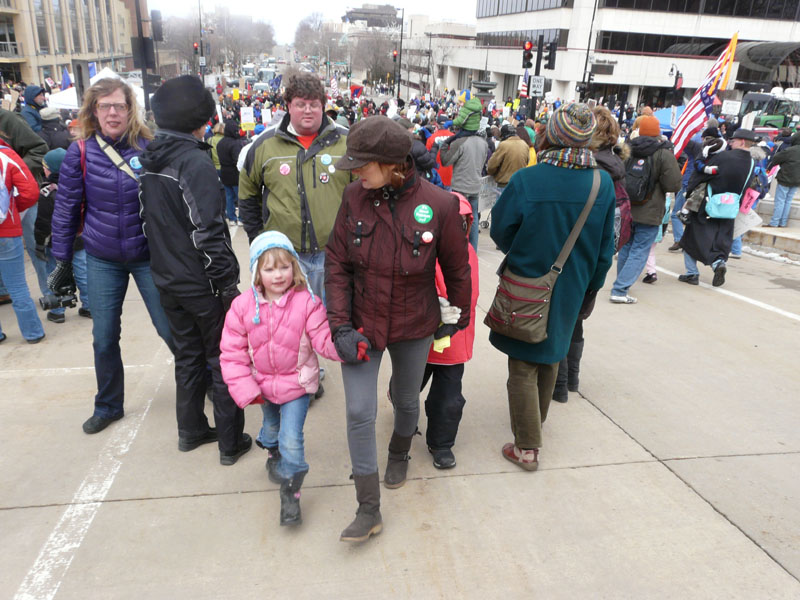 1:00 p.m. - Mary Bottari reports:
John Nichols introduces Susan Sarandon saying, "to truly show what Scott Walker has put everyone through, we decided to bring in the star of the Rocky Horror Picture Show." After the crowd's cheering quiets down, Sarandon says, "I am here as a mom who's children you have taught, kept safe and fed. I'm here as a union member to thank you for your strength, for your anger and for your conviction. Wisconsin is the frontline in the war to restore democracy. This is more than a demonstration, its a movement. And a wake up call for everyone in America. Scott Walker is a fool. He's a fool to have given us the opportunity to have formed a broad based coalition to restore American democracy."
Sarandon then quoted famed Farm Labor leader Baldamar Velasquez: "If you decide to do nothing, then nothing will be done. But if you do the right thing now and do it long enough, good things will come."
JIM HIGHTOWER GIVES A HUMOROUS SPEECH THAT LIFTS CROWD
12:50 p.m. - Mary Bottari reports:
Former Agricultural Secretary of Texas and populace radio commenter Jim Hightower addresses the crowd about Scott Walker and the Republicans who passed the bill this week: "They think they are the top dog, and we're just a bunch of fire hydrants. But now they're learning there is a lot more power in a fire hydrant than in a pissing dog," says Hightower. "Scott Walker says its about balancing the budget, but if he really wanted to balance the budget," says Hightower, "all he would really have to do is open up a dunking booth, and charge everyone here a dollar, and we'd have it done in no time."
TONY SCHULTZ, SPEAKS UP FOR FARMERS, MARCH 12, 2011
FIERY SPEECH AT FARM LABOR RALLY BRINGS CROWD TO ITS FEET
12:20 p.m. - Mary Bottari reports:
Farmers from Athens, WI are among supporters at the rally and Tony Schultz, one of their union members, addresses the crowd. "Family farmers, like the labor movement, value economic democracy. What is a union? [It's] working people coming together to improve their lives. Today we stand here to say we reject this union busting bill; We reject this budget. Solidarity between the labor and the farm movement dates way back before even the populist movement. We fought together for the progressive income tax; We fought together for the 8 hour work day. 'Our interests are identical because our enemies are identical.'"
PRESS CONFERENCE WITH 14 RETURNING DEMOCRAT SENATORS
12:30 p.m. - Lynn Welch reports:
Senator Kathleen Vinehout answers a question about thoughts on a general strike by saying, "The people we're up against are concerned about money and they are very greedy. It would be as effective for every person in Wisconsin to say, 'look, when I'm buoying something, I'm voting'."
12:10 p.m. - Lynn Welch reports:
Senator Dave Hansen says at the press conference that "some people have called us the heroes. The real heroes are the people of the state of Wisconsin."
SPEAKERS AT FARM RALLY ADDRESS CROWD
12:00 p.m. - Mary Bottari reports:
Jerry Farmer and Sarah Lloyd, the President of the Columbia County Farmers Union address the huge crowd at the Farmer Labor Rally. "I left my husband in the barn milking cows to be here today. But I am here today because I tried to testify at that hearing that went til 3 in the morning, but they shut it down. I wanted to tell Governor Walker that we have a lot of farmers in Wisconsin that send people off their farms to get health insurance as teachers and municipal workers," says Lloyd. "When they are hurting workers, they are hurting family farmers. Stand with the farmers, stand with the workers, and we will get through this," finished Lloyd as the crowd starts cheering in unison, "Farmers and Labor Unite, Same Struggle, Same Fight!"
FOLLOW STEVE HORN'S TWEETS FROM THE CAPITOL RALLY http://twitter.com/Steve_Horn1022
CMD BUMPS INTO SUSAN SARANDON
11:15 a.m. - Mary Bottari reports:
Susan Sarandon spotted amongst the crowd lending her support and greeting people as a fellow protester.
FARM RALLY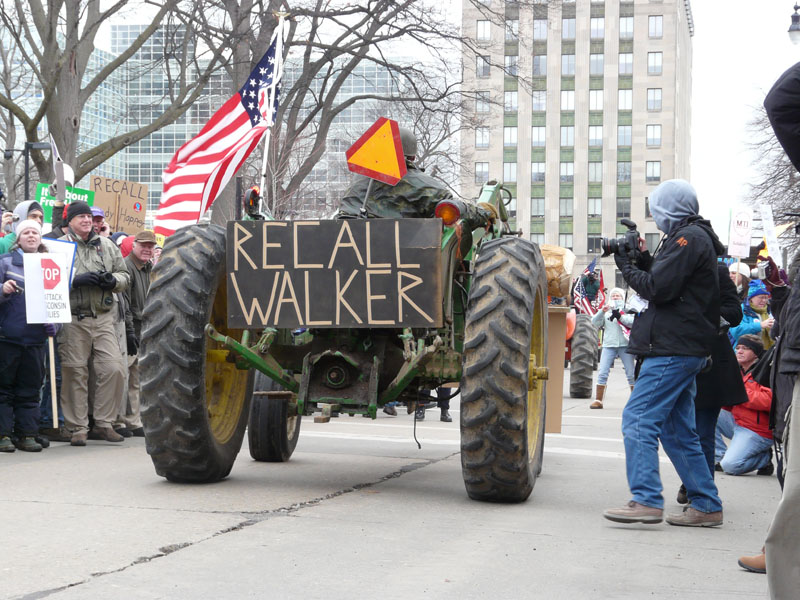 10:50 a.m. - Lynn Welch reports:
Tractors arrive on the Capitol Square to crowds cheering "Thank You!"
10:45 a.m. - Mary Bottari reports:
Tens of thousands of people greeted the very cold farmers of the Tractorcade with cheers. Tractors of all colors and eras took part in the procession around the Capitol, honking out "This is what grassroots looks like" as the huge crowd chanted along. The farmers were accompanied by a band and dancing cows holding signs that spelled out "Solidarity."
10:05 a.m. - Lynn Welch reports:
Farmers from across rural Wisconsin line up at the Alliant Energy Center for the Tractorcade and rally. Many said they fear rural areas will fall into deep poverty under Walker's budget.
SCHEDULE OF EVENTS, SATURDAY, MARCH 12, 2011
For a complete list of statewide events click here.
SCHEDULE OF EVENTS, SUNDAY, MARCH 13, 2011
Family Farm Defenders has mapped out the Tractorcade route for tomorrow's event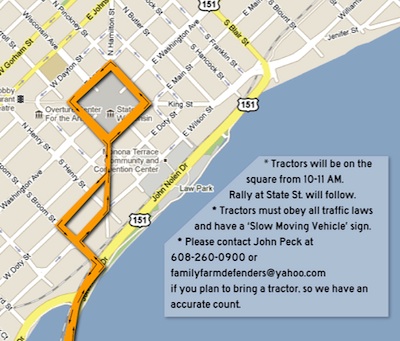 9:30 a.m. - CMD REPORTS: IMPLEMENTING UNION-BUSTING BILL WILL BE BUREAUCRATIC NIGHTMARE
Brendan Fischer reports from PR Watch:
The Wall Street Journal has pointed out what an expensive bureaucratic nightmare it will be for the twenty-person Wisconsin Employee Relations Committee to certify annual elections for the 2,000 unions representing Wisconsin's 200,000 state employees around the state.
9:10 a.m. - CMD REPORTS: WI FIREFIGHTERS SPARK "MOVE YOUR MONEY" MOMENT
From a new report by CMD's Mary Bottari:
On the day that the bill passed the Wisconsin Assembly effectively ending 50 years of collective bargaining in Wisconsin and eviscerating the ability of public unions to raise money through dues, a new front opened in the battle for the future of Wisconsin families.

Bagpipes blaring, hundreds of firefighters walked across the street from the Wisconsin Capitol building, stood outside the Marshall and Ilsley Bank (M&I Bank) and played a few tunes -- loudly. Later, a group of firefighter and consumers stopped back in at the bank to make a few transactions. One by one they closed their accounts and withdrew their life savings, totaling approximately $190,000. See a video clip. After the last customer left, the bank quickly closed its doors, just in case the spontaneous "Move Your Money" moment caught fire.

The sedate, old fashioned M&I Bank on the Capitol Square has gained some notoriety in recent weeks. Oddly, a tunnel in the M&I parking garage links to the capitol basement. Dubbed the "rat hole" to the Walker palace, the tunnel was used by Governor Scott Walker to ferry lobbyists into the capitol building to hear his budget address during a time when the capitol was in a virtual lock down in defiance of a court order and after Sherriffs has quit the building refusing to be a "palace guard."

Now the bank is getting caught up in the controversy again. Word is beginning to spread that M&I is one of Walker's biggest backers. Top executives at M&I Bank have long been boosters of Walker. M&I Chief Executive Dennis Kuester and his wife gave $20,000 to Walker in recent years. When you package individual and PAC contributions by employers, M&I is number one -- at $57,000 dollars. The firm apparently uses a conduit to bundle much of its money to Walker. Flyers, webpages, and Facebook sites have popped up encouraging WI consumers to boycott Walker campaign contributors and "Pull the Plug on M&I Bank." Other banks whose employees have donated large sums to Walker, such as Associated Bank and North Shore Bank may also be seeing their customers soon.
HEARD ON THE STREET: "If you live in Wisconsin, don't forget to turn your clock back 50 years this weekend."
WISCONSIN 14 TO REUNITE WITH PEOPLE AT SATURDAY RALLY
3:51 p.m. - Lynn Welch reports:
Wisconsin's 14 Democratic Senators, who left the state three-plus weeks ago to postpone a vote on Scott Walker's union-stripping budget repair bill, have started trickling back into the state, and plan to reunite with the people Saturday at a State Capitol rally.
Reports state that Bob Jauch attended a rally Friday in his northern Wisconsin home town, Poplar after arriving in Superior the prior evening. He and his counterparts, who have been in Illinois since Feb. 17, will join again in Madison Saturday at a 3 p.m. rally with Wisconsin native and actor Tony Shalhoub.
The lawmakers became known as "The Fighting 14," for their actions that denied the Senate a necessary quorum to pass the bill in its original form. Walker today signed an amended version of the bill that takes away most collective bargaining rights from the state's public unions, after it quickly passed both legislative bodies this week. Facing legal challenges, the bill won't be published before March 25, according to reports.
In a statement regarding the bill signing, Senate Minority Leader Mark Miller said, "Republicans may have achieved a short-term policy goal, but their radical agenda, the war on working families, has been exposed and the people of Wisconsin and across the country are united against it as never before.
"It is a sad day for the working families of Wisconsin, but we stand united in our commitment to take back Wisconsin for the people."
DAILY SHOW: BEE - CRISIS IN DAIRYLAND - APOCALYPSE COW
DANE COUNTY MOVES TO BLOCK COLLECTIVE BARGAINING BILL
1:45 p.m. - Brendan Fischer reports:
As the bill to strip Wisconsin workers of their collective bargaining rights awaited the Governor's signature today, Dane County went into court to block implementation of the bill by enjoining its publication, a necessary precursor to any law taking force. As CMD reported yesterday, Rep. Peter Barca filed a complaint with Wisconsin's Attorney General alleging that the Senate's passage of the bill violated state Open Meeting laws and legislative rules; Dane County Executive Kathleen Falk also filed a complaint. Dane County is seeking to prevent the law from taking effect while the outcome of those cases is pending.
WISCONSIN ELDERS LEAD PEOPLE IN SONG
1:07 p.m. - Jennifer Page reports:
Growing numbers this afternoon and warmer weather helped keep spirits high as union members, state workers and the Elder's Union, a group that brought smiles to everyone milling around the Square, led a sing-along march, canes and all. Songs like "We Shall Overcome" and "I'm in the Union Now" were song at all four entrances to the Capitol. Many of the (non-elder) protesters have been coming everyday since the first Friday rally and have been steadfast in their support of keeping union rights. One retired couple was there Wednesday night when protesters stormed the Capitol and are committed to stay until the unions give the order to leave. "Even though we are retired, we are here for a reason and aren't leaving."
The hope for Saturday is that large numbers and continued peaceful protesting will again garner national media attention. "Common sense has prevailed," said one marcher, when asked about the crowd for Saturday. "Without a Governor who cares, there won't be a lot done tomorrow, but we are just hoping for a lot of attention."
Anger and frustration was a big part of the emotional equation among the crowd around noon. A state worker who took a personal day off because she can't make Saturday's rally said that Scott Walker's classification of this being solely a union issue anymore is untrue. "My non-union husband and friends have been out with me from the beginning. The idea that this is only a union fight is ridiculous."
A FESTIVE PACKED ROTUNDA INTRODUCED NEW VERSES OF "THIS LAND IS YOUR LAND"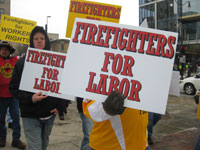 12:30 p.m. - Jonathan Rosenblum reports:
The new chorus goes:
This land is your land This land is my land

From lake Geneva to Madeline island;

From the rolling prairies to our lovely dairies

Wisconsin was made for you and me.
The partial new verse goes:
In the squares of the city In the shadow of the steeple,

In the Capitol, I see my people.

And some are grumblin' And some are wonderin'

If this land's still made for you and me.
Of course the sing-along included one of the verses that Woody Guthrie himself added
 later:
As I was walkin' I saw a sign there

And that sign said private property.

But on the other side it didn't say nothin!

That side was made for you and me!
RACHEL MADDOW: THAT NOT-SO-DEMOCRATIC FEELING
HUSH FALLS AS CAPITOL AND PROTESTERS PREPARE FOR HUGE RALLY TOMORROW
10:40 a.m. - Jennifer Page reports: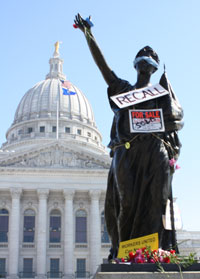 Some protesters are continuing to stand their ground and continuing to speak out at the Capitol today, with chants against the legislature's violation of state sunshine laws in passing the bill, shouting "thieves work at night." Over 100 state troopers or other law enforcement officers are guarding two entrances that have been made into "security checkpoints." (Stephen Fitzgerald, the new head of the state patrol, is the father of the Republican brothers in charge of the state Senate and Assembly.) Talking to organizers who are still outside on the Capitol Square, they are expecting big numbers for the Saturday rallies and hoping that the bill passing yesterday will not deter people from coming out to plan for the next wave of action in response to the attack on workers' rights and on working people in the proposed budget. Shane Gibson, a protester sitting on the stairs leading up the Capitol is upbeat. "I think people are angry enough that they will come out, even though it's March in Wisconsin." Despite cold and snow over the past three weeks, hundreds of thousands of people have come out to take a stand and some demonstrators are predicting that tomorrow will be the largest rally yet.
FRIDAY, MARCH 11, 2011 MORNING NEWS ROUNDUP
The Capital Times: BIZ BEAT: LOUISIANA FIRM IN LINE TO RUN STATE ENERGY PROGRAM

The state Public Service Commission is poised Friday to approve selection of a Louisiana corporation with a history of environmental violations to manage Wisconsin's popular Focus on Energy program. (Goes on to point out Koch tie.)
The Capital Times: CAPITOL TO OPEN AT 8 A.M. FRIDAY; NO SESSIONS SCHEDULED FOR SENATE, ASSEMBLY

Following a tense and emotional Thursday at the state Capitol, the building was quiet overnight and could see a return to normalcy on Friday.The building opened at 8 a.m. Friday. Visitors will be able to use the North Hamilton and South Hamilton entrances.
The Capital Times: TEARS AND RESOLVE AFTER CAPITOL VOTE

Tears flowed freely from the eyes of several protesters while others had a look of stony resolve when it became clear that the state Assembly had, as expected, voted Thursday to approve a bill that sharply curtails collective bargaining rights for most public employees.
The Capital Times: JESSE JACKSON: 'IT'S GOING TO HURT'

Rev. Jesse Jackson talks about what he thinks the repercussions will be after passage of the budget repair bill Thursday. (Video)
The Capital Times: NOW THE FIGHT IN WISCONSIN TURNS TO POLITICS

RWisconsin Gov. Scott Walker and his Republican allies may have imagined that the insufficient debates, inappropriate votes, flagrant violations of open meeting laws, threats and general legislative lawlessness used to pass his plan to strip public workers and teachers of their collective bargaining rights would finally silence the opposition.
The Capital Times: PLAIN TALK: PROTESTS, DEATHS BRING FLOOD OF MEMORIES

February brought back a flood of memories for a lot of us who've been around these parts for what sometimes can seem like an eternity.
The New York Times: IT'S NOT OVER IN WISCONSIN (editorial)

"stripping the unions of their rights was never about the budget, especially once the unions had agreed to significant concessions on pensions and health care. It was always about politics. Governor Walker had hoped to hide behind a cooked-up budget crisis, but the fleeing Democrats at least succeeded in pulling away that facade ... some union benefits are exorbitant, but no politician was forced to hand them out. Lawmakers are free to end this practice and should, but ending the basic rights of unions is a very different matter ... More broadly, the overreach by Mr. Walker and Republicans elsewhere has finally revealed their true agenda to blue-collar voters who either voted for them last year or who stayed home. These voters are not going to benefit from a crippled union movement; they live next door to the teachers and nurses and D.M.V. clerks who are about to lose what little clout they had in the state capital. Many have suffered during the recession and have watched in pain as private-sector unions have been battered to the point of ineffectiveness. They understand the power play that took place this week. The place to exercise some power of their own is at the voting booth."
The New York Times: THE BURDEN OF PENSIONS ON STATES

Some estimates suggest public employee pensions are far more expensive than states (particularly Wisconsin) have estimated, and that employees will have to make even greater contributions. Unions say the numbers are distorted to advance an agenda.
Milwaukee Journal Sentinel: WALKER RESCINDS LAYOFFS, WILL SIGN BILL TODAY

Gov. Scott Walker on Friday plans to sign the bill that repeals most collective bargaining by public employee unions. Walker also is planning a press conference to talk about the tumultuous past few weeks. On Friday morning, Walker directed two state agencies to rescind layoff notices because the Legislature had passed the bill.... Walker issued a statement: "The Legislature helped us save 1,500 middle-class jobs by moving forward this week with the budget repair. The state will now be able to realize $30 million in savings to balance the budget and allow 1,500 state employees to keep their jobs. The reforms contained in this legislation, which require modest health care and pension contributions from all public employees, will help put Wisconsin on a path to fiscal sustainability.
Milwaukee Journal Sentinel: EMOTIONS RUN UNABATED IN CAPITOL: FISTS POUND DOORS, ARE HELD ALOFT IN PROTEST

It was a day unlike any other in Wisconsin's political history. Riveting and raucous, the scenes unspooled on the streets and inside the ornate building, where protesters chanted in the hallways while legislators conducted business inside the soaring Assembly chamber. There was anger - protesters banging drums and offering chants. Students, teachers, nurses, off-duty police and firefighters, sheet metal workers, Teamsters and retirees linked in common cause against the bill. Many raged at Walker.
Milwaukee Journal Sentinel: FOLLOW MADISON EVENTS ON TWITTER

Follow the breaking news on the state budget in Madison on Twitter using the hashtag #wistandoff.
Milwaukee Journal Sentinel: UNIONS ADD KWIK TRIP TO BOYCOTT LIST

A coalition of teachers, police officers and firefighters has added Kwik Trip Inc., to its list of companies it is targeting for a boycott. On Thursday, unions representing the Wisconsin Professional Police Association; the Professional Fire Fighters of Wisconsin; the International Association of Fire Fighters Local 311; Madison Teachers Inc.l Green Bay Education Association; Dane County Deputy Sherif's Association; and the Madison Professional Police Officers Association said it would boycott M&I Bank if the bank does not began publicly opposing Gov. Scott Walker's efforts to curtail collective bargaining for public workers. On Friday, Kwik Trip was added. In the letter, the groups said the boycott would begin Thursday, March 17, if the bank and Kwik Trip don't oppose Walker.
Milwaukee Journal Sentinel: ABELE AD WILL LINK STONE, WALKER

With just 3 1/2 weeks before the election for Milwaukee County executive, Rep. Jeff Stone has a major problem. His name: Gov. Scott Walker. Stone has stood with the first-term governor, distanced himself from Walker and then cozied up to him once again. And that's been in just the past two weeks. Now Stone's county exec opponent, millionaire philanthropist Chris Abele, will try to exploit the long-standing links between Stone and the state's increasingly controversial and polarizing chief executive. Starting Friday, Abele will begin airing the first negative ad of the campaign, an attack that tries to tie Walker and his agenda around the Greendale Republican's neck like a millstone.
9:45 a.m. - CMD REPORTS: KARL ROVE'S SECRETLY-FUNDED CROSSROADS GPS ATTACKS UNIONS IN NATIONWIDE AD
Brendan Fischer reports from PR Watch:
Karl Rove's secretly-funded Crossroads GPS is spending $750,000 airing a terribly misleading ad attacking public-sector labor unions. With declining support for the GOP's anti-union stance, Rove's group is looking towards the 2012 elections and aiming to counteract that slide by unfairly demonizing unions.

The ad als attempts to lay the blame on President Obama and tell viewers to tell him "you've had enough." The group spent at least $17 million in the 2010 midterm elections, and along with Rove's American Crossroads PAC, is planning to spend $120 million in the 2012 elections. Here is what the ad says, and why it is wrong:

"Why are Democrats shutting down state capitols to protect a system that pays unionized government workers 42% more than non-union workers?"

False. As CMD has reported, an Economic Policy Institute report finds that, when controlling for education, and taking benefits into account, "full-time state and local government employees in Wisconsin are undercompensated by 8.2% compared with otherwise similar private sector workers." In other words, it is unfair to compare compensation for an unskilled worker with a teacher who holds a master's degree.
9:35 a.m. - CMD REPORTS: PRO-WORKER ADS DEFEND AMERICA'S MIDDLE CLASS
Anne Landman reports from PR Watch:
MADISON--New political ads by corporate and CEO-funded groups have been flooding Wisconsin repeating misinformation from the controversial Walker administration about the budget and labor rights. The total sum spent is not yet known. Labor rights groups have responded to the crisis with some ads to make sure the people know that Walker and his corporate allies are refusing to negotiate and are determined to destroy labor rights. Here are some of these ads:

On February 24, the AFL-CIO ran an ad that drew from excerpts of the prank call that Walker accepted from a blogger posing as his billionaire funder, "David Koch." The narrator asks, "What kind of governor refuses to meet with nurses, teachers and firefighters, but takes a 20-minute call from an oil billionaire?"
9:23 a.m. - CMD REPORTS: OUT-OF-STATE REPUBLICAN RECALL EFFORTS CONFOUND
Erica Pelzek reports from PR Watch:
The Utah-based "American Patriot Recall Coalition" (APRC) registered recall committees online February 18 for eight of the 14 "AWOL" Wisconsin Democratic senators, leaving the Wisconsin Government Accountability Board (GAB) -- and many Wisconsinites -- with raised eyebrows.

"Any group from anywhere can register a recall committee, however that group must have a local person who lives in the district of the officeholder who's being recalled," explained Wisconsin Government Accountability Board Public Information Officer Reid Magney.

"Basically, what happened is after the 14 left for Illinois, the group in Utah registered with us online to form a recall committee to recall all of them. We contacted them and said, 'Wait a minute, you have to have a person in each of these districts,'" Magney continued. "And so, in a couple of those senate districts, they have now provided us with the name of a local person who has signed on."
9:00 a.m. - CMD REPORTS: CORPORATE POLITICIANS AT HELM IN MICHIGAN SELL OUT LOCAL DEMOCRACY
Jennifer Page reports from PR Watch:
In an extreme move to take away power of local governments, the Michigan Senate voted yesterday to allow the appointment of so-called emergency financial managers to take control of cities and school districts that the newly elected Republican governor in the state unilaterally declares to be "financial emergencies."

The new bill was passed 26-12 by the Republican-controlled Senate in Lansing and allows newly-appointed financial managers a broad range of powers over local governments. Newly elected Republican Governor Rick Snyder's new budget bill slashes aid to local governments and many towns are expected to fall into the financial emergency zone as a result. Governor Snyder will then appoint financial managers to oversee these towns.

Minority Leader Gretchen Whitmer spoke on behalf of the Senate's democrats, calling the bill an "unfair and unjust power grab."

"This bill represents bigger government, more bureaucrats (and) less accountability and less transparency," said Whitmer.
SCHEDULE FOR FRIDAY, MARCH 11, 2011
---
Wisconsin Protests photo gallery