In September 2005, long-time Bush confidante Karen Hughes started her new job as Under Secretary of State for Public Diplomacy and Public Affairs. Her first official week of work was admittedly ambitious -- a "listening tour" of Egypt, Saudi Arabia and Turkey.
At each stop, carefully selected audiences comprised of students on U.S.-funded scholarships, women professionals, and others deemed "safe" nonetheless deviated from the intended script, asking Hughes challenging questions and openly criticizing her answers. Commentators panned Hughes' performance as "blundering," and a "preachy and culturally insensitive ... superficial PR blitz." The one high-profile opinion piece praising Hughes, published by USA Today, was written "at the State Department's invitation" and followed Hughes' special briefing of the author, Geoffrey Cowan, the dean of the Annenberg School for Communication at the University of Southern California.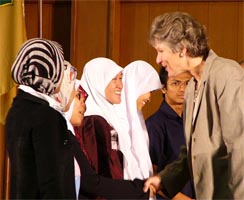 On her next major trip, to Indonesia in late October, Hughes didn't fare much better. The students invited to talk with her at Syarif Hidayatullah State Islamic University in Jakarta called the United States "two-faced" and "unfair." Referring to the U.S. war on Iraq, one student asked Hughes, "Who's the terrorists?" Another challenged, "Why does America always act as if they are the policeman of the world?" Again, Hughes' responses were deemed inadequate by both audience members and outside observers.
Hughes' credibility was further undermined when she told the Indonesian students (and, hours later, repeated to a group of journalists) that Saddam Hussein had gassed hundreds of thousands of people. State Department officials later clarified that Hughes had confused the estimated total number of Iraqi deaths during Hussein's 24-year rule -- 300,000 -- with the 5,000 civilians killed in the 1988 attack on the city of Halabja.
Given her record so far, it may be comforting to note that Karen Hughes' overseas junkets are just one facet of the U.S. government's non-military attempts to combat terrorism and bolster its image worldwide. But are other approaches -- primarily through the U.S. Agency for International Development (USAID), but also including the Peace Corps, foreign embassies and other State Department programs -- any more effective? A review of U.S. outreach to Indonesia, the Southeast Asian island nation with the world's largest Muslim population, suggests mixed results at best.
U.S. Reputation Takes an Asian Vacation
There's no doubt that the United States' image has tarnished greatly over the last few years. In April 2005, the Program on International Policy Attitudes released a 23 country poll that found the United States holds "the dubious distinction of having the largest number of countries rating it as having a negative influence." While 47 percent of all respondents called the United States a "mostly negative" force in the world, that fraction was significantly higher in majority Muslim countries like Turkey (62 percent) and Indonesia (51 percent).
At first glance, Indonesia seems like it should be an easy audience for the Bush administration's sell job. U.S. administrations and businesses have had close relations with the country's leaders since General Suharto took power in the bloody coup of 1965-1966. (When Suharto -- who was Indonesia's president for 32 years -- visited the United States in 1995, a senior Clinton administration official called the repressive dictator "our kind of guy.") Moreover, Indonesia has suffered greatly from non-state terrorism, including the tragic Bali bombings of October 2002. Lastly, the vast majority of the population follows moderate forms of Islam.
According to the State Department, Indonesia's ambivalence towards the United States isn't because U.S. officials don't recognize the country's strategic importance. The State Department's budget request justification to Congress for fiscal year 2003 (the first filed after September 2001) states, "Indonesia's cooperation is vital in the war against terrorism." The Department's 2004 budget justification further explains, "Since a major reordering of priorities after 9/11, we have increased our efforts on educational exchange and outreach to the Indonesian Islamic community."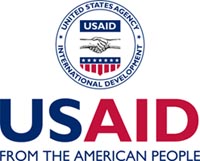 In fact, increased U.S. support for moderate Muslim groups post-9/11 is a worldwide phenomenon. According to an April 2005 U.S. News & World Report article, "From military psychological-operations teams and CIA covert operatives to openly funded media and think tanks, Washington is plowing tens of millions of dollars into a campaign to influence not only Muslim societies but Islam itself." The lead agency in the "Muslim World Outreach" effort, the article continued, is USAID. And "in no country is the effort more pronounced than Indonesia. ... Working behind the scenes, USAID now helps fund more than 30 Muslim organizations in the country."
USAID/Indonesia's Islamic outreach includes "workshops for Islamic preachers," "curriculum reform for schools from rural academies to Islamic universities," a "talk show on Islam and tolerance," a syndicated newspaper column, and funding for Islamic think tanks conducting "scholarly research showing liberal Islam's compatibility with democracy and human rights," David Kaplan wrote in U.S. News & World Report.
USAID's Washington DC staff refused to provide PR Watch with further information about these programs. "What you are asking here is information, if we have it, that is the responsibility of the mission in Indonesia," USAID press officer Harry Edwards told PR Watch. Repeated requests for USAID/Indonesia staffers to respond to PR Watch's written questions went unanswered.
A Helping Hand or a Hidden Fist?
"There is a certain danger to providing assistance to friendly Muslim groups -- defining friendly as anyone who will take our money -- because that tends to corrupt these groups in the eyes of Indonesians," Ed McWilliams, former political counsel at the U.S. Embassy in Jakarta, Indonesia, told PR Watch. In contrast, "in the mid-1990's, USAID was doing a good job in Indonesia." While U.S. policy overall supported the Suharto dictatorship, "USAID was supporting small Indonesian NGOs [non-government organizations] -- environmental, legal and human rights groups," said McWilliams.
Growing student and labor movements, coupled with the Asian financial crisis, weakened and then ended Suharto's rule in 1998. That year, "as democracy could start to flourish," USAID's NGO grantees "came forward with protections for journalists, supporting the democratic process," recounted McWilliams. "You can't say that anymore, though. Now we're trying to bribe organizations, including Islamic organizations, to win them to our side. That undermines the role that NGOs can play in a society. It also cheapens our image in Indonesia."
Dr. John Roosa, an assistant professor at the University of British Columbia's history department and the author of the forthcoming book, Pretext for Mass Murder: The September 30th Movement and Suharto's Coup d'État in Indonesia, agrees that funding Indonesian Islamic groups isn't as straightforward as USAID or the State Department lets on. "There is a problem for Muslim groups accepting U.S. aid," he told PR Watch. "It's really a badge of dishonor, more for the U.S. invasion of Afghanistan than Iraq." He added, "this whole idea of promoting moderate Islam is a double-edged sword. It suggests that Indonesians are really just Muslims. ... It reaffirms Muslim, not Indonesian, identity."
Soraya Oktaviani, an activist with the Indonesian Student League for Democracy now living in the United States, used to work with refugees as a member of an Indonesian NGO that received USAID funding. Still, she told PR Watch that USAID is "the worst organization among international organizations in Indonesia." Oktaviani said that a number of "progressive, democratic" Indonesian groups, including the Indonesian Forum for the Environment (known by its acronym, WALHI) and the Indonesian National Front for Labor Struggle, have rejected USAID funding.
The main questions Indonesian activists have about USAID, according to Oktaviani, is where the money comes from and why USAID requires its grantees to file so many detailed reports. "USAID is part of the United States, and they still want to control Indonesia -- not in the old, colonial way, but in a new, 'generous,' sneaky way," she said. The reports that Oktaviani's former NGO filed with USAID every six months helped the United States "know what happens in Indonesia," she said. "They want to keep Indonesia in their pockets."
Roosa, who used to live in Jakarta and interacted frequently with NGOs there, found their view of USAID to be more nuanced. "The activists in Indonesia -- every one of them -- has a critique of U.S. imperialism and sees the war in Iraq as a crime," he told PR Watch. Yet, these groups are "desperate for funding. ... There is no feeling that USAID is the opening wedge of imperialism or a sort of Trojan horse" for U.S. interests, he said.
Spinning Them When They're Down
An important factor in how Indonesians perceive USAID and the United States in general is the U.S. response to the December 2004 tsunami. A March 2005 Indonesian public opinion poll, conducted "after the tsunami relief efforts led by the U.S. military," found that "America's unfavorability rating had plunged from a horrid 83 percent to 54 percent," according to U.S. News & World Report.
Yet, John Roosa pointed out, "The U.S. hasn't been giving that much money to Indonesia," even after the tsunami. USAID reports that the amount of "emergency food assistance, relief supplies, temporary shelter, water and sanitation, health, livelihoods and other support for affected communities" in Indonesia totals $53.3 million to date. According to a report by the Australian-based organization AID/WATCH, U.S. pledges for tsunami relief were only the fifth most generous worldwide, following those by Australia, Germany, Japan and Canada.
Yet, as any good PR person knows, perception -- not reality -- is king. And USAID is careful to document and emphasize their post-tsunami assistance to Indonesia, giving the perception that it is very generous. Indeed, USAID/Indonesia's website homepage is subtitled "Tsunami Response." The agency has released frequent Tsunami Updates since January 12 and written Tsunami Newsletters on a near-weekly basis, since February 8.
USAID "is hoping to capitalize on the goodwill it built up in the hardest hit areas of the tsunami disaster," the trade publication PR Week reported in September. To do so, the agency is launching PR campaigns in Sri Lanka and Indonesia that tout its relief efforts. The Indonesian campaign was described by PR Week as a $350,000 to $370,000 "30-day media blitz," including public service announcements "highlighting its 55 years of foreign aid" in Indonesia and "personal accounts" about "how USAID has benefited Indonesians." The PR campaign, slated to run through February 1, 2006, "comes on the heels of findings from focus groups in May showing Indonesians were generally unaware of the 'scale and result' of U.S. aid efforts, and were suspicious of them," PR Week noted.
(For more on how the tsunami changed U.S.-Indonesian relations, see the article "Tsunami Washes Away Indonesian Human Rights," in the First Quarter 2005 issue of PR Watch, which details how the Indonesian government used the devastation of Aceh to lobby for a resumption of U.S. military support.)
Follow the Money
Regardless of whether USAID is ultimately deemed effective in burnishing the United States' image among Indonesians, the Bush administration has proclaimed Indonesia an increasingly important ally post-9/11. USAID, in turn, has been identified as a major forum for U.S. influence in Indonesia. Yet, USAID/Indonesia's budget has remained remarkably constant -- even modest -- over the past five years.
In fiscal year 2000 (October 1999 through September 2000), USAID/Indonesia's budget was $112.6 million. That increased by less than 20 percent, to $134.7 million, for fiscal year 2002, and decreased to $121.6 million for fiscal year 2004. As described above, USAID/Indonesia funds have been shifted more towards moderate Islamic groups. But there is another, more major change in U.S. aid to Indonesia post-9/11 -- restrictions on military assistance have been removed.
In early November, a U.S. Senate / House of Representatives conference committee agreed to maintain restrictions on Foreign Military Financing for and the export of lethal military equipment to Indonesia, until military reform and human rights conditions were met. But just weeks later, on November 22, the State Department "determined it is in the national security interests of the United States" to waive all such restrictions. This move, taken by Under Secretary R. Nicholas Burns, "under authority delegated by Secretary of State Condoleezza Rice" while she was traveling overseas, is a pivotal policy change. U.S. military assistance to Indonesia has been restricted since the Indonesian military massacred nearly 300 peaceful protesters in then-occupied East Timor in 1991.
Based on his experience at the U.S. Embassy in Jakarta, Ed McWilliams thinks resuming military assistance now is exactly the wrong thing to do. "In assisting the military, we are aiding a rogue institution that is the greatest threat to democracy and human rights in Indonesia," he told PR Watch. "In the past, military assistance has been withheld or given in very small amounts and this has helped to restrain abuses. Now that all restraints have been removed, we have abandoned all leverage. ... Moreover, the State Department's move ignores that the Indonesian military has helped organize, funded and otherwise supported Islamic terror groups such as Laskar Jihad."
John Roosa further points out that it's been the Indonesian police who have contributed to Indonesia's counter-terror efforts. "The Bali bombs, the Mariott [Hotel] bombs [in Jakarta in August 2003] -- all of these cases are being solved by the police. The military has had no role," he told PR Watch. "This whole idea of backing the military to deal with terrorists is bogus. It's not necessary."
Many observers have pointed out that no amount of U.S. outreach can overcome opposition to U.S. policies in the Middle East. "To be sure," former Foreign Service officer John Brown wrote, "some of public diplomacy's long-term programs -- such as educational exchanges -- can keep the dialogue between America and the world open to some extent and sow the seeds of better mutual understanding in the future. But policies perceived as unilateral and militaristic ... will be seen in a world where access to information is increasing by the day as the application of brute, illegitimate force."
Far from learning these difficult lessons, the Bush administration seems determined to repeat the same mistakes in Southeast Asia. Instead of engaging in real dialogue, the United States is relying on paid Muslim endorsers, PR campaigns, limited humanitarian assistance and growing support for one of the world's most brutal militaries to endear itself to Indonesians. Don't be surprised if the results are similarly dismal.