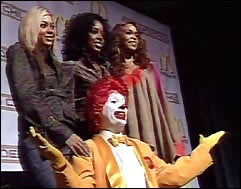 Recent reports about the Bush administration's use of fake video news releases (VNRs) have helped highlight a problem that John Stauber and I have been talking about for more than a decade. It's nice to see the New York Times start to catch on and to see some public activism starting to coalesce around the problem. I'd like to point out, though, that the problem isn't limited to the Bush administration or to government VNRs alone. In fact, corporate public relations is the biggest single source of video news releases, just as corporate PR is the biggest single source of other types of PR that pollute the media ecosystem. (The McDonald's VNR at right is a fairly typical example of the genre.)
Here's what John and I wrote in our 1995 book, Toxic Sludge Is Good For You: Lies, Damn Lies and the Public Relations Industry:
The use of radio and video news releases is a little-known practice which took hold during the 1980s, when PR firms discovered that they could film, edit and produce their own news segments - even entire programs - and that broadcasters would play the segments as "news," often with no editing. When Gray and Company began producing a radio program for its clients called "Washington Spotlight," the Mutual Radio Network came to Gray and asked to carry it. "PR firms would not send out packaged radio and television stories if no one was using them," notes author Susan Trento. "Not only technology, but economics made things easier for PR firms in the 1980s."

Video news releases, known as VNRs, typically come packaged with two versions of the story the PR firm is trying to promote. The first version is fully edited, with voiceovers already included or with a script indicating where the station's local news anchor should read his or her lines. The second version is known as "B-roll," and consists of the raw footage that was used to produce the fully-edited version. The receiving station can edit the B-roll footage itself, or combine it with other footage received from other sources. "There are two economics at work here on the television side," explains a Gray and Company executive. "The big stations don't want prepackaged, pretaped. They have the money, the budget, and the manpower to put their own together. But the smaller stations across the country lap up stuff like this."

MediaLink, a PR firm that distributed about half of the 4,000 VNRs made available to newscasters in 1991, conducted a survey of 92 newsrooms and found that all 92 used VNRs supplied free by PR firms and subtly slanted to sell a clients' products and ideas while appearing to be "real" TV news. On June 13, 1991, for example, the CBS Evening News ran a segment on the hazards of automatic safety belts. According to David Lieberman, author of a 1992 article titled "Fake News," the safety belt tape "was part of a 'video news release' created by ... a lobby group largely supported by lawyers."

"VNRs are as much a public relations fixture as the print news release," stated George Glazer, a senior vice-president of Hill and Knowlton. "In fact, many public relations firms are well into the second generation of VNR technology. We use satellite transmissions from our own facilities almost on a daily basis, and wait eagerly for fiber optics systems to allow us to dial into nationwide networks. ... With few exceptions, broadcasters as a group have refused to participate in any kinds of standards establishment for VNRs, in part because they rarely will admit to using them on the air. ... There are truly hundreds of examples of self-denial on the part of broadcasters when it comes to admitting that VNRs are used." Following a beverage-tampering scare on the West Coast, for example, a VNR was mailed out to all three TV stations in the first city to report the problem. All three stations used the VNR in at least one newscast the following day, along with five other stations in the region. When asked later, however, all three stations denied that they had broadcast the material.

In 1985, Trento reports, Gray and Company distributed a VNR featuring a canned interview with one of its clients, the ruthless King Hassan II of Morocco. The segment's airing on CNN provoked a scandal with reporters claiming they had been tricked into airing paid propaganda. An executive at Gray and Company scoffed at the media's hypocrisy: "I used to read in Broadcasting the cache of letters from news directors after the story broke about electronic news releases saying, 'How despicable. Never in a thousand years!' And they were people I had talked to who had called me back so that they had the right coordinates on the satellite so that they could take the feed. They knew exactly who we were. They called us all the time. They asked us for stuff. They told us they couldn't get it. They forgot to turn their downlink on, and could we send them a hard copy FedEx overnight because they'd use it tomorrow night."

"I was personally aggrieved at all this sort of self-righteousness of the media when that story broke," said another Gray and Company executive. "They are free to use it. Not use it. Use it for B-roll. Write their own scripts. Most of them take it straight off the air and broadcast it. Rip and read. Rip and read."
Some of the quotations in the passage above came from the The Power House, Susan B. Trento's excellent biography of PR executive Robert Keith Gray. The comments from George Glazer came from an article that Glazer himself wrote in Spring 1993 for Public Relations Quarterly, a PR industry trade publication. Public relations professionals have been discussing this topic quite candidly among themselves since before John and I ever even heard about VNRs. So why has it taken this long for the topic to come to the attention of the public? The main reason is that neither the PR industry nor the TV news media have any incentive to discuss this topic in places where the public will notice. Neither wants the public to know the truth about where their "news" is coming from. For the PR firms, full disclosure weakens the effectiveness of their propaganda. For the TV stations, admitting that they use VNRs in place of actual reporting would be the equivalent of a bakery admitting that it uses sawdust in place of wheat in its bread: cheap, non-nutritious filler that serves only to add worthless bulk to the product.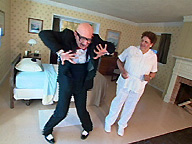 Recently, however, the balance of power has begun to shift back toward the public. As internet bandwidth becomes cheaply available, more and more VNRs are being sent via the internet rather than via satellite feed or video cassette. This in turn makes it easier for the public to detect, download and expose them.
On SourceWatch, we've compiled an article about VNRs that explains what they are and provides links to the websites of some of the main companies involved in their production and distribution. Some of those sites provide descriptions only; others make it possible to download the VNRs in their entirety, where you can view them (or edit them) for your own purposes. If you want to figure out whether VNRs are being used as filler on your local news channel, the SourceWatch article provides some leads that may be helpful to your research. But it's possible to do better still.
The last year has seen an explosion of citizen journalism, as bloggers and other nontraditional media activists have gone beyond commenting about the news and have become fact-checkers, information-gatherers and reporters themselves. Citizens journalists have helped break stories ignored by the traditional media, ranging from the dubious memos about President Bush's National Guard Service that were broadcast by CBS News to the exposure of Jeff Gannon/James Guckert, the fake journalist turned White House news correspondent.
Wouldn't it be great if some of this same citizen reporting could go into exposing the use of VNRs and other fakery behind the staging of your local and national nightly news? The technology is available now to make this possible in every local news market in the United States. All it will take is for some people to get organized and start doing it.