Who's Driving This Thing?
WGTU-29 Cultivates News Viewers for John Deere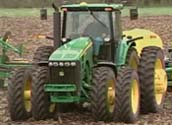 Clients: John Deere
Release Date: September 2007
Aired By: 1 station
Disclosed By: 1 station
The alert for a video news release (VNR) titled "A Tractor That Drives Itself" helpfully offers the following news hook: "Reduced tillage involves less fuel consumption when a tractor runs over the field fewer times and saves indirectly by reducing fertilizer requirements."
With an uninspiring hook like that, what television station would air the pre-packaged segment? Well, WGTU-29 (Traverse City / Cadillac, Mich.), for one.
On September 21, 2007, WGTU's Lori Puckett aired the entire, uncut VNR, which was funded by the farm equipment company John Deere. As she did previously, Puckett also read the suggested "lead" and "tag" lines exactly as they appeared on the VNR script. In doing so, Puckett introduced publicist Sonia Martin as though she were a reporter. Following the VNR segment, Puckett directed news viewers to the John Deere website.
The VNR is highly promotional, only mentioning and showing John Deere brand farm equipment. The distinctive green and yellow machinery and/or the John Deere logo are shown nearly continuously throughout the VNR. Two of the four people interviewed work for John Deere, and the other two are farmers who use John Deere tractors.
However, John Deere was also mentioned where it counts -- as the sponsor of the segment -- thanks to the brief on-screen and verbal sponsor notifications that the broadcast PR firm D S Simon Productions began adding to the end of their VNRs following the release of the Center for Media and Democracy's "Fake TV News" report.
It's good that WGTU viewers were finally told who was behind their news, albeit by "passive disclosure." The station previously aired two complete, pre-packaged VNRs without any disclosure: one promoting Capital One's financial education materials, and one promoting Harris Corporation's high-definition systems.
However, such built-in notifications are not a panacea for fake news. CMD's "Still Not the News" report found that television stations remove these notifications and still fail to disclose VNRs to news viewers 80 percent of the time.
Moreover, the D S Simon notifications are so brief that news viewers might easily miss them. That's why CMD has recommended a continuous on-screen label naming the sponsor of the VNR. While the U.S. Federal Communications Commission has found that VNR disclosure is required, it is not clear what the agency's standard for "proper sponsorship identification" is.
See the original John Deere VNR, as well as the WGTU-29 news segment, below.
| | |
| --- | --- |
| Original John Deere VNR | WGTU-29 11PM newscast |
| D S Simon Productions | September 21, 2007 |
| Voiced by publicist | Uncut, voiced by publicist |
| | |