Time for WGTU-29 To Go Back to School
Station Lends News Viewers to Capital One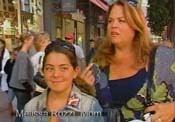 Clients: Capital One
Release Date: August 2007
Aired By: 1 station
Disclosed By: No stations
What are teenagers interested in? Music, friends, video games ... and discussing financial matters with their parents.
At least, a survey by Capital One found that "an increasing number of teens ... want to learn about money management," and "teens prefer to learn about money from their parents." Armed with these convenient factoids, the financial company commissioned a video news release (VNR) from the broadcast public relations firm MultiVu.
The hook for the VNR, which was distributed in late August, was the back-to-school shopping season. While the segment didn't promote a particular product, it did mention Capital One by name and referred viewers to a publication sponsored by the company.
On August 24, 2007, WGTU-29 (Traverse City / Cadillac, Mich.) aired the entire, pre-packaged VNR, complete with MultiVu publicist Larry Cardarelli's narration. In introducing the segment, WGTU's Lori Puckett referred to Cardarelli as though he were a reporter, saying, "The finance company Capital One has released a school survey showing that more teens are eager to learn about money and finances. Larry Cardarelli has more on that study."
Following the segment, Puckett added, "Capital One has partnered with the national consumer organization Consumer Action to create a complete guide for parents called 'Talking to Teens About Money.'" She then gave the address for a website co-sponsored by Capital One.
Puckett did not inform viewers that every second of the segment came straight from the financial company's PR firm. That failure gives the television station's motto -- "The One To Watch" -- new meaning.
WGTU aired two other VNRs tracked by the Center for Media and Democracy: one promoting Harris Corporation's high-definition systems, and one promoting John Deere tractors. Capital One previously funded a VNR on "elderfraud."
See the original Capital One VNR, as well as the WGTU-29 news segment, below.
| | |
| --- | --- |
| Original Capital One VNR | WGTU-29 11PM newscast |
| MultiVu | August 24, 2007 |
| Voiced by publicist | Uncut, voiced by publicist |
| | |