WAKA-8 Takes the Back Seat
Station Forgets to Credit GM For a Story on Teen Drivers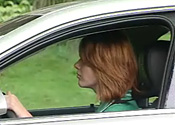 Clients: General Motors
Release Date: September 2006
Aired By: 1 station
Disclosed By: No stations
There's no denying it: General Motors puts out a lot of fake news. Some of their video news releases (VNRs) are ridiculously self-promotional. Some are just plain wrong. And some would be fairly benign—if they were properly disclosed.
Unfortunately, in seemingly every case, television stations fail to identify GM as the funding source of the story, effectively disguising the automaker's work as their own objective journalism.
Case in point: WAKA-8 in Montgomery, AL. On September 25, 2006, the station's 6PM newscast incorporated a VNR that, on the surface, was all about reducing the risks for teenage drivers. The original VNR, created by the broadcast PR firm Medialink Worldwide, includes several intuitive tips for parents of new drivers, as well as helpful soundbites from John Ulczycki, director of the Transportation Safety Group at the National Safety Council.
On the more promotional side, the VNR features testimony from Stephanie Gehl, a GM Service and Parts Operations Portfolio manager, who urges parents to keep the vehicle in top condition. The segment closes with a plug for cars with an in-vehicle communication service, such GM's OnStar. According to Medialink narrator Chris Hansen, OnStar "has a number of emergency service features to give you a little extra peace of mind."
In adapting the VNR, WAKA-8 dropped Gehl's soundbite and the self-promotion for OnStar. Additionally, the station enlisted evening anchor Glenn Halbrooks to replace Hansen's narration. At no point did Halbrooks or WAKA-8 list General Motors as the source of their story. The station also failed to provide any of its own research or video to supplement the information provided in the VNR.
| | |
| --- | --- |
| Original General Motors VNR | WAKA-8 6PM newscast |
| Created by Medialink | September 25, 2006 |
| Voiced by publicist | Re-voiced by station anchor |
| | |