The Morning-After Shills
Stations Air Pharmaceutical Company VNR Without Attribution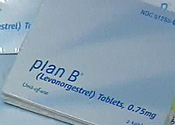 Clients: Barr Pharmaceuticals
Release Date: August 2006
Aired By: 2 stations
Disclosed By: No stations
On August 24, 2006, the U.S. Food and Drug Administration (FDA) approved Levonorgestrel—more commonly known as the Plan B emergency contraceptive—for over-the-counter sale to women 18 and older. Within hours, television newscasts all across the country devoted airtime to the FDA's important decision.
Unfortunately, at least one of those stories was ill-conceived. Ignoring the ethical guidelines of the Radio-Television News Directors Association and violating the Federal Communications Commission's sponsorship identification rules, WSVN-7 (Miami, FL) padded its Plan B story with material taken straight from a promotional video news release (VNR) created by publicists and funded by the pharmaceutical company that manufactures Plan B.
In anticipation of the FDA's announcement, Barr Pharmaceuticals had contracted MultiVu to create a VNR that heralded the wider availability of Plan B as a major advance for women. In addition to multiple screenshots of the Plan B package, the 94-second video included positive soundbites from Nancy Roberson Jasper, Assistant Clinical Professor of Obstetrics and Gynecology at Columbia University; and Kathleen Hill-Besinque, Associate Professor of Clinical Pharmacy at University of Southern California.
In covering the Plan B development, WSVN-7 ran a two-minute story that contained over 60 seconds of content from the VNR. The station included virtually every Plan B product shot provided by MultiVu, and lifted key soundbites from both Roberson Jasper and Hill-Besinque. At no point did WSVN-7 or health reporter Tiffani Tucker disclose to viewers that nearly half the story was furnished by the makers of Plan B. Tucker did mention nausea and bleeding as two potential side effects of the pill.
In response to the Center for Media and Democracy's queries regarding the newscast, WSVN-7 news director Tom Gonzalez-Diego insisted—despite all evidence to the contrary—that the story contained no VNR material. He asserted that the station has a strict policy against using VNRs or VNR footage.
The same day, ABC News committed a smaller offense on a larger scale. In creating its story on Plan B [Quicktime - 2.5 MB], the network dropped in one VNR soundbite from Hill-Besinque without attributing Barr Pharmaceuticals as the source of the material. The story was presumably put on the ABC newsfeed, since it appeared virtually unaltered on at least nine major ABC affiliates, including KABC-7 (Los Angeles), KGO-7 (San Francisco), KMGH-7 (Denver), WABC-7 (New York), WCVB-5 (Boston), WJLA-7 (Washington DC), WLS-7 (Chicago), WPLG-10 (Miami), and WTAE-4 (Pittsburgh). These nine stations may not have known that the segment they aired included footage from the Barr VNR. (In this report, these nine newscasts are tallied as one VNR broadcast, and the nine ABC affiliates as one TV station, representing the originator of the segment.)
| | |
| --- | --- |
| Original Barr Pharmaceuticals VNR | WSVN-7 10PM newscast |
| Created by MultiVu, Inc. | August 24, 2006 |
| Voiced by publicist | Re-voiced by station reporter |
| | |