Would You Buy a Car From This Man?
KMSP-9 Helps Rev Up Convertible Sales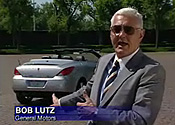 Clients: General Motors
Release Date: June 2006
Aired By: 1 station
Disclosed By: No stations
Bob Lutz looks like an automobile salesman. His sunglasses are dark and his suit is light. As he talks, his gravelly voice booms and his arms wave about, involving his surroundings in the conversation.
Perhaps it's because Lutz has worked in the automobile industry for decades. He currently heads product development at General Motors (GM). That can't be an easy job. The auto maker lost $10.6 billion in 2005 and is facing a "deteriorating market share in its North American market," reported the Wall Street Journal in July 2006.
Yet, the previous month, KMSP-9 (Minneapolis / St. Paul, MN) painted a rosy picture of GM's prospects. In its June 19 newscast, the station reported that GM could barely keep up with consumer demand. "The Solstice is sold out. The Sky is sold out. The Pontiac G-6 convertible is sold out," a gesticulating Lutz told KMSP-9.
The reason for the upbeat tone of the TV report? KMSP-9 was airing a video news release (VNR) produced for GM by the PR firm Medialink Worldwide.
The VNR also featured Jean Jennings from Automobile magazine. "I have seen, as many journalists have, cars that are scheduled for the next couple of years," she said. "And I'll tell you, if those cars were on the road right now today, I don't think they'd [GM would] be in this jam at all."
The KMSP-9 story was a frame-for-frame match of the original VNR, retaining Medialink publicist Andrew Schmertz's narration. While introducing the segment, KMSP-9 anchor Karen Scullin added some European flair to his name: "Even though some makes and models of cars are actually seeing a purchase slow-down, André Schmertz finds out why that's not the case with the open-air rides."
Sacré bleu! Twin Cities viewers were not told that what followed was faux news, manufactured for GM.
According to KMSP-9 news director Bill Dallman, station policy is that VNRs can only be aired if "specifically approved by a news manager, and then only if that information is available no other way." The policy also states that VNRs should be labeled and verbally disclosed.
Dallman added, "The damage only comes, in my opinion, if you're talking about ... a person presenting a point of view that's clearly designed to forward the product that they're pushing." Which sounds a lot like Bob Lutz.
| | |
| --- | --- |
| Original General Motors VNR | KSMP-9 9PM news segment |
| Created by Medialink | June 19, 2006 |
| Voiced by publicist | Voiced by publicist |
| | |