Beautiful spring weather has gardeners outside seeding lettuce and transplanting tomatoes. Community gardens are ramping up for a growing season full of hot peppers and trailing squash vines. The sewage sludge "composting" industry wants in on the action. May 6 to May 12 has been declared "International Compost Awareness Week" by the sewage sludge industry trade group the U.S. Composting Council (USCC).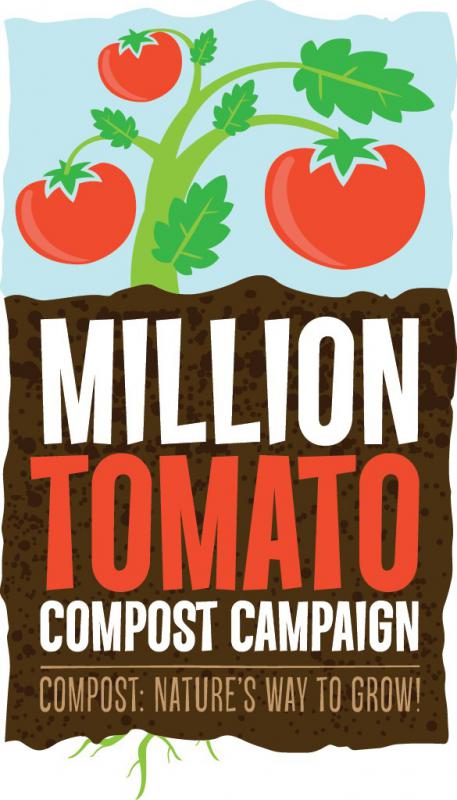 It wants gardeners to celebrate by "joining the USCC's Million Tomato Compost Campaign, which connects community gardens, compost producers, chefs and food banks to grow healthy soil, healthy food, and healthy communities."
According to the campaign website, Buy-Compost.com, "USCC's STA certified compost producer members will donate STA-certified compost to participating community gardens who sign on to the Million Tomato Compost Campaign. Community gardens will use their compost to grow one million tomatoes, either for their own use or for donation to local food banks. Chefs will work with the community gardeners, schools and nonprofits to teach people about using sustainably grown local food in recipes that even kids will love!"
It all sounds great -- community gardens, tomatoes, chefs, food banks, kids, even great graphics. What's not to love? Perhaps it's the sewage sludge.
Compost "Seal" Stamped on Sewage Sludge Products
Of the dozens of producers in almost all 50 states that participate in the USCC's STA program, at least five are known to use industrial and residential sewage sludge in their products: A-1 Organics, EKO Systems (one of whose plants was producing 3,090 dry tons of sewage sludge product a year as of 2010), Synagro (the largest processor of sewage sludge in the United States), WeCare Organics, and the Inland Empire Regional Composting Authority (the Los Angeles area sewage treatment facility, sewage sludge from which is also used in products like those from Kellogg Garden Products).
These products are some of the sewage sludge products known to be sold by corporations and municipalities. To dispose of sewage sludge produced by wastewater treatment plants, the industry and the U.S. Environmental Protection Agency (EPA) have renamed them "biosolids" and dubbed them as "green" examples of recycling, beneficial reuse, and organic fertilizer and compost products. In many cases, the sewage sludge is then packaged as compost or fertilizer and sold to unsuspecting gardeners or farmers.
STA "Testing" Inadequate

The paragraph above, from a May 2013 letter about the Million Tomato campaign, specifically does not answer the question posed: "Does compost contain toxic sludge?" It is designed to reassure ("tested by independent laboratories"; "STA certified compost") without saying much of anything. Here's the story behind the spin:
The STA program, which was developed in 2000, requires regular testing of "compost" products by certain approved labs. The testing is relatively minimal, and the standards are designed to allow for certification of products containing sewage sludge. The test methods used were originally designed by Procter & Gamble in the 1990s.
Composts in the STA program are allegedly tested for pH, soluble salts, nutrient content (total N, P2O5, K2O, Ca, Mg), moisture content, organic matter content, bioassay (maturity), stability (respirometry), particle size (report only), some pathogens (fecal coliform and Salmonella), and the trace metals arsenic, cadmium, chromium, copper, lead, mercury, molybdenum, nickel, selenium, and zinc. Additionally, according to the USCC, "any and all testing required by applicable State and/or Federal regulation (e.g., pathogens, heavy metals, pesticides, inerts, etc.) to assure public health/safety and environmental protection must be completed at the frequency so regulated." But the EPA has worked with the sewage sludge industry to overhaul testing and regulations to allow for the spreading of sludge on food-growing soil and spin its image to that of "beneficial reuse" rather than hazardous waste handling.
In addition to the items listed above, sludge contaminants can include flame retardants (which California recently listed as a carcinogen, or cancer-causing agent), antibacterial agents like triclosan, phthalates (the solvent that gives vinyl plastic the nickname "Poison Plastic") and other industrial solvents, nanosilver and other nanomaterials, endocrine disruptors, pharmaceutical residues, resistant pathogens, and perfluorinated compounds. Some of these contaminants can "bioaccumulate" in plants grown in sludge-contaminated soil and remain as residue on vegetables in contact with the soil. These plants can then eaten by children and adults.
Sludge Industry Launches PR Blitz
The USCC launched its "Million Tomatoes" campaign the day before Earth Day, on April 21, 2013, according to an email from STA Program Manager Al Rattie. It was featured on New York NPR the day before its launch and on Good Morning America on Earth Day itself, Monday, April 22.
The campaign has been featured on gardening news websites and environmental blogs. The sustainable food organization for chefs -- Chefs Collaborative -- even published a guest post by the USCC's then-executive director, Michael Virga (who moved on shortly afterwards) about the campaign.
Articles were also published in BioCycle Magazine, a publication serving the interests of the sewage sludge industry that recently became the official magazine of the USCC. BioCycle has published articles like Sally Brown's 2010 piece calling the Center for Media and Democracy (CMD) and its allies "ecoterrorists" because of the successful movement that on March 4, 2010 stopped the San Francisco Public Utilities Commission from giving away sewage sludge as "organic biosolids compost" for home and school gardens.
Rattie bragged in an email to supporters, "Millions of consumers watched and heard the Million Tomato Campaign story," between NPR and Good Morning America.
Millions of consumers need to know what's in that free "compost" growing all those tomatoes.