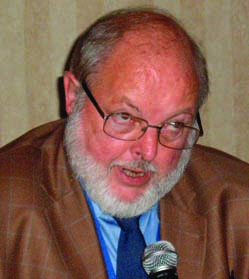 "I love Red Cross, but I don't trust them completely when they're the ones shooting the video," explained journalism professor and Society of Professional Journalists (SPJ) ethics committee member Jerry Dunklee.
Dunklee was speaking at SPJ's recent convention, on a panel titled "Paid and Played: The Ethics of Using Video News Releases." His remarks focused on the ethical issues raised by VNRs. Center for Media and Democracy (CMD) executive director John Stauber and Jim Bayse of the firm Wiley Rein, which represents the Radio-Television News Directors Association, were also on the panel.
Much of the VNR debate is currently focused on legal and policy issues: speculation over what the Federal Communications Commission really meant by fining Comcast for five undisclosed VNRs, and what the agency is likely to do next. But it's also important to address the ethical implications of VNRs. Dunklee did so by relating sometimes abstract guidelines to real-world situations he faced as a reporter and news director in cable and broadcast television.